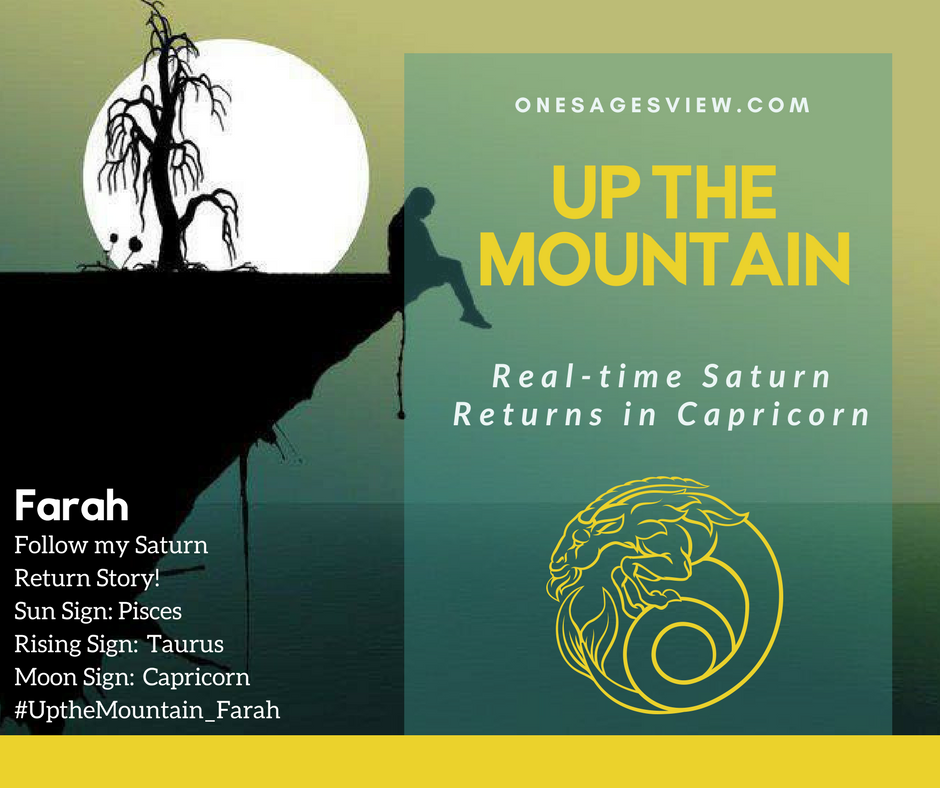 Saturn Return in Capricorn Part Two – Farah
The most elevated planet in Farah's chart is Mercury in Aquarius, conjunct the north node. Mercury is the only planet she has in an air sign. And it is angular, at the top of her chart. This one detail of her chart informs me that Farah is intelligent, though with fixed perceptions of herself, others, and her career, but without a doubt, she has something unique that she will bring to the world. Mercury rules her house of income and personal assets as well as her 5th house of creative works, recreation, sports, and children. There is the symbolism that helps guide where her potential work will flow from with greater ease with her direction. Farah may have to face authority or people in relationships that want to wield their authority over her or even may betray her, and she will have to confront them immediately. Her persistence will be revealed over time, as Saturn ruled 10th house will see their achievements over time, but it will steadily grow. Learn more about Farah from her Saturn Return story part one here. 
Farah will absolutely have to do it her own way, because she is built that way, with Uranus and Neptune in Capricorn within her Capricorn stellium. It will be truly fascinating to see how she grows, especially so as Saturn and Jupiter enter Aquarius later this month and conjoin on December 21, 2020. Jupiter will be exact on her Midheaven on January 15, 2021, and her career is about to expand this next year. To understand Farah's Saturn return journey let's review a few decisions and experiences that have shaped her thinking these past two years. One big decision Farah made was to discontinue her formal education for accounting on December 31, 2018. She realized she was not interested in going to school anymore and found a way to learn by herself. She determined she was not obligated to do her studies in the traditional way and made the decision to study on her own. This decision illustrates the power of Uranus and Neptune in Capricorn in her 9th house of higher education and is reflected in this key decision to create an alternative path to the education she needs for the work she has decided to do.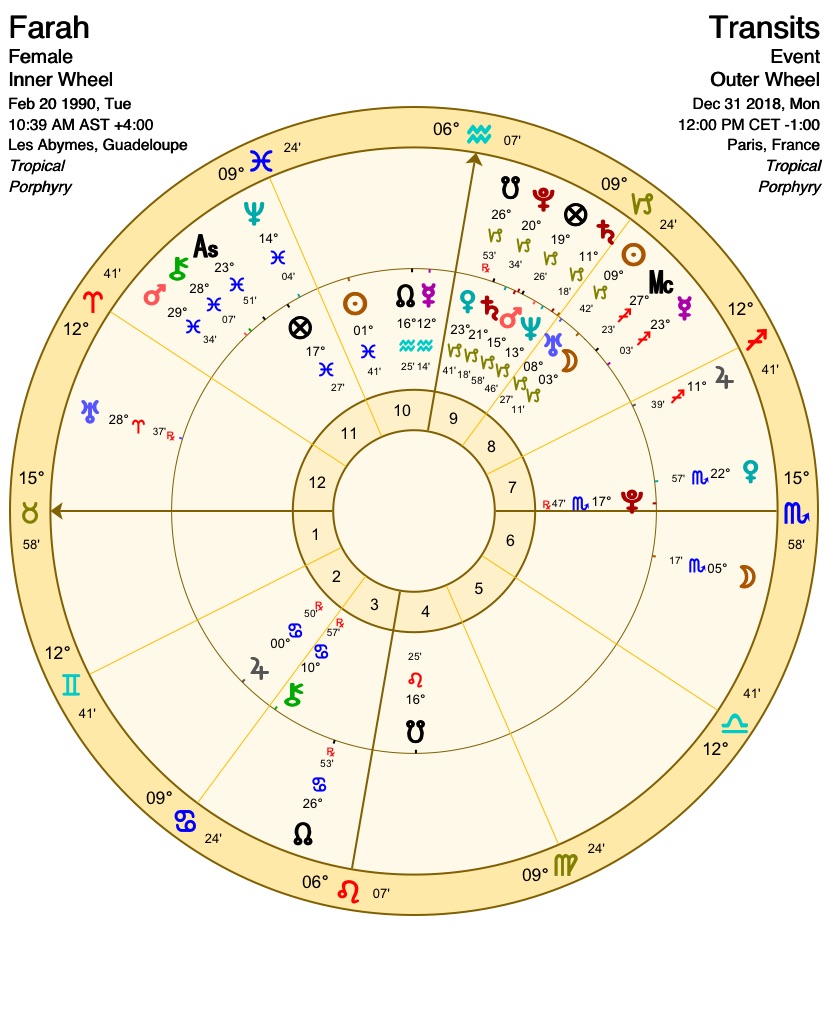 In the chart of the moment of that decision, we can observe, upon reflection, that the Sun was conjunct her Uranus in Capricorn and applying to an opposition with Chiron in Cancer in her 3rd house of students, whereas the 9th house is symbolic for higher education and universities. The Moon in Scorpio that day was applying within 1 degree (at noon Paris time) to an exact square with her Midheaven, the house of her career, and trine to her Pisces Sun at 1 degree and her Cancer Jupiter at zero degrees 50 minutes. Uranus in the 12th house in Aries (slowing down to station direct 5 days later) was amplifying the square aspect to her natal chart ruler Venus in Capricorn and the transiting lunar axis at 26 degrees Cancer and Capricorn. Uranus is where the sudden idea to change her method of higher education became real. That decision was right for her and the symbolism of that decision is easily seen in the planetary transits that day.
Farah's employment in 2019 and part of 2020 has been dynamic, with starts and stops, but she learned something important about herself along the way. She stopped working for an employer in 2019, as she felt that someone was sabotaging her work and some people did not welcome or made her feel connected enough to stay. The job was a contract position, so it was an easy decision to move onto something else. Even though she experienced unemployment for two months in 2019, she landed another job end of May 2019. She found a job at a big company and was truly engaged in the work. However, in 2019 they lost a big client so they could not keep her employed. She was sad it did not work out but moved on to another job in August 2019 working for a real estate firm in their accounting office. It was a good temporary job for the money, and she was working with good people and getting good experience. Now she is working for a Pharmaceutical company in their accounting department, which she started on June 15, 2020. She is now a full-time, permanent employee, so she is more stable in her employment. Like everyone else, she is working from home while Paris is on lockdown. Though she does get the chance one time a week to go into the office, and she is grateful to get out of the house.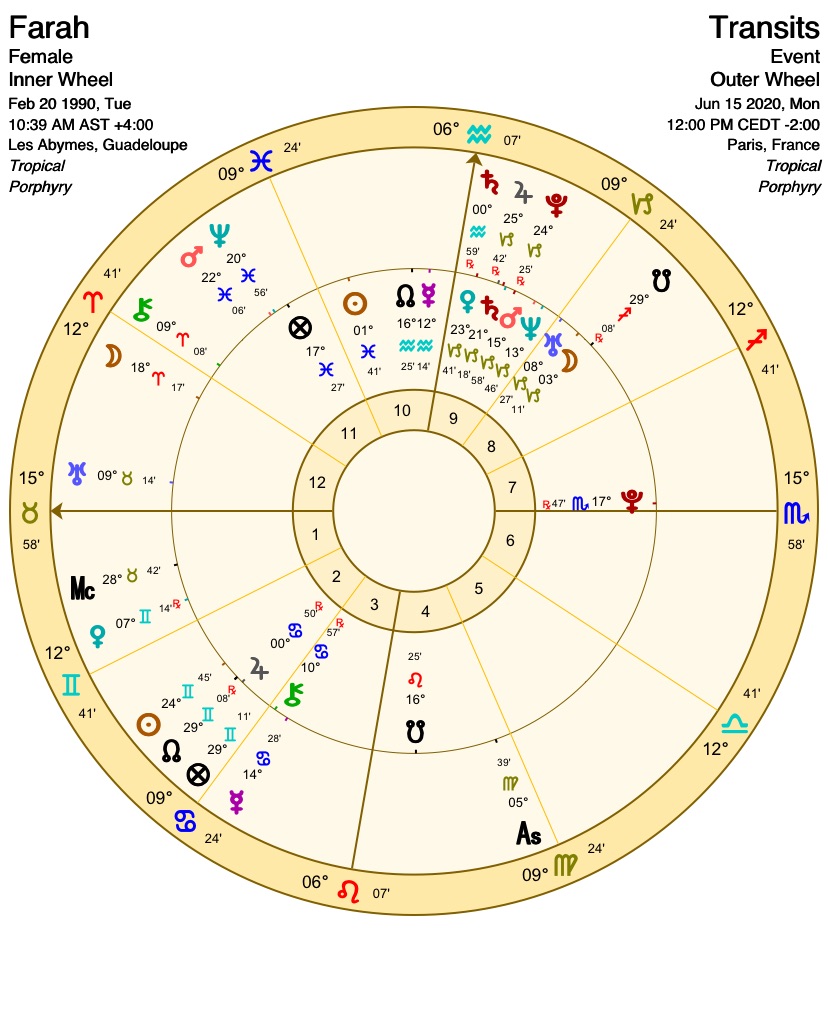 In the chart for the day she started her current job, on June 15, 2020, there are a few planetary transits that are most significant. First, transiting Uranus in Taurus is trine her natal Uranus in Capricorn within a degree. This is an opportunity that will increase her self-confidence to do something uniquely her own. She can stand out from the traditional methods, bringing something new to this employment experience. Second, Saturn is in Aquarius, the sign of her 10th house and the ruler; it has an enduring quality working with technology or unusual methods. Venus in Gemini at 7 degrees is in a near-exact trine with her Midheaven, which gives her Taurus ascendant good presence, and suggests her new job will be good-paying. Venus is also applying to her Mercury in Aquarius and recently was trine to Saturn. Farah will want to watch closely when Uranus comes to square her natal Mercury, especially in 2021 when Jupiter and Saturn add extra emphasis to her career and possibly to what she will learn in her own self-study. The Sun at 24 degrees Gemini also in a pleasant trine with her North Node in Mercury, although widely and just over 8 degrees. Something fruitful will emerge with transiting the north node in Gemini as well; two endeavors from the one is possible.
Uranus will reach Farah's Ascendant on May 27, 2022. Uranus gets close to 14 degrees when it stations retrograde in mid-July 2021, but it does not arrive at her Ascendant until May 27, 2022. It is then that Farah may decide she is ready to shift fully into being an independent entrepreneur, or another potential is that her role at her current employer is quickly expanded in unexpected ways. She will then again come face-to-face with immense power from some other person, with her 7th house Pluto in Scorpio at 17 degrees. Farah has the mind to maneuver, but she will face a gut check decision with Uranus to the ascendant. Whatever the experience, it is tied to her lunar nodes and deeply a part of her soul catalyzing her growth. There will be career growth and visibility in 2021 and 2022. Jupiter transiting her 10th house of Aquarius and Pisces to her Sun will be incredibly significant for Farah. What she has learned in every situation of her Saturn return will be something she can reference during her upcoming growth. Her intuitive feelings of people will be increasingly important when Jupiter and Saturn are transiting Aquarius and will square with her 1st and 7th house angles. More importantly, those intuitive feelings are imperative to deal with the power figures that she faces from others with her Pluto in Scorpio.
Presently, Farah is living with her mother, although she would like a place of her own someday soon. She wanted to get her own apartment, but the pandemic slowed that process. So, the next best thing is saving money, which is easier now. From all her experiences in the past two years, she is motivated more than ever to start her own accounting business. She is learning how stressful the organization and administration of a new business can be, but she wants more than anything to do it for the second source of income. She is driven to have her own business and to succeed on her own.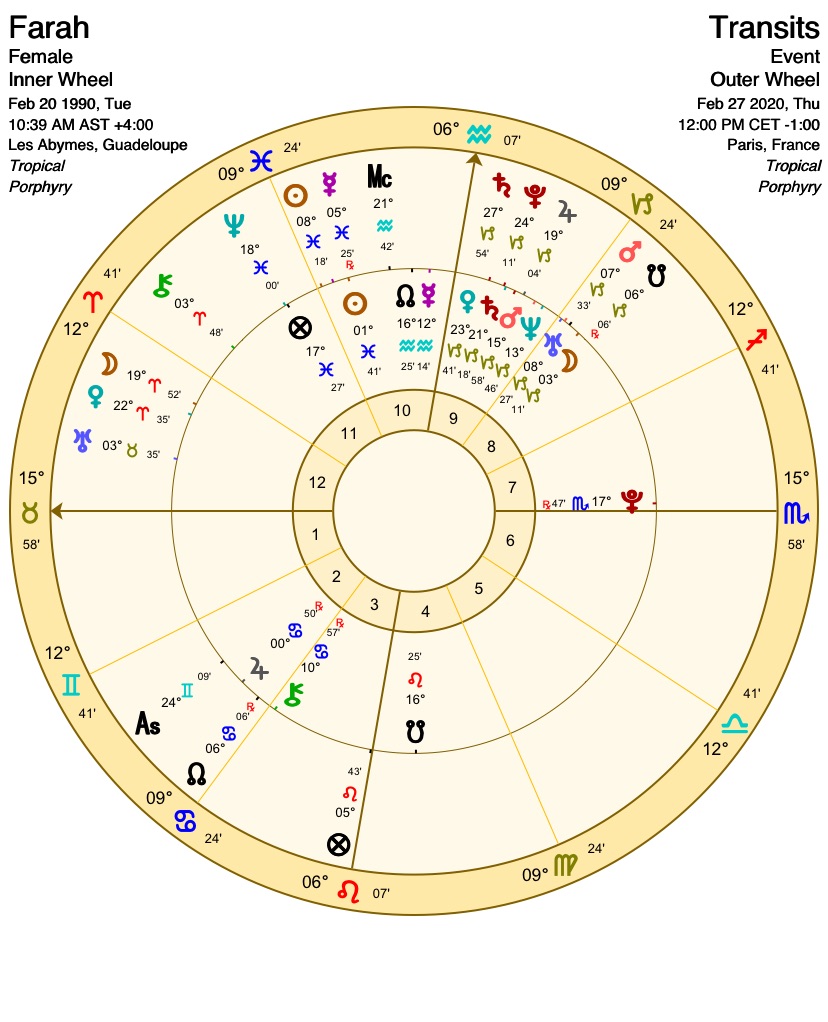 Karmic relationships have warnings and yield signs for us the day and time we meet these souls that are often painful. We get to decide to listen more intently to our inner world when they enter, however many times their entry feels rather exciting, like a high before the fall that is fated if we disregard the yield signs. Just a few days before her 30th birthday on February 27, 2020, Farah met a new man. In reflection, she sees this connection as rather karmic and one with a big lesson for her. She began dating him just weeks before the lockdown made it impossible to reach out in person, so they only saw each other three times before the lockdown phase.
The first lockdown in Paris started on March 17, 2020. It was not until June 2020 when they were able to reconnect again, with requirements for social distancing and wearing masks in public. She was then pained to hear, after two months, his request to see others and to hear him reveal that he was pansexual, especially after she started having romantic feelings for him. He clearly was not the best communicator and he should have shared this revelation early on in his connection with Farah. It never dawned on Farah that she could ever be in this situation, considering how they were communicating until that point, so she felt betrayed. A lesson learned is that she might have to ask a broader set of questions on the first dates, including those about sexual lifestyle preferences! Farah, clearly not pansexual, felt betrayed that this preference was not shared with her within the first few dates and that he waited two months to tell her. She thought she might try to better understand him but ultimately figured that the relationship would not work out since his lifestyle was not aligned wither hers. On August 27, 2020, she asked that he not connect with her further.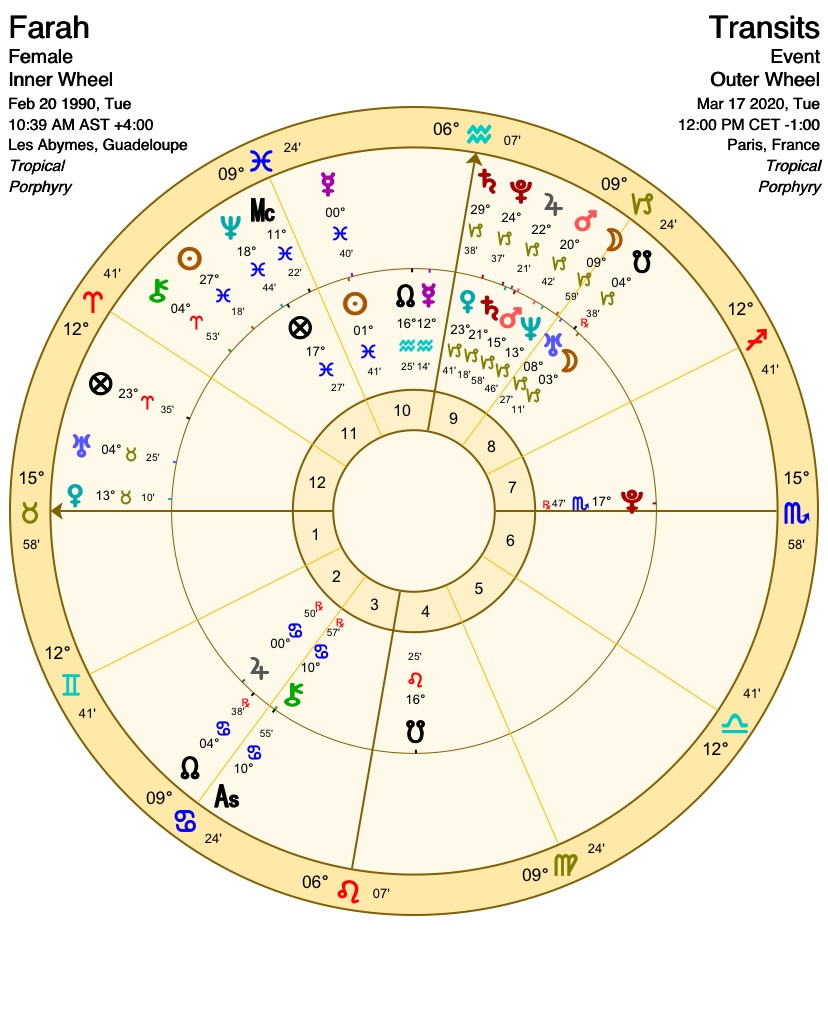 Many people have a karmic relationship sometime during their Saturn return, which brings into focus the lunar nodes of the moon. Oftentimes that karmic relationship is the catalyst to a more committed and meaningfully bonded relationship. The progressed lunar return happens at age 27 and the actual Saturn return exact is around age 29. In Farah's case, this karmic relationship entered right before her 30th birthday. The transiting moon the day they met was in Aries in her 12th house, which would bring out buried unconscious material for Farah. The moon was square to Mars and Saturn, right in between their position in her natal chart, which would be challenging for anyone. Note that Venus in Aries the day they met was also square to Saturn and had just passed the square to Saturn, too, so there is a rather potent karmic storyline around romantic entanglement. Transiting Mars was in Capricorn approaching her own Mars return (Mars return happens every 26 months) and Mars was just about conjunct with her natal Uranus in Capricorn. The transiting south node in Capricorn amplified the fated feeling of the experience. Transiting Uranus in Taurus was trine to her own moon in Capricorn, grabbing her attention for how he looked and his appeal for what she imagined for herself with regard to status and respectable choices. Transiting Jupiter in Capricorn was also making a trine with her Taurus Ascendant. She shared that he had a Taurus rising like herself and she really liked that about his astrology chart; however, she missed something in her early desire to see Uranus sextile to his Venus, which she felt may have been a key for seeing his unexpected romantic life preferences.
Sexuality is not something that really can be read in someone's natal chart. Although Uranus in aspect to Venus or the 7th house ruler may indicate potentials, it is clearly too broad in the archetypal symbolism to say it is absolute. When there is interest to pursue a relationship, it is better to be clear about your needs and to simply inquire about sexual alignment with intimate partners. The astrological chart of when we first meet someone new can tell us so much about the relationship potentials, even more so with the exact time of the first meeting.
The last experience that truly is another life-altering moment for Farah came just days after her birthday in March 2020. She had stomach pains that were debilitating and had difficulty eating normally. In trying to resolve the issues, she found that eating gluten was a problem for her system, so she started eating more fruit and vegetables. Notice that in Farah's chart her 6th house of routines and daily habits and nutrition is Libra. Venus rules Libra just as it does her ascendant in Taurus, and in her solar return for 2020, we look to see where Venus was. Venus had entered her 12th house and was in Aries, so it was square all her own Capricorn stellium planets and was transiting Mars exact at that time. Mars in Capricorn holds a lot of power, and with her research, she could uncover the source of her health problems. Venus moving through Aries would make squares with Jupiter, Pluto, and Saturn in Capricorn, pushing her to create the change her body so dearly needed. Mars transiting over her Moon in her Solar return chart shows how this challenged her emotionally until she figured out (in time) what worked for her. Solar return Mars trine to her solar return Uranus engaged her need to liberate herself as quickly as she could once she narrowed down the issues. Her solar return Moon in Aquarius brought in a level of objectivity to resolve the matter with a new approach to her diet. As a side note, on her solar return, we can also see the tight trine aspect between Neptune in her 11th house and Pluto of her natal chart in her 7th, bringing in a relationship that had quite an impactful illusion that was broken eventually, but it did enchant her for some time. Venus in the solar return square her natal Mars exact is truly not a good time to engage a new relationship, which she did learn.
Every soul has lessons to learn that helps guide them. Astrology can help guide you, but it does not keep you from all the potential interactions of your life. With maturity comes an understanding of the power of projection that each of us has when looking at a chart or another human being. We learn through experience how to discern what is right for us at any given moment in our journey. Astrology is a guide, a tool for spiritual growth, and can help us dive into deeper self-awareness that we may not otherwise have with other tools. The beauty of astrology is its power of reflection, offering us new "a-ha moments" of self-understanding, and with that comes greater acceptance of ourselves. In time we walk with our heads higher, we live with purpose and fulfillment as our soul grows lighter and wiser. Self-forgiveness comes easier because astrology is so intricate that it reveals the truth, even the fog of experience clears with our discovery of truth.
Not every answer is available immediately when you seek it however, souls who have heightened their receiving clarity through their inner light connected to everything find clarity sooner than others. Answers most often come with divine timing, which is always amazing to see in the chart of a moment of clarity. With increased knowledge of herself and deeper clarity, Farah sees the gifts of her Saturn return. From the roots of her experiences, new life will emerge and bloom from her hard work and endeavors to improve her life of intimate relationships, career, higher education, and health. Every effort to live life with purpose may be rewarded in time within the realm of Saturn. Looking ahead Farah can anticipate much that will bring her greater fulfillment and a sense of herself that she will increasingly share with the world. Saturn rules Aquarius (with Uranus as co-ruler) so Farah's public persona will open many doors for her to consider in the next three years. Not surprisingly, Farah indicated at the end of our call that she wanted to focus on herself and growing her business. From the view of astrology, that decision will be and a good focus for her to align with Jupiter and Saturn entering Aquarius this December 2020 and in 2021. Life is about to launch Farah into a grander version of herself!
#UPtheMountain_Farah