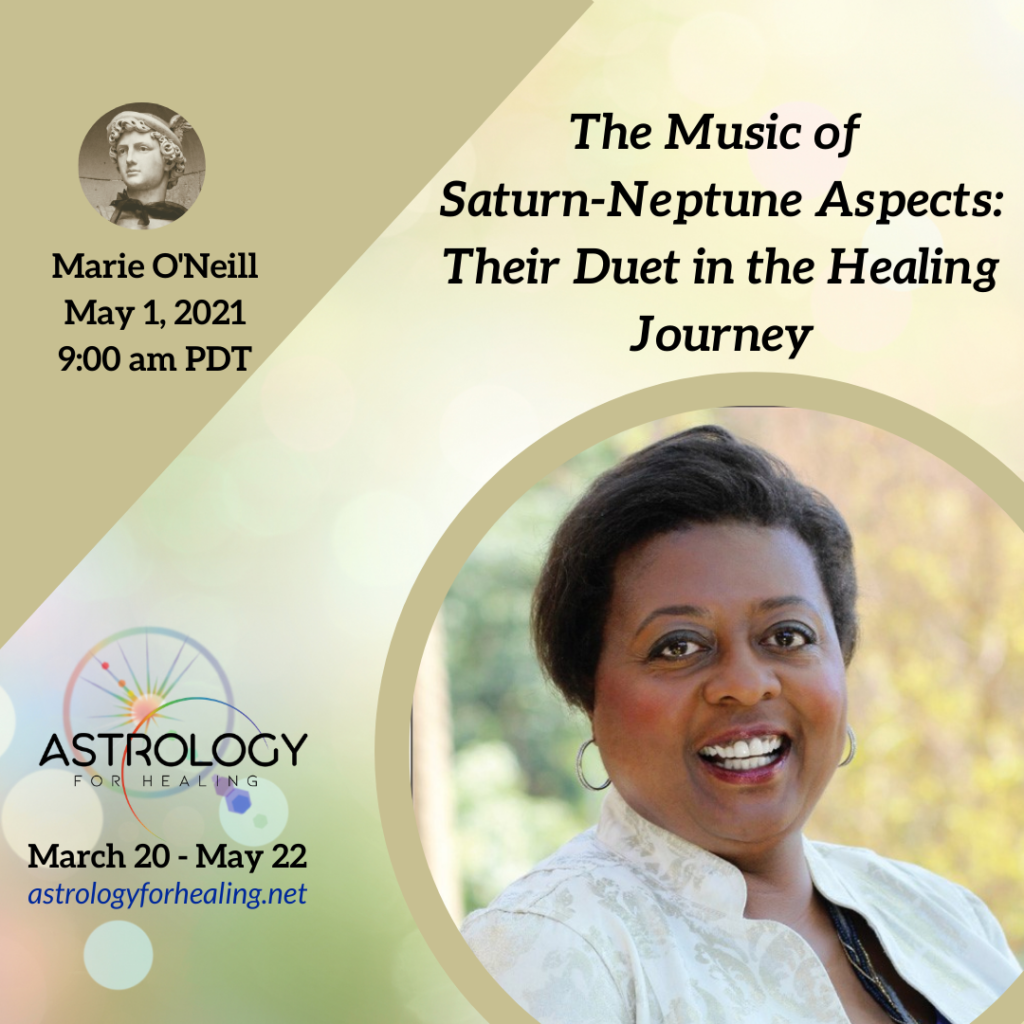 This Saturday, May 1st, 2021 at 9:00 am PDT we have professional evolutionary astrologer Marie O'Neill presenting for Astrology for Healing 2021.  Marie is presenting her deep dive talk "The Music of Saturn-Neptune Aspects: Their Duet in the Healing Journey."  You will find this quite valuable as most students of astrology are challenged with understanding how to integrate these two planetary archetypes when they are in aspect to the natal chart and in the natal chart.
Saturn and Neptune have very different ways of accomplishing our goals for well-being. The evolutionary intention of these two planets in aspect to each other offer dynamic opportunities in the healing process.
Saturn says "just keep going" — even if you are past the point of collapsing. Saturn loves discipline, structures, and a never-give-up attitude.
Neptune says there are no limits, no boundaries, "let's see beyond the void." It is the planet of spirituality, mysticism, and escapism.
This presentation focuses on the healing purpose, possibilities, and pitfalls of Saturn and Neptune meetings via major aspects in the natal chart and by transit.
Marie O'Neill MBA, DTM is the founder of Padma Life Coaching located in Santa Rosa California. Her specialties are Astrology, Speaker/Life Coaching, and Past Life Regression. Marie's studies in astrology began more than 18 years ago. After years of study – attending lectures, workshops, reading, and erecting charts; Marie added 'Master Level – Evolutionary Astrologer' to her tool chest – through Steven Forrest's Apprenticeship Program.
In 2012 Marie also began studying Esoteric Astrology with Alan Oken, as her mentor. She has found it to be a beneficial addition to her toolbox. Marie currently teaches Astrology workshops and classes at Kepler College, NORWAC, EA Zoom, NCGR, SFAS, and UAC. She also does speaker coaching workshops for organizations, helping the team members enhance their presentation skills. Marie continues to teach, do readings, and spread the word about all the benefits of Astrology. Contact information: website www.padmalifecoaching.com.
Add to your own knowledge and wisdom this Saturday, take action for your healing and mindfulness and join us.  Register today at https://astrologyforhealing.net/register 
As the creator and host of Astrology for Healing it is my passion to help others in their healing journey in all areas of their lives through the beautiful archetypal symbolism, knowledge, and wisdom of applying astrology to life that supports others wholeheartedly. We have three *LIVE* events left this spring and we welcome you to join us!