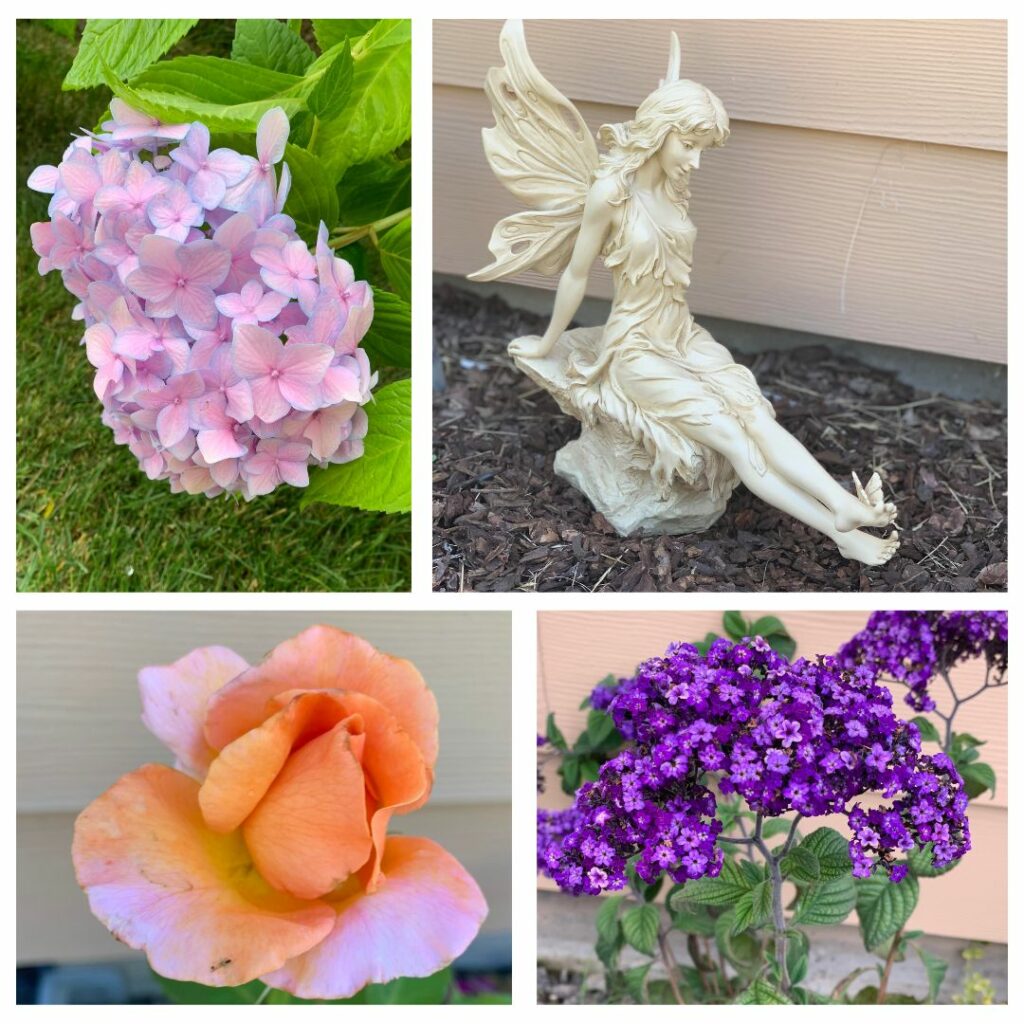 On Tuesday, June 21st, 2022, we celebrated the Summer Solstice, the portal to a new season.  The long hot days of summer (northern hemisphere) are finally here.  It's been a wet spring, probably the wettest spring I've known since I've lived in the Tri-Cities, but all of the Pacific Northwest has been wet and soggy for the past few months.  It is warming up now quite quickly and my lettuce is about to bolt too.  Spinach bolted earlier this week, things are shifting fast in my garden from the cool weather now to warm temps.  Roses and other summer blooms are making their show, I love the blooms and appreciate the warmer temperatures. Happy Birthday to all the Cancer Sun signs this month.  It is a new year, and this may be an intense summer, let me share the reasons why. 
At the summer solstice, we review collectively the moment the Sun makes its ingress into the cardinal sign of Cancer, marking the moment of the Summer Solstice. This year, there's a high energy square between the Sun in Cancer and the Moon and Jupiter in Aries, with Mars also transiting Aries.  This turns on the "instincts" or the need to take action for many, and if there isn't a clear why, there's just restlessness which sometimes can go awry. It can feel like an urgency that just blooms in a moment almost instantaneously.  For some of us, that can amplify anxiety.  For others, it is liberating fiery energy that is the invitation to take the long run, finally do the overnight hike that may be tough and pushes endurance limits. We're all wired just a bit different so how we flow with this energy is really individualistic. See the emphasis on Aries, Mars-type energy?  I even notice my cat is restless today and yesterday, having a bit of a fussy day.  Perhaps you may also have such a day, a week or even this season. So many people are still trying to rebalance after last month's eclipse season. 
I started this article yesterday, but too many tasks in one day just did not get it finished.  My family, my day job, my tutoring, and then my own astrology writing fall lower on the task list sometimes.  I have the passion, for sure, I'm simply overflowing with work right now. Maybe others can relate.  I worked from 7:00 am PT with a short break for watering plants, transplanting a few plants, and dinner to working online until roughly 11:00 pm PT.  My eyes are so tired, rough, and red after such long days online doing work.  I'm not the only one who manages such a crazy schedule, but for 10-12 weeks that may be the case with tutoring astrology taking a bit more time than usual and clients I see for my own astrology readings.  So, my apologies to all who like my astrology musings, 'tis late, late, late!
I have been doing some major gardening and landscaping in my backyard. I find having my hands in the dirt, barefoot on the grass, smelling flowers, digging, and planting a lovely thing for my well-being.  I do have Moon in Taurus (conjunct Saturn) after all in my 1st house.  For this Aries rising woman as I get older, I'm going to do the things that make me feel balanced and grounded as my priority.  The rest of the stuff will be there anyway…jobs, stress, the to-do list – always there – I will take care of myself and that's a great thing to know and be able to share with others who do not give themselves permission to do so. I know I work hard, so creating space for my hands in the dirt time is priceless. 
This is a Summer Solstice post a couple of days after the exact moment, that's okay – it is an entire season is it not?  <wink>
I have the sign of Cancer as my nadir, 4th house cusp angle of my birth chart.  So you can see why I am sharing some personal stories here about parts of my home life, and what I've been doing in and about my home that nurtures me.  You also have a sign on your 4th house cusp angle and it is your roots, your family, your home.  In what ways do you nurture yourself now, as an adult?  It is very important for your soul how you give shape to your own 4th house as you mature and live your life.  Many souls in this life are healing from generational trauma.  Check out your parent's charts – dive in to understand, what was "home" like for them not only as a child but how they would frame that "conditioned early life" into their own.  
Every soul is healing patriarchial trauma, are you conscious of how your life is healing this? Also the nadir, opposite the Midheaven of your chart, the IC or "Imum Coeli" is not visible to most others, unless the ruler of your 4th house is at the top of your chart in viewable houses – then, well you have a more visible home and family, and that may not be very comfortable if your desire your privacy deeply. (for astrology students reading this check out Halle Berry's chart,  she's been very vocal about privacy, especially for her children that helped change the behaviors of paparazzi photographers through a new law).  She knows her job puts her in the spotlight (Saturn top of the chart, but 4 planets in Leo in the 4th is an interesting scenario she has to manage with her star power. George Clooney with 10th house ruler in the 12th, needs for private life are important for him.  But known reclusive, Greta Garbo's IC (Cancer) with Moon in her 12th in Taurus is a really great case study on private life. Greta was born in Sweden so her Placidus-created chart has an interesting mix within the view of this time-based quadrant house system.  Even with Greta's chart in Whole Sign, Porphyry, or Equal and Mercury at the bottom of her chart for 4th sign Virgo from her Gemini Ascendant is a great example.)  How visible is your home? Your family? Your 4th house ruler in your chart?  A great theme to dive into this month while the Sun transits the sign of Cancer. 
The biggest transits over the summer months are the following:
June 21st – Summer Solstice (chart below) – with Moon-Jupiter conjunction in Aries square the Sun, a moon at the closing square (which is robust for experiences/events to manifest quickly.  Mars in Aries, we may have more violence to deal with and navigate emotionally as well (USA still trying to grow up on values of public safety). Use the Mars in Aries to take action – use your voice to create change. Seriously a good time to actually see something change.
Jupiter stations retrograde on July 28th.  So forward now through July 28th – use it to grow something for yourself, something that is uniquely YOU. Jupiter will transit back into Pisces from Aries on October 28th (that's this fall, but plan ahead, use the Jupiter in Aries energy wisely this summer!).
Saturn is retrograde all summer in Aquarius (stationed Rx on June 4th) fro 25 degrees to 19 degrees (at the time we'll have the Fall/Autumn Equinox) on September 23rd. Authority figures will be on alert again in waves as the months progress toward September, especially so September through December. 
Uranus stations retrograde on August 24th at 18-19 degrees Taurus.  September and October Saturn and Uranus will create another square in these fixed signs, which often increases challenges for money, currencies, supply chains, computer systems, and even themes related to future science and our bodies (vaccines may appear more prominently in our news again).  Over the summer, be mindful that we are still emerging from a pandemic, I know that may seem like old news, but it is not, it is still a sensitive period of time and social distancing is still a good idea and masking when unable to keep a comfortable distance. 
Neptune in Pisces at 25 degrees most this summer, when Jupiter stations retrograde (July 28th) that entire week or two prior and after there should be extra caution related to water and activities on the water.  Jupiter co-rules Pisces, there's a connection to the energy of too much and "jumping in" in a big way that might not go well.  Consider warning signs for challenging water situations. Also, excessive heat scenarios and dehydration, have the opposite potential, as they may be quite individually unique however someone's birth chart plays and manifests with the archetypal energies. 
Pluto in Capricorn finishes the final sweeps through Capricorn before the ingress next spring (March 2023) into Aquarius.  Pluto is retrograde all summer from 27 degrees to 26 degrees.  This is transformational, but things being "uncovered" or re-discovered that in time are now being revealed when the timing is right. I am sure the world of anthropology is amazing right now with newly rediscovered ancient cities and more. A great time to be an anthropologist and history enthusiast. 
The inner planets keep us dancing with Mars in Aries now making its ingress to Taurus on July 5th, and then into Gemini so swiftly on August 20th.  Mars in Aries can be wisely used for taking conscious action, but it can get heated quickly and may be challenging to control where that energy goes.  Do not overheat yourself by exertion. Mars sextiles Saturn now through early July.  If you have planets in 24-29 Virgo that energy funnels through like a yod – consider that – use good judgment. 
Venus lets us smell the flowers and exhale allowing moments of respite.  Take every moment you get to smell the flowers, share your essential oils with your loves, and have a good meal with your friends.  Venus makes its ingress into curious Gemini on June 22nd at5:35 pm PDT.    Walk and talking with your friends, are an uplift for your heart. Venus moves into Cancer on July 18th, another nurturing time for your emotional well-being with friends and lovers, and family.  Venus splashes into Leo on August 11th and we will see that everywhere on social media, lots of gold.  <wink>  Likely I will be adorning my house with my yellow roses then. Venus will ingress into Virgo on September 5th, when kids are back in school and the summer days are turning to crisp mornings and evenings. 
Speedy Mercury dances through a few signs over the coming weeks and months. Mercury in Gemini at this Summer Solstice at 7 degrees behind the Sun, still racing to catch up to Sol. It's worth mentioning that Mercury will be square to Neptune (Gemini to Pisces) on July 3rd.  July 17th Mercury reaches the Sun in Cancer at 22-23 degrees Cancer (and will be cazimi that day), a day to ask the Divine Goddess for insights for your healing and nurturing.  Few days prior and after can be challenging for clarity on something in movement (any transportation) and directions. Mercury ingresses into Cancer on July 5th and will square Jupiter around July 9th.  Intense deep dives into a subject?  Curiosity reigns.  However, this is an amazing combination of speed perhaps in the water, and the use of one's instincts, the opportunity to build that muscle of instincts may present in your experience.  Challenges around feelings and communicating what you as an individual need versus another's desires.  Mercury square Jupiter.  
Mercury's ingress to Leo on July 19th is favorable for your selfies and sharing stories.  Where's your community for sharing – figure out your marketing your business for visibility.  Mercury enters Libra on August 26th. How will you participate in sharing your voice for the matters most important to you?  We are all activists for what we care about in our communities. On August 4th Mercury enters Virgo, where Mercury is strong and can easily make edits to long-winded essays. Mercury will station retrograde on September 10th at 8 degrees Libra (Cardinal sign = dynamic) and re-enters Virgo on September 23rd. Activists likely revisiting big issues where there's a desire for massive collective changes. Mercury stations direct October 2nd at 24 degrees Virgo.  Mark your calendar for Mercury's ingresses this summer and take note of how the day the ingress to a new sign happens and how that may translate for your lived experience!  
Astrology is a gift, something available to us for understanding ourselves in our lives both within the collective as a group experience and as an individual, both are happening and unique to each from perception and actual manifestations. Hurrah for all those who review, study, and observe the symbolism through time and space – you're my tribe. Namaste. Bless this moment.