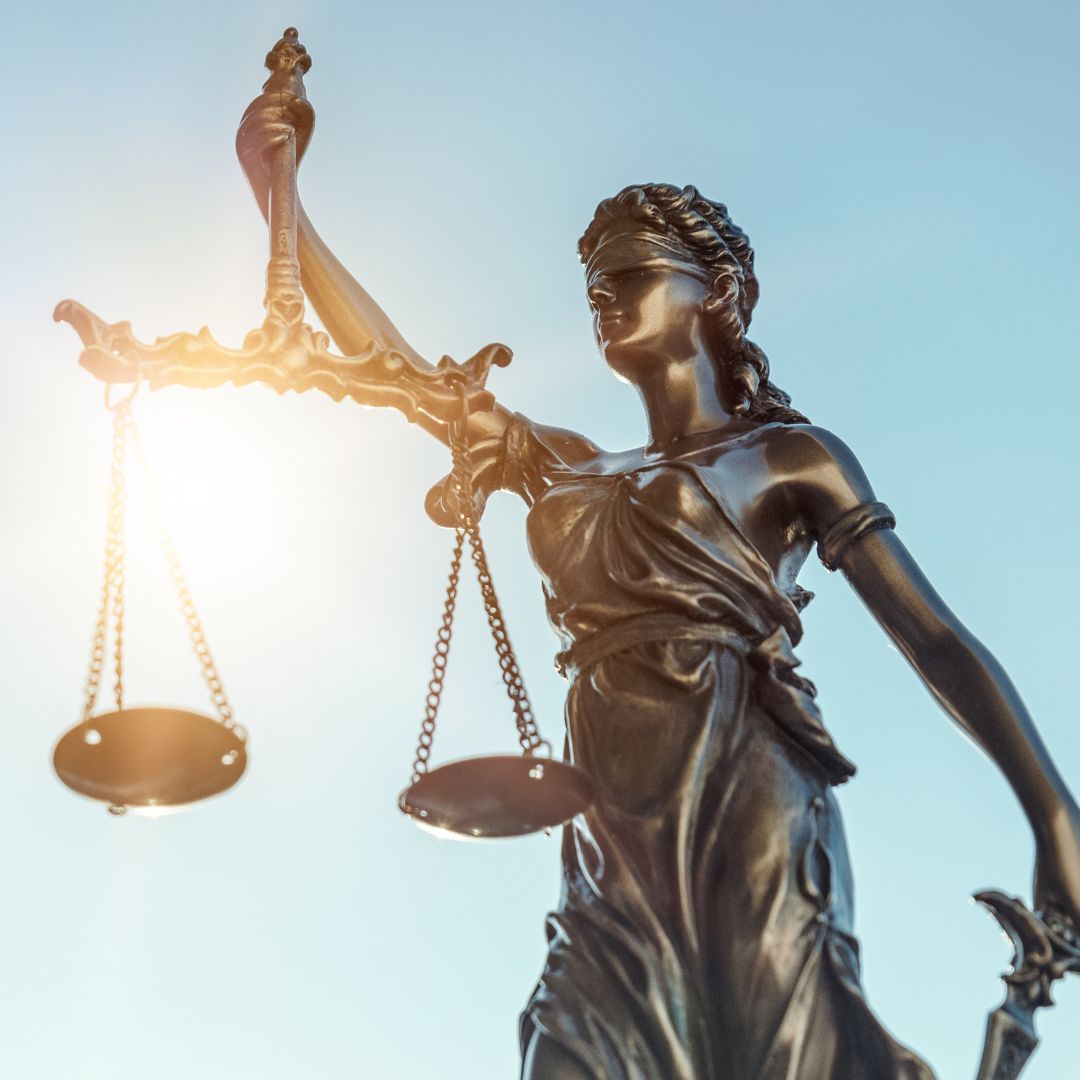 Saturday, October 14th, 2023 this new moon is a  solar eclipse that is happening at 21° of Libra at 10:54:56 am PDT.  The nodes of the Moon are close at 25°of thus creating this solar eclipse, and anyone with planets or angles in 7° of this eclipse will really notice dynamic experiences around the themes of relationship, balance of yourself and others in a relationship, inner dialogs about what is fair or out of balance and what to do about it.  This is also about desires for peace, negotiating for something of value, and possibly experiencing or observing the opposite of those desired values (peace and fairness) by some conflict outside of you in the external world.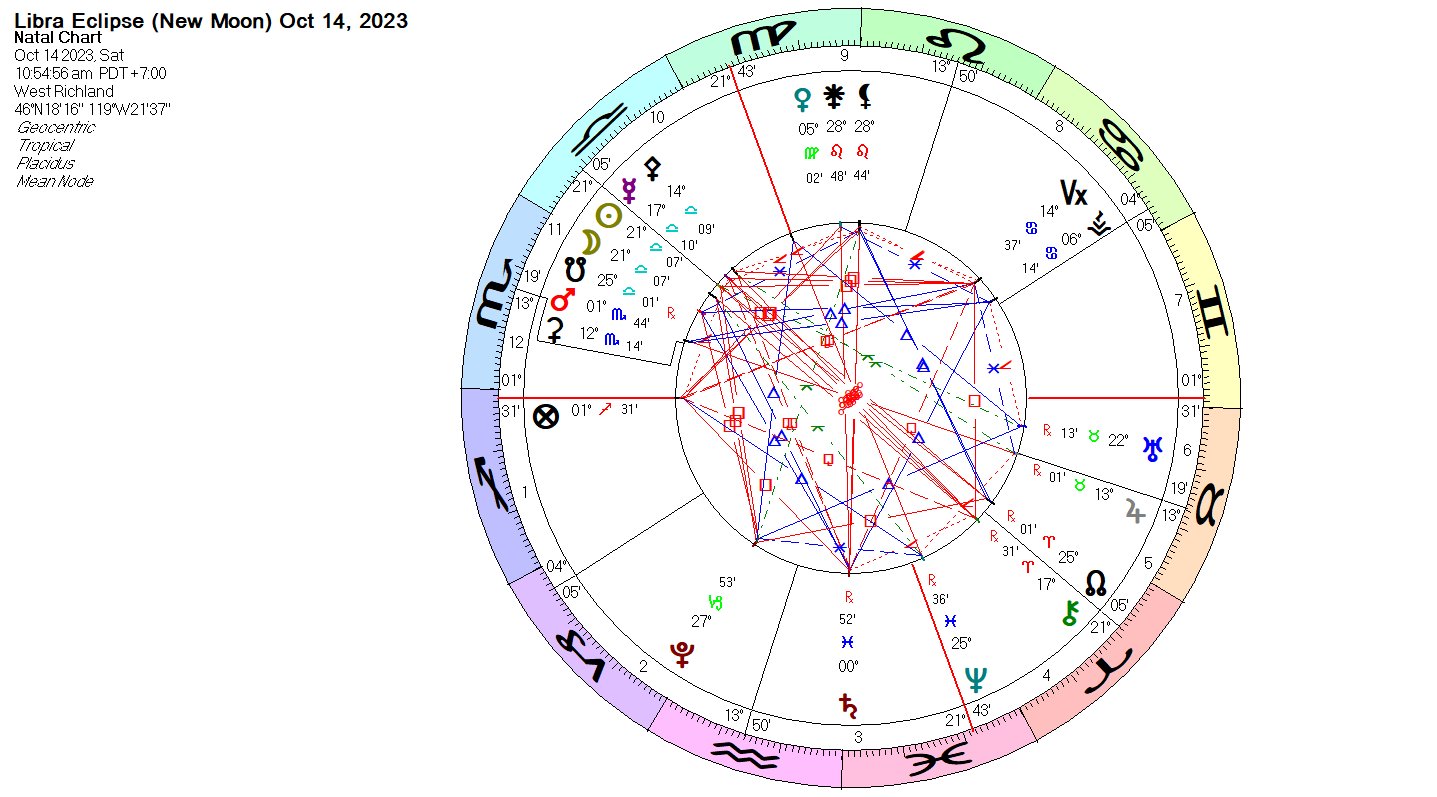 You may have in the past few weeks been considering themes of cause and effect on specific events.  Libra, the sign of the scales is about equilibrium. How we adjust to bring something into equilibrium.  Considering the sign of Aries opposite Libra we have to consider the polarization that is more potent during eclipse season.   Is there an imbalance because of the amplification of aggression or has conflict been heightened? Or is the imbalance related to some deeper-rooted value system?  With Mars in the sign of Scorpio, we have a very penetrating precision response to make.  Mars, maybe like the sniper if we are taking shots at something from a place of invisibility.  Consider the metaphor of a surgeon who acts with precision in an orderly but also visible way.  Sometimes balancing something requires our courage to act and face something while considering the overall universal ethics. But you may ask yourself, what does universal justice look like?  I see the image of the scales in one hand and the sword of truth in the other go together. 
 Venus in Virgo is at its best in service, empathetic and compassionate.  Venus in Virgo also finds satisfaction in relationships and takes account of the details of what is fair. There is an enhanced deep desire for peace and harmony. Relationships formed and inspired by peace, fairness, and order lead to greater intimacy and connection. Consider this not only as individual one-on-one relationships, but also as a relationship of self to groups, or communities as well. With Saturn opposite Venus, there is a present issue that creates great tension that may not be overcome immediately.  Saturn in Pisces limits and restricts our emotional bodies, as well as the cause and effect of something over time that manifests and has real consequences that may bring suffering to many. Our awareness of an authority figure (or more than one) has lost a battle or is losing its ability to contain something.  Beliefs are shifting, and our reality is more fluid in the wave of cause and effect.  We may struggle collectively to understand what the boundaries are, and we will search for something where we can find stability. Depending on the variables we may reach deeper to affirm our faith.  If it is not necessarily available to us externally, we may be digging deeper within for beliefs that stabilize us. We often search for that authority outside ourselves, and as unique souls, we must give it to ourselves through our inner plane, with our Higher Self and wisdom.  But often, we are distracted or out of the practice of listening within to know what that unique wisdom is. Without harmony, Venus in Virgo struggles to connect to satisfy bonding desires to feel empowered in greater intimacy. Intimacy may have become blocked if there are unpleasant emotional exchanges. And what actions are creating the pattern loop?  Much to consider here at this crossroads!
The path through is to understand the block(s) that is up to us to remove to find ourselves able to be vulnerable again. Trust is imperative in this process.  Operate from gentleness and attention to detail support our receiving and allowing a path for harmonious relations (yin energy).  We have to understand our values deeply to dig into this process. Libra's archetypal energy is not just the balancing act to get to a harmonious being, but it speaks to fairness emphatically. We have to speak up to discuss conflicting values when we observe them in order to address how something is perceived or experienced.  Mars in Scorpio can be misinterpreted at this time as possessive.  Yet, Mars in its strength by being in its own sign may dominate the expression, Mars in Scorpio in a positive expression would be like the surgeon exacting a cut on a specific problem with precision to remove it.  If you consider this metaphor in a conversation between yourself and a loved one, you can understand that specific targeting inquiries can help you better understand the other person's needs, what they value, and what looks like fairness to them.  Now reflect on that same action within our own inner world, exacting a precision cut on something that is a problem and the actions required to remove it to transform yourself so you may be more open to connection.  Sometimes we must look within to create the catalyst for changes for new experiences that we value. This can be very hard, especially when we are operating from conditioned thinking that prevents us from new experiences and new awareness. We then must be willing to ask for help to navigate the change.  We must dig deeper into the personal psyche consider where we are operating from and understand the beliefs or beliefs that are the blocks to the higher choice we so desire.
How have past experiences tinted the lens of what we (or our other) have deemed fair or harmonious?  This Libra eclipse is powerful for all of us.  Pluto recently stationed direct on October 10th at 27 degrees of Capricorn is square the lunar nodes and this new moon in Libra.  It is a pivotal choice point in our collective reality.
As I was reflecting on what I might share about this Libra solar eclipse I listened to the Nightlight Astrology video that Adam Elenbass produced on this solar eclipse.  Normally I don't read or view anything prior to writing my own newsletter, but his headline caught my attention today.  I was curious today as it noted "making hard choices" in his title.  To be honest, at this present moment, I feel that crossroads in a few aspects of my life.  I sense this eclipse dynamics, as it lands within a few degrees of my Descendant (7th house cusp) activating myself and other axis (my rising sign is 24° Aries, and my experience with others has been an interesting inner back-and-forth sifting through my values, and what I have been observing as out-of-balance and what I am deciding on now for dynamic change for myself that will change how I communicate, how I share, how I will be focused on changing myself as I fine-tune myself from within.  I share this as others may have observed this inner dialog as well and are evaluating things with an eye toward greater harmony that comes from the inside out.
In this video, Adam does a deep dive into a passage from The Astrology of Fate book written by Liz Green (also on my bookshelf).  Listening from time stamp 06:20 to 29:15 for the passage he shared.  But I encourage you to listen to the entire video. I really appreciate what he shared in addition to the passage that offers a lengthy description of Libra archetypally.  I am struck by how on point this description and Adam's sharing is and what he described, how he frames what we might consider archetypally, and the ethical matters embedded within it. The powerful phrase and consideration of how the "human spirit can contribute to the fairness of life" resonate with me as if someone is ringing a zen bowl at my feet.  Adam's words and his description of the crossroads of this moment and how things presented in life at the moment making the choice much more challenging to make truly hit home for me, because I feel it, but I sometimes struggle with the combination of words that languages it.  Read my personal notes (subscribers to my newsletter) to gain some insight into why I may have these heightened perceptions now.
This material and sharing that Adam went through in his video prompted additional questions for me, and perhaps they will for you too.  Ask yourself this, – what am I deciding now that requires my need to re-evaluate my values? And is there a "what's in it for me" consideration at the foundation or what's the highest morally right or ethical choice given all things? And it is important to remember what WE (as individuals) value is subjective.  What's in your heart?  Do you KNOW YOURSELF to know what you value that supports you in living in beauty, truth, and justice? This knowing is the blueprint of your unique soul.  We are judging something from within our inner world (spiritual eclipse at the south node) and discerning what aligns within us is real and truly dynamic, which can be framed or understood by experiences we are navigating in the present moment. If you are pondering your values you may appreciate this little video on values vs. goals, and this excellent talk on why values matter by Jan Stassen (getting to them through a personal story, as seen at the Museum of Values). It takes effort to really acknowledge what we value sometimes, especially if we have moved through a lot of dynamic changes in a few years whether we made them or they were just part of our experience. The transformation that occurs in this process will be visible over the next year (usually the length of an eclipse being active) but also because Pluto will make the final exit from Capricorn in November 2024 and it is a visible part of this crossroads of this solar eclipse. 
Mercury in Libra at 17 degrees is near meeting with the Sun again (superior conjunction). The cazimi with the Sun is exact on October 19th at 10:37:48 pm PDT.  A good time to ask for a message to give you clarity on this theme of balance and your core values presenting for a decision at this time. As Mercury moves beyond the Sun and returns to visibility in the sky (November 14th) it will be an evening star (seen after the sun sets). What you may inquire about to receive an answer to your listening in meditation and prayers may be related to these themes and worth your conscious effort.  
Jupiter in Taurus at 13° retrograde will continue back to  5° where it will station direct on December 31st.  Interestingly, the coming lunar eclipse will be at 5° Scorpio opposite that degree of Taurus where Jupiter stations.  Our growth and expansion are tied to how we precisely act with the metaphorical scalpel at this time in this eclipse season. Our courage to examine our own psyche our own intentions and make critical choices is important now for how we will grow in 2024 and experience life. And next year there is a real dynamic moment when Jupiter will make a conjunction with Uranus in Taurus which will unleash something new (April 21, 2024, at 7:27 pm PDT).  What will emerge and did you take the effort now to make a precise cut to bring something back into balance from within yourself?
Saturn stations direct just a couple minutes after midnight in a few weeks on November 4th at 0° 30 minutes of Pisces. (12:02 am PDT). A karmic moment where cause and effect materialize.  What have we collectively and individually affected by our actions that support our fellow humans or devote ourselves to with discipline in spiritual solitude? What boundaries have we evaluated during Saturn's retrograde cycle? (June 17 – November 4)
Neptune in Pisces at 25° is inconjunct this solar eclipse. Neptune seems to allude there is something in our collective blindspot at this moment, adding to the tension we are navigating. Is this nebulous and intangible thing that we are missing in our confusion that there is something imperative in our truth to realize that the deepest truth is our connection – and yet we have a powerful illusion here of separateness, our incarnate life as human beings simply here learning about duality? Neptune in Pisces is the view from beyond at the edge of our solar system reminding us of what we often miss when our focus is on the finite world. A wider lens perspective helps us rebalance, zooming out to our most core values for life and well-being hopefully drawing us closer to our highest choices that realize them. Namaste, bless this moment.