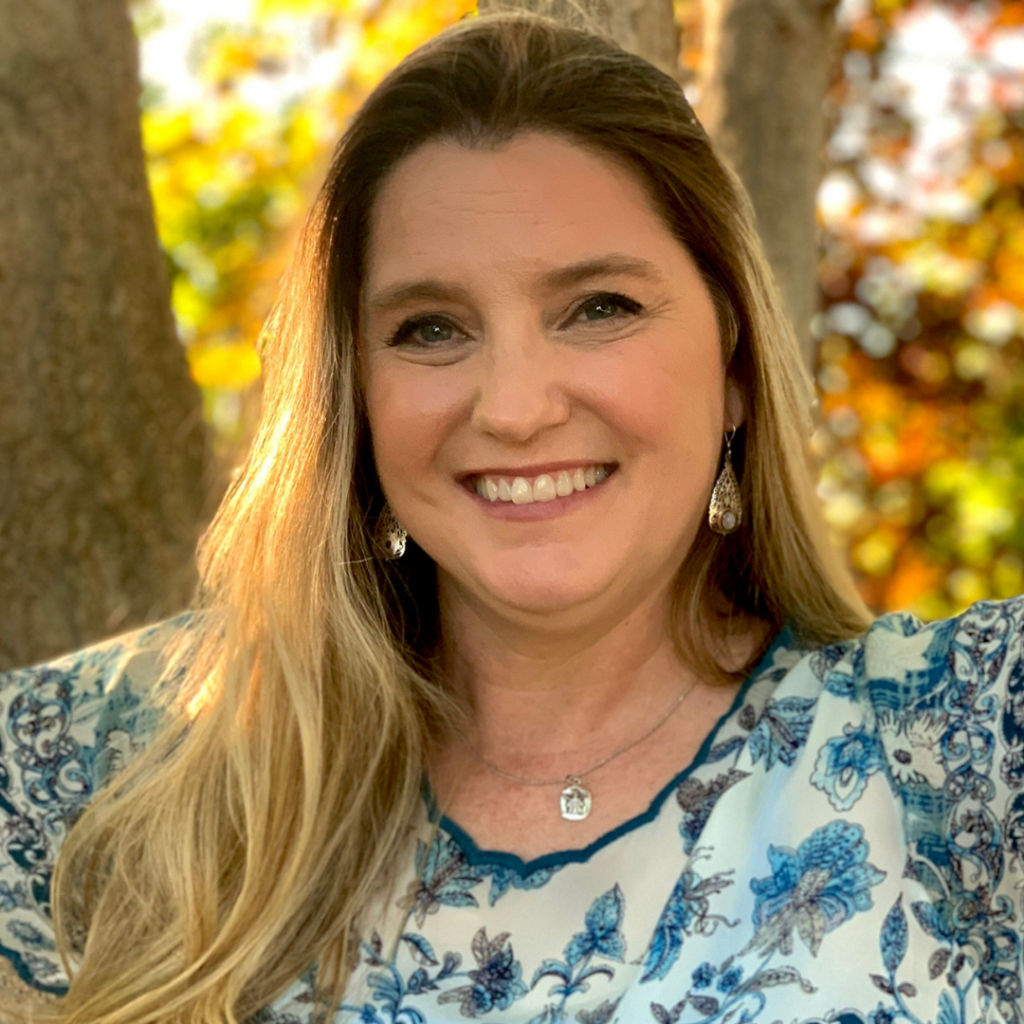 Today, February 20, 2022, I spent the bulk of this Sunday diving into personal stories of my past with astrology pulling on threads that help illuminate more self-awareness. (I'm finally posting to my blog on Monday, February 21, 2022). In this exercise, I am looking for clues of understanding of others that help connect into the heart of the stories of the souls I'm linked with through my heritage.  Today my focus is my father and his parents and what I've discovered with a few a-ha moments of connections along the way. 
First, I know that I'm more sensitive to this storyline right now for a few reasons.  First Mars and Venus are in Capricorn right now conjunct within minutes of arc of each other as they move towards the exact conjunction on March 6th at 0 degrees Aquarius, the hot degree where Jupiter met Saturn, December 21, 2020.  So this feels like remembering through time and space that will help me understand not only myself, but the story of my experience with my father in my life, who died February 29, 2020, just two weeks before we all went into quarantine for the pandemic. 
I'm not sure when I realized the first clue, but I know my deep dive into astrology and self-awakening at my Uranus opposition was lit from within by a vision on  April 14, 2010, that manifested its truth (precognitive) on February 23, 2012. A vision that held more than one simple truth, but within it layers and layers for me to peel through in time. On February 21, 2012, my first significant love in my life died after a battle with cancer. Though I did not know he had died until the morning of February 23rd, my sister's birthday.  The news came from a call from my father who had received a call from the family where my first love had stayed when he was visiting the United States in 1985-1986 as a foreign exchange student. I will share more on the story of that significant relationship in another post, for this post I want to make the connection of the clue that it was my father who was the one that made the phone call that I received the news that helped me see the first layer truth of my vision I had in 2010 which then clicked into clarity why my sister Joy was in the vision. It provided me with the information of when I would receive the insight, the truth, and meaning of the vision for me, which actually supported me a lot in acknowledging his death.  It would be years later that I would come to understand that my vision was my emerging conscious awareness of our lives outside of time and the strange way we all experience time. At the time, I still was immensely uncomfortable with my relationship with my father and kept him distant for my needed space to heal the wounds of my childhood, more on that later. In 2012, I was struggling with the fall-out of my own marriage, grief and losses, and other trauma that was surfacing to be healed. It was the most hellish period of my life, but also with numerous seeds for new growth. Truly,  I was emotionally overwhelmed at that time, so it would take time for me to grasp the clarity and new understanding that was shared with me from the vision in 2010 and the truth it revealed of my friend's death, but the deeper truth within the light that illuminated so much more for me. It's been a decade since my friend's death, and 12 years since my vision – a Jupiter cycle and here I sit writing out my first of perhaps many stories and the path I took towards my healing and renewed self-love. This year I am in a 12th house annual profection, where Jupiter is Lord of the year (just a little fact from the traditional astrology lens), and my Jupiter is eight signs from my Aries Ascendant in Scorpio. 
It wasn't until recently that I knew that it was actually significant that it was my father that was the "messenger" that day and what that would later help me see something I needed to see for my own healing, but also my working with astrology.  
My father was challenged in all his relationships during his life and from my new distant point of view, he may have suffered less if he had the tool I have today with astrology. His chart Saturn-Pluto square the nodes in fixed signs with Jupiter on the south node in Scorpio had to be incredibly challenging, downright hellish and that understanding of that from his unconscious mind. His mind and its obsessions gripped his life. Psychology back in my youth was not accepted as it is more today, back in my childhood and the young adult life of my father (my parents) it carried a deep stigma.  I can see that and understand that with astrology objectively, but I  am one of his children, part of the story which was so challenging to emerge to this point of view to look at it with more compassion. There is a blessing of emotional distance that Aquarius as an archetype offers all of us. The archetypal symbols of astrology speak volumes, so I am going to post his chart to start this exploration.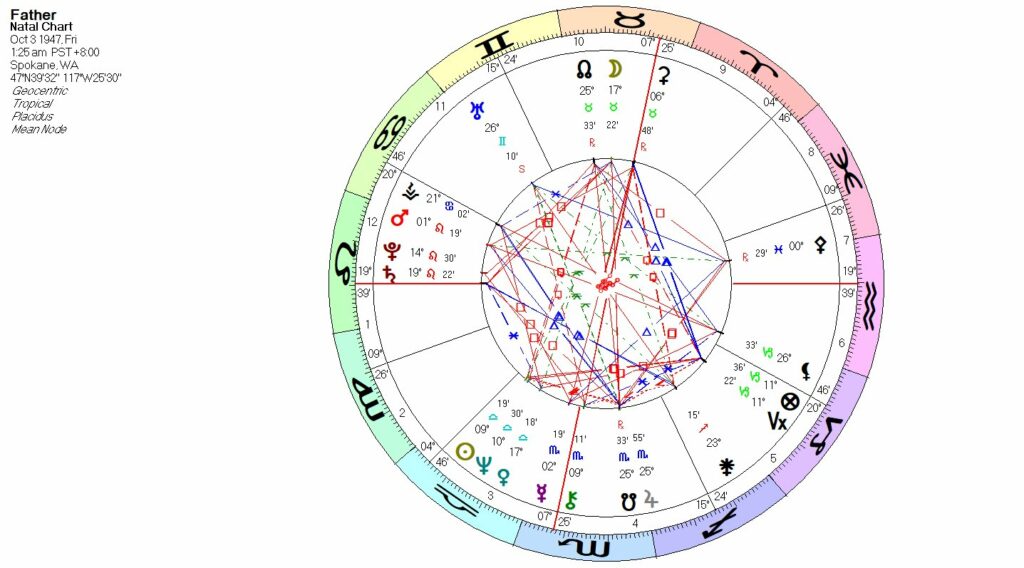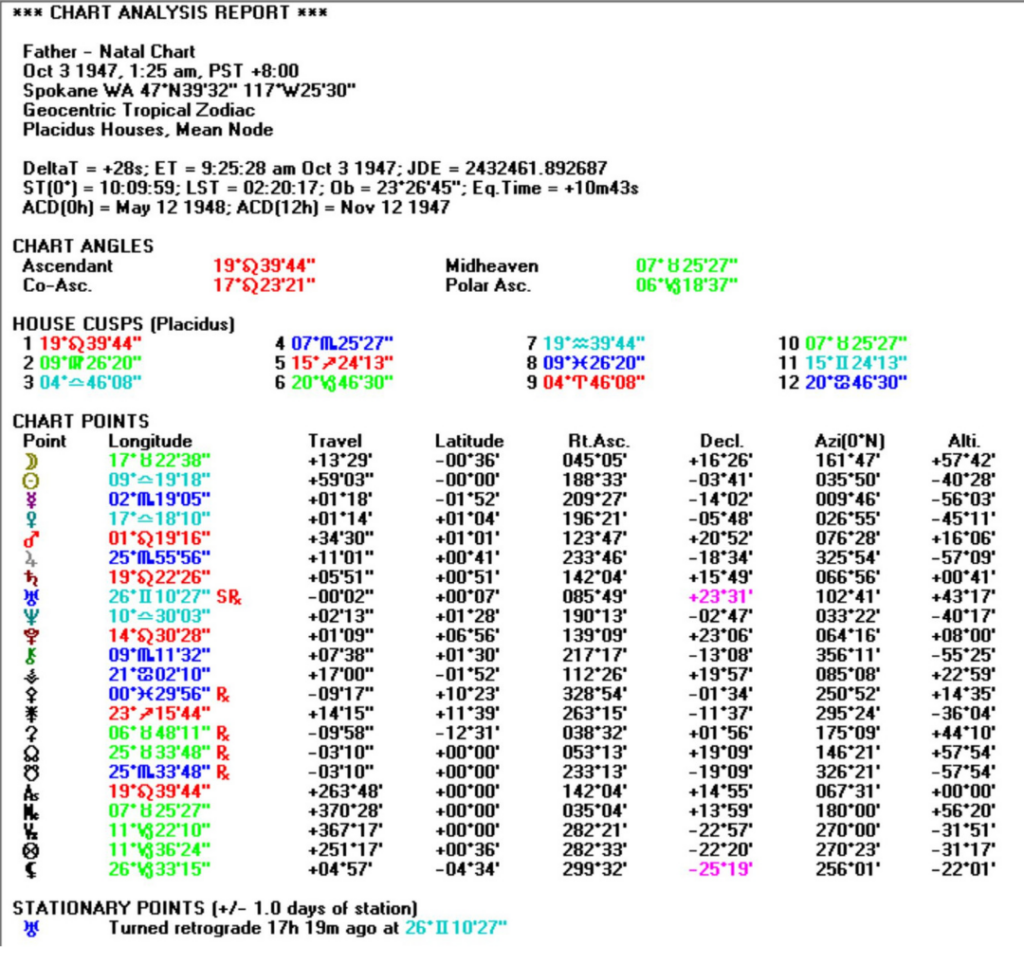 In the report for my father's natal chart, there are noticeable out-of-bounds planets and asteroids.  Uranus is out of bounds, and stationing retrograde it is more pronounced in its energetic expression in the life within the sign of Gemini, and within my father's 11th house of groups and group consciousness.  Uranus rarely goes out of bounds, but with it stationing there's something pronounced about it even more. Additionally, Black Moon Lilith is out of bounds at the southern declination in Capricorn at 26 degrees in his chart.  I'll review Black Moon Lilith later, but it definitely provides some depth to the life experiences he would later live through with others. The Pallas Athena asteroid was also retrograde in early Pisces, at his birth, another theme to explore later (symbolically an ancient Greek goddess associated with wisdom, handicraft, and warfare).  The topic for this post is narrowed to Uranus in my father's chart and the air elements of his Sun, Neptune conjunction and Venus in Libra as well. His Sun in Libra at 9 degrees and the outer planet Neptune at 10 degrees. These in conjunction with his Venus (ruler of Libra) in the sign she rules amplifies the importance of relationships he would try to engage to know himself within over time. 
Of course, I'm writing this from a more objective place in February 2022.  I have healed in many ways from reflecting on my life and my experiences, contemplating my own inner world, diving into my past experiences with new questions to gain clarity about myself that prompted me to ask the deep questions about my purpose.  These questions started at first with why life was so damn hard and painful in my childhood and my youth.  My Uranus' opposition was both another dramatic swell in experience leaving my marriage to Sydney's father, but I went into it then asking with all of my heart to the universe why and to help me see the truth of the why from what I knew and to help me see the roots.  Eventually, after a few years I emerged out of the dark and I had new clarity through acknowledging my pain which I needed to feel a spectrum of suppressed feelings of shame, guilt, and grief and surrender it, as much as I could.  I had to find the energy and courage to renew love for myself. I emerged with some questions answered and a beautiful new awareness of the universe and the feedback I received from listening and observing with new eyes. Honestly, it is still providing me feedback from those years, it is true I asked numerous questions.
I was willing to go into my fears and the places that hurt terribly and see into my inner world, understand more deeply my own mind and conditioned thought patterns to dig deeper, and help myself towards loving myself.  My dreams helped me a lot, it was clear to me – everything pointed me towards studying astrology.  I truly found a way of returning love to myself about 12 years ago.  My own Uranus opposition in 2009-2010 led me through the wounds of my trauma (that I had not dealt with thoroughly) and moved me towards a new understanding of the cause and effect of such a tumultuous and traumatic upbringing, which I re-played as trauma surfaced and my marriage was unable to contain it. I grew beyond the relationship as it had been envisioned, and it was something that I released with great sadness, my journey set me on a path to go inwards into my past and it was something that required volumes of introspection.
A few things have popped in the exploration of the astrological ties I have of my chart and that of my father's natal chart. 
 Here's the list of my observations:
My Uranus in Libra is 8 degrees (retrograde) which makes a connection to my father's Sun and Neptune. 

The journey of understanding the Promethean archetypal energy of Uranus in relationships, the triggers of my trauma into my relationships of all kinds that became destabilized from my unhealed trauma, from my lost sense of self-worth, learning about my own courage to stand up for myself, also while learning new skills, healing modalities, and daily routines, self-care, and other techniques that enabled me to heal more and sharing that with others. 

My Uranus is also retrograde at birth in December 1969 – t

hemes of the 60's within the context of the volatile time in the history of my birth – inner focus first, the Uranus stationed direct on _______, showing the transformational moment towards a new expression and liberation of Self! 

My Father's Uranus is out-of-bounds in the sign of Gemini

(the archetype of perception/communication/messenger/trickster/) Something to learn about out of bounds Uranus to research other charts from the same period in history.

My Father's Uranus is stationing and heightened expression of the energy – in his 11th house of group consciousness

(breaking free dramatically)

My Father's Mercury is 2 degrees Scorpio within 2 degrees of my Jupiter at 0 degrees Scorpio. (

witness of horrors, deep fears, perception, psychological, suspicious, thought patterns in fixed energy square Mars also fixed – obstinate/ belligerent

)

My Sun in Sagittarius at 26 degrees is exactly opposite my father's natal Uranus (

Sun in Sagittarius: beliefs and dogma/ higher learning/ philosophy/ teacher)

My Mercury is out of bounds in Capricorn at 14 degrees square to my natal Uranus

(order to chaos, and chaos to order, moving energy, systems, information, work-related and skills gained in a past life, duty, what work I bring as my service to others, my skills I've learned)

My Mercury in Capricorn is within 3 degrees of my Midheaven

(my life mission from my evolutionary intent as I re-explore past life themes within this life,  as I live more my north node in Pisces – exploring my connection to others through increasing my understanding of the unconscious mind, my unconscious, and the collective unconsciousness.  Finding new inspiration in solitude, poetry, painting, music, and my relationship to the divinity in everyone), raising my compassion for others and releasing judgment with new learned awareness and perspective of their lived experience.

The Sun-Uranus new phase in 1969 is at 4 degrees Libra with Mercury at 7 degrees in a stellium –

Mercury in new phase with both Sun and Uranus, an opportunity to plant a new seed that supports thinking that will evolve the perception of relationships, harmonizing partnerships, and social justice themes.

Uranus symbolic of Promethean impulse (

see Richard Tarnas' book

)

Uranus as a transpersonal planet – karma/dharma –

Uranus as the planet as Change Agent, deconditioning old paradigms, liberation from stagnant energy, catalyst towards evolution through the integration of knowledge via self-awareness from experiences

Courage (Mars) is required to take action (

making decisions in life

) towards the unknown to live a new experience. Embodying my renewed self-acceptance and love.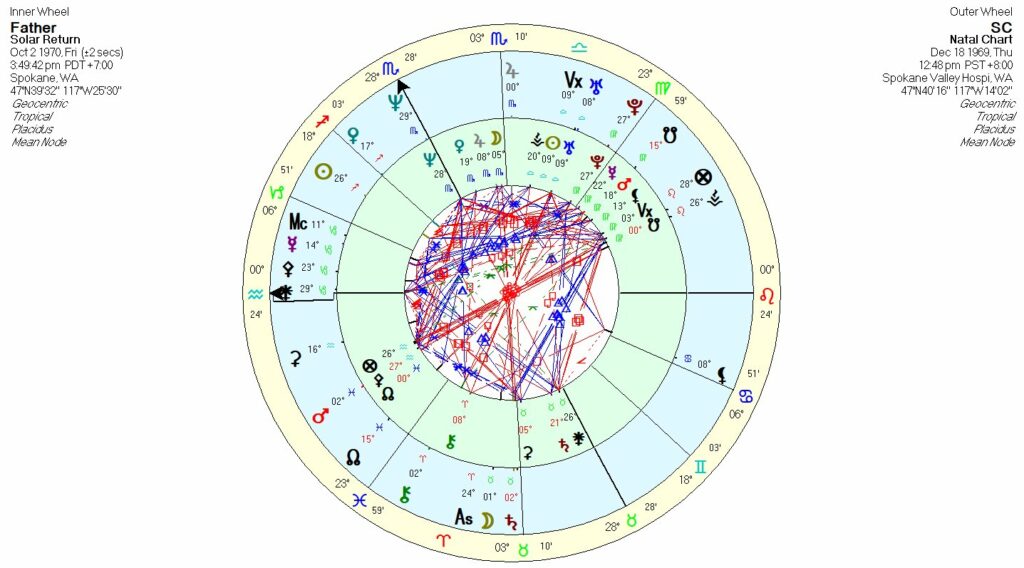 The Sun-Uranus connections in my chart and my father's chart are really tight orbs, such powerful energy in air and fire, both masculine elements.  Fire and Air elements feed each other, though can be rather explosive too.  In addition to the powerful Scorpio connections, Jupiter-Mercury and Neptune-Jupiter-south node within his chart.  Chiron for my father in his 4th house is definitely important, as his own family experience was abusive, not only from what he himself received within his family of origin, but also what he witnessed from his father to his mother.  That abusive history runs deeper in his mind through past life experiences too, as south node is in the 4th house, with Jupiter expanding it, and Mars and Pluto both in the 12th house, his connection to the collective and the unconscious. Interesting that Moon in Taurus conjunct his North Node in the 10th house, his need to build to create something that might bring him towards a new sense of peace that his soul needed to heal.  
It is easier to move towards compassion with insights into where someone emerges into their adult life and carries into their relationships and family they create.  During his adolescence, he was more quiet, introverted, hard-working farmer kid,  socially clumsy, and in adulthood, he read books to escape his reality often (like many in his generation he liked cowboy stories that Louis L'Amour published, and John Wayne stories of war too.  He was quite idealistic, prideful, and deeply wounded. Obsessive and a romantic idealist.  He had deep anger and rage that was terrifying to observe as a young child when he emotionally tipped over, especially bad on the few rare occasions when he was mad and actually had wine or something that impaired his sense of self further. Later in life, he would learn he was bi-polar and received some care for it through his physicians with medication that helped him some.
Mental health is a sensitive topic, but it is increasingly becoming more acceptable to discuss and get help now in our society. Mental health and seeking therapy used to carry a stigma which for many perhaps slowed the path to healing. The only counsel he would consider came through his relationships with his church and the church leaders, because it was more acceptable to him considering his idealism and beliefs. Just to provide a little background for perspective.  His Uranus out of bounds was the oxygen on so many anger issues that would surface in his relationships.  It is helpful for me to remember that my father's father, my paternal grandfather was abusive, but his story as a child was equally filled with loss, grief, and pain.  My grandfather's life dramatically altered with the murder of his father, when he was about two years old (Mars return) his mother remarried and his early life experience of abuse with a step-father and poverty in the early 1920's living the hard life of a farmer in early 20th century Iowa. He began his adult life around age 20 marrying my Grandmother when she was 15, with them hiding her pregnancy as long as possible (their first child born in 1942), and his immediately being shipped off to the war, and then surviving enemy fire in New Guinea, after missing the air raid on Pearl Harbor when his ship left port just two days prior. It is a miracle he lived to continue creating his family after the war. I could see that my parents had a similar storyline of pregnancy (life) and war (death) and its horror-filled realities, but in my parents' story, my dad made the choice to not to repeat the same pattern, but that Uranus was the rebel, the liberator coming through many more in his generation born with Uranus out of bounds in Gemini.  The late 60's and early 70's of the Vietnam war had a counter-voice to it and it was gloriously loud and we still feel it today.  I can see with the lens of astrology that powerful transpersonal Uranus archetype in Gemini and what it meant for us all with a new idea about engaging in war! 
Photos for dance and graduation taken by Murray D. Grant (my maternal grandfather) spring 1965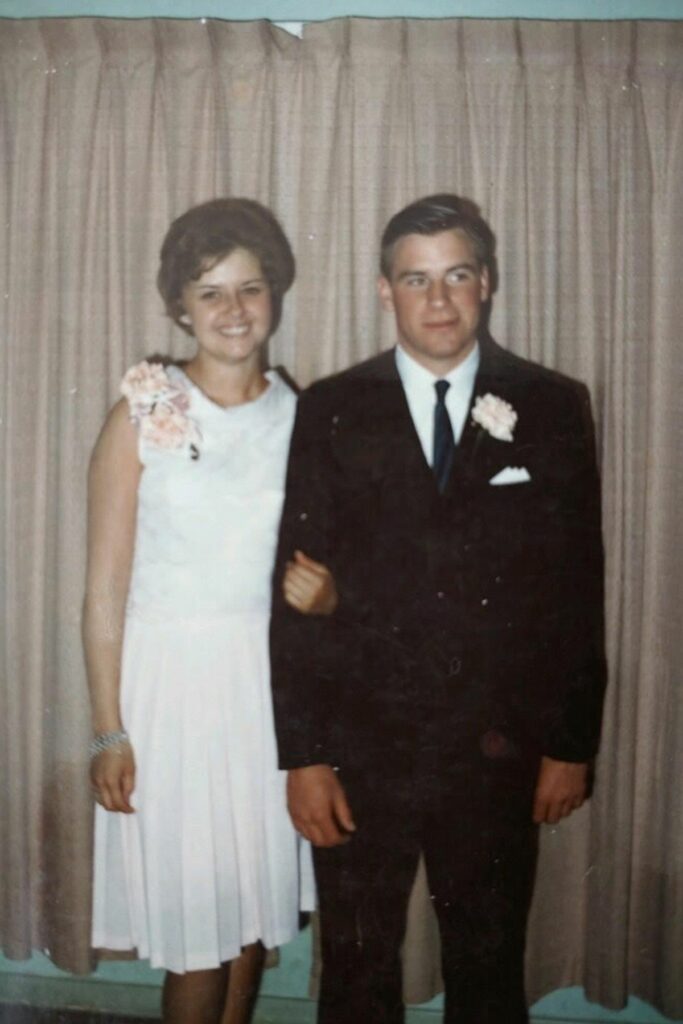 Dad and Mom (behind him) walking at graduation in 1965.
Such sober facial expressions!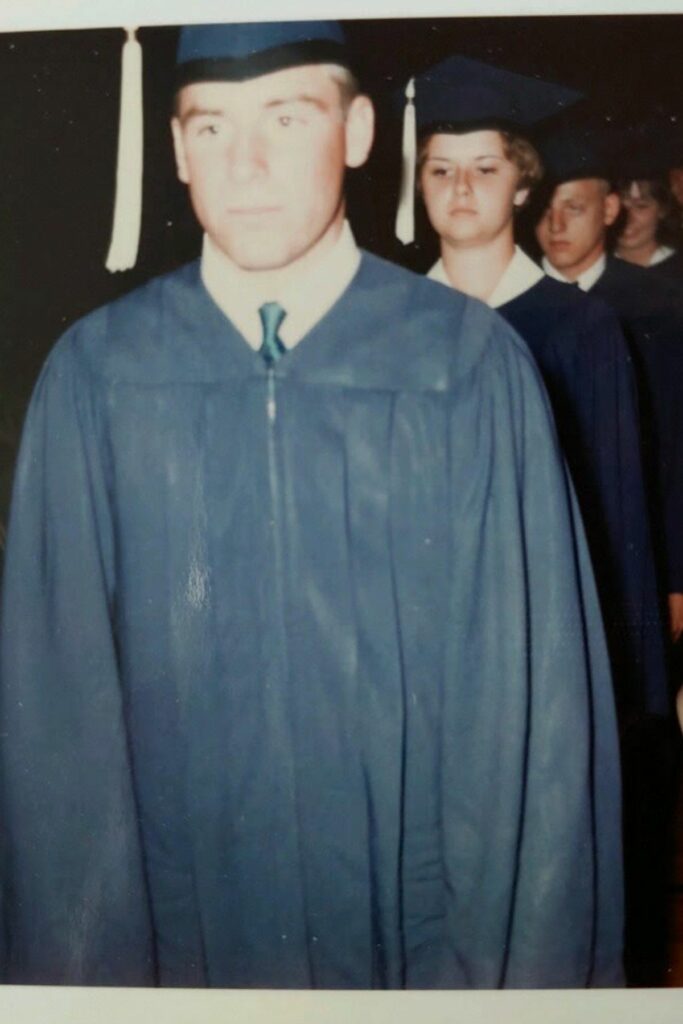 Mom & Dad's engagement portrait September 1965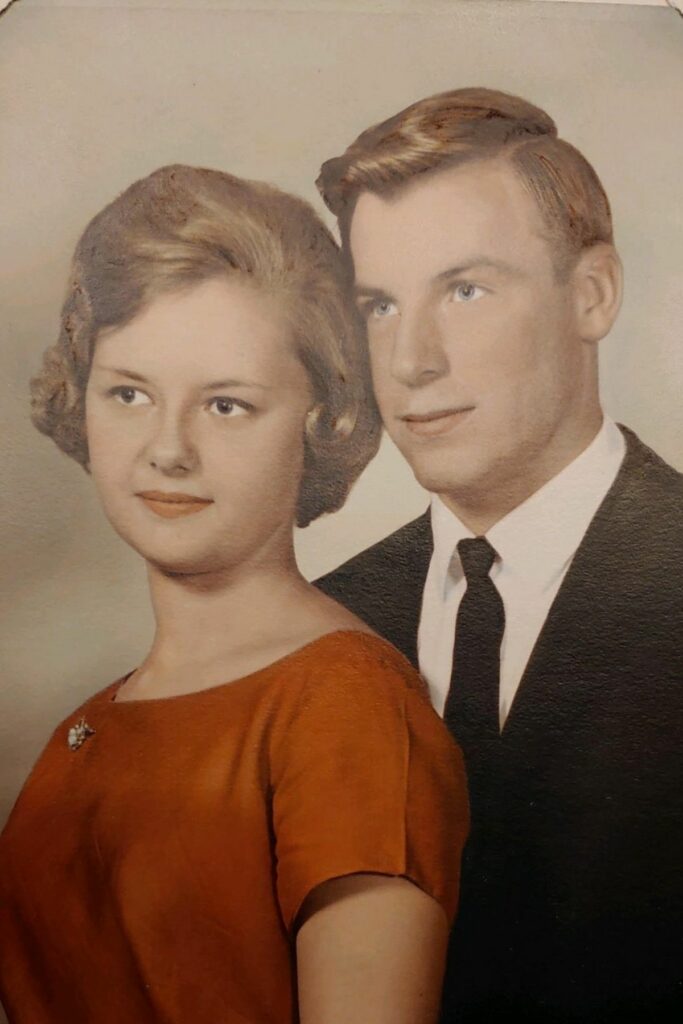 Chart of Sun-Uranus conjunction of 1969 prior to my birth, starting a new phase for a year, which set the phase for my Uranus and Sun in my own nativity, the seed for my spiral of transpersonal experience relative to Uranus, as the liberator, and the Sun.  For several years I've pondered the Sun-Uranus conjunction that was prior to my birth, and this year I am able to pick up more insight on that conjunction, Mercury and Jupiter creating quite the Libra stellium! And the powerful visual of south node in Virgo conjunct Pluto and Venus in Virgo at 5 degrees in the 10th house, the Midheaven angle of the 10th house Leo. The lunar north node in Pisces at 20 degrees, both very close to the degrees of my daughter Sydney's lunar nodes at 24 degrees. Neptune in Scorpio a view of the powerful self-identity perspective from that slice of time.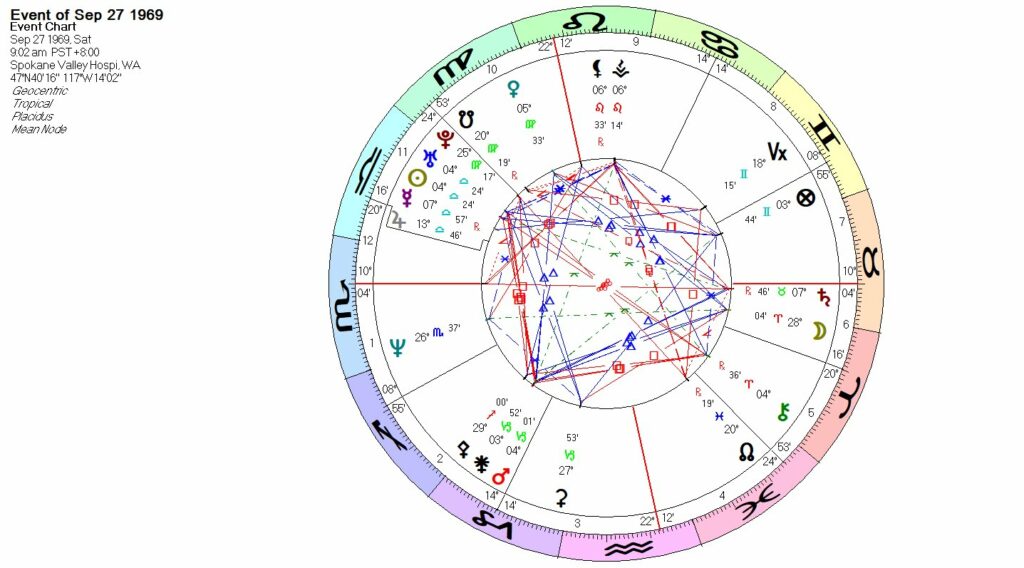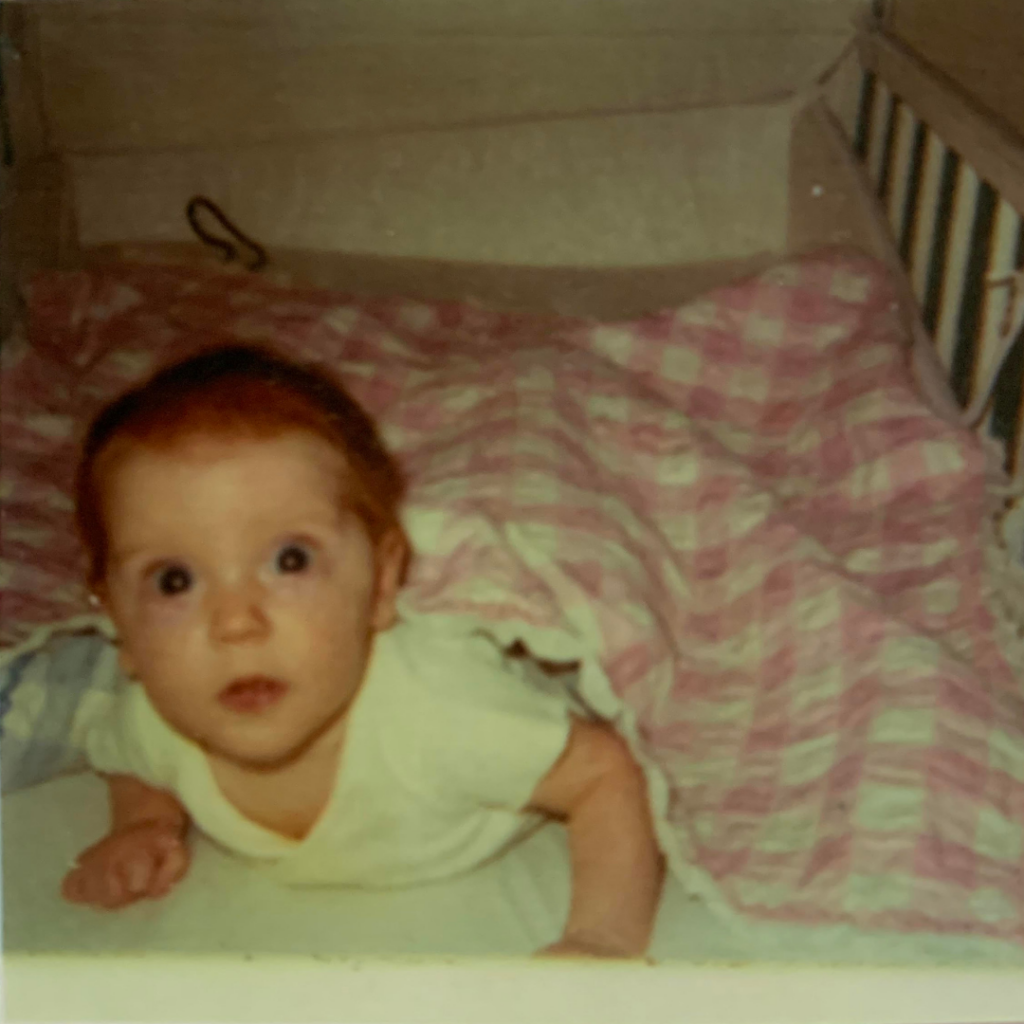 Me as a baby in 1970
My family history and all the stories my mother and family have recorded are the stepping stones I have needed in my reflection to understand myself through time and through my experiences, but also perspective from the view of every family member as I sit and listen and observe their stories and lived experiences. (I have over 36 in my family that stem from my parents, siblings and their children, and their children's children right now living). Going through my reflective inner work, I understood my own anger that was often hidden from view until something really triggered me to roar out loud. My Mars in Pisces, it would be a long time for me to realize that I could be angry and it was okay to have my anger, but to channel it as best I could as fuel for something I had a creative passion for such as gardening and astrology.  The chart below shows the planetary positions in the biwheel from my birth perspective. The T-square of my Moon-Saturn conjunction square with my father's Leo Mars in my 4th house of the family with my Jupiter opposite Scorpio and my father's Mercury in Scorpio as well. It is also easier to see that my father's Uranus in Gemini while opposed to my Sun is clear, and is also in a square with my Pluto in Virgo (both signs Gemini-Virgo are ruled by Mercury).  My past life (south node Virgo) and my out of bounds Mercury is capturing something as I share it in service to others.  Here I sit recording it as I share my stories.  
Here is a photo my mom took of me June 5th, 1970. This day was a birthday party for my oldest brother's birthday (his sun in Gemini). I'm almost 6 months old. My Mom says I got super fussy over having the wind on my face and I got pissed right after she took this photo.  hearing her recollecting the moment makes me laugh a little, because it reveals the truth of my Mars expression in that brief moment.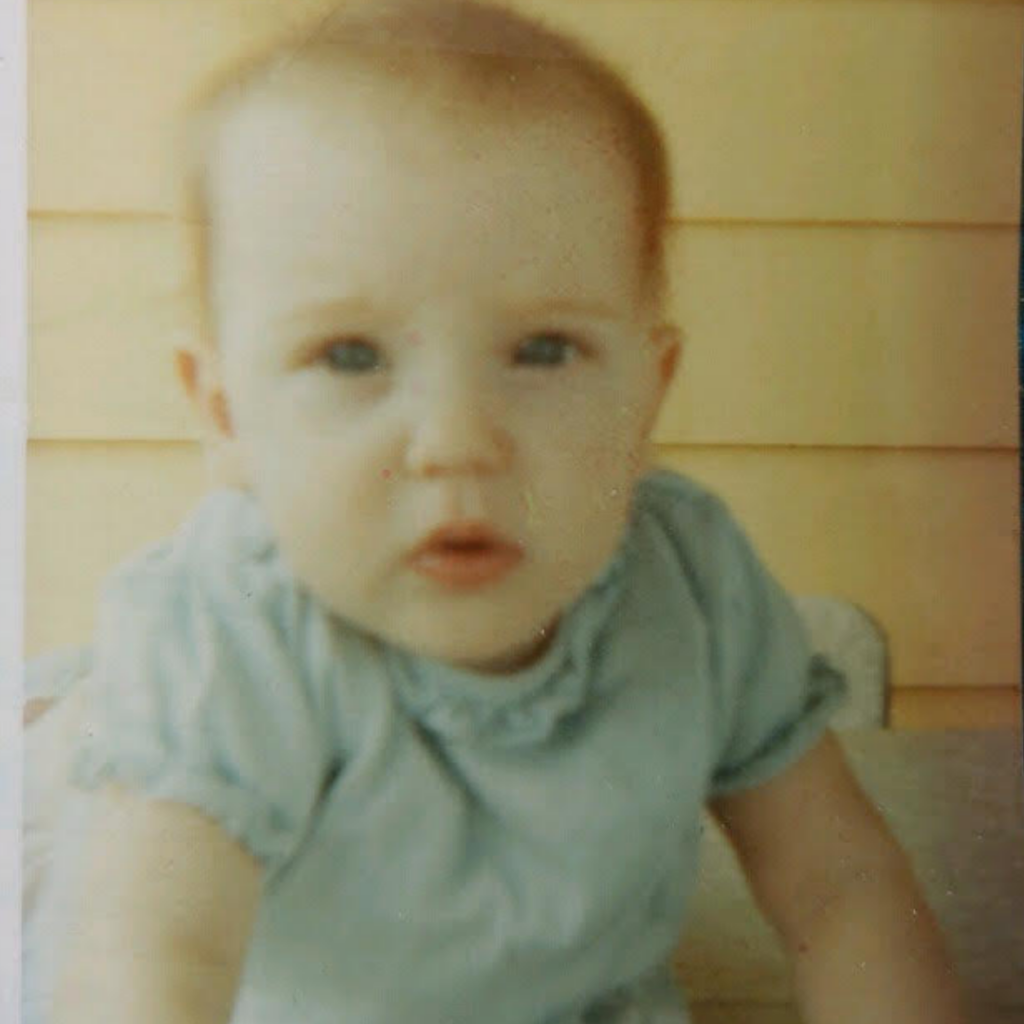 I observe and easily acknowledge that Jupiter in my father's chart was the ruler of his 5th house of children, where the dynamics of his past life wounds played out in the families he created.  His wounds related to power, control, suspicion, authority, misuse of power, loss of self through horrors, inability to play, wounded ego and inner child, that without attention, care and healing would give rise to his shadow looming large in his life and reframing the horrors and fears his sought to release and find peace.  As well as hidden abuse within the family heritage that conditioned him through his parents.  He created an identity that sought refuge in inflated ideas of Self, created from idealized relationships and a distorted perception of feminine (both his own and his projection to the significant women of his life). Unhealed this is where he'd seek and not find in partners entirely and then betray himself and then others, which became distorted more through loss of trust with Self and others, with power within and self will for change, failing would lead him into disillusionment of relationships and himself, in a loop of feedback.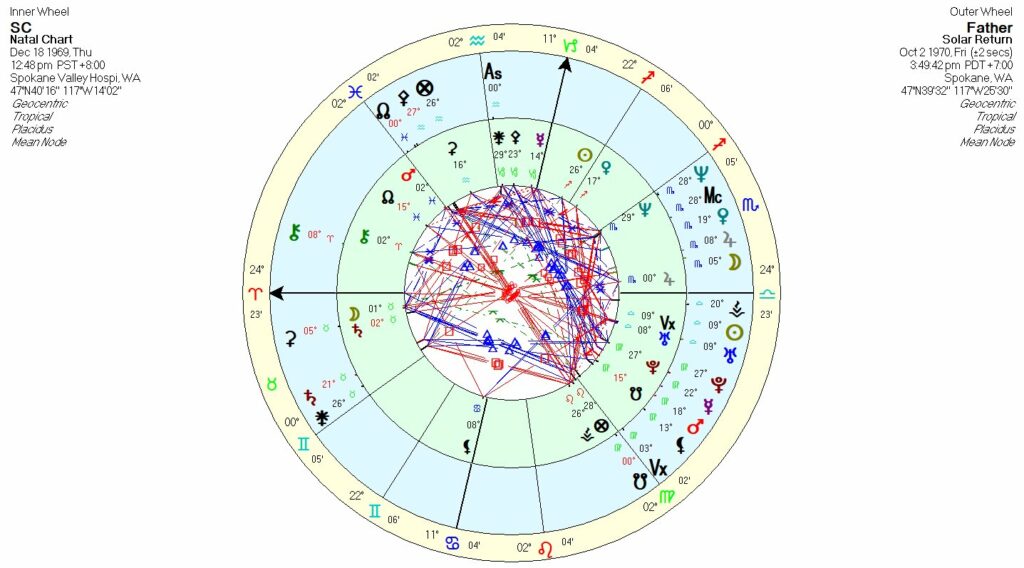 Exploring my birth chart and my father's birth chart I noticed one more pattern that was only available to me through studying astrology. The south node in Scorpio with Jupiter in a square with his Saturn in the sign of Leo and his 1st house (on the cusp from the 12th house). This pattern repeats within my daughter's chart, though her chart does not have the south node included, but she does have Mercury-Jupiter conjunction in an exact square with Saturn in Leo at 23 degrees. My daughter is also Leo rising. Another view for me expanding my compassion and healing at the heart on this theme within my most treasured relationship, the one I have as being Sydney's mother.  I'll pull on that thread in a future deep dive. My south node within 12-13 degrees of Pluto in Virgo framed for me my past lives that I am exploring and evolving with new eyes and understanding (healing) within this life.  Fascinating to grasp that from what I know from my study of evolutionary astrology.  I intended to understand and know my self-worth and then offer what I learned to others, that is my evolutionary path. My North Node in Pisces in my 12th house with Mars in Pisces at 2 degrees separated by 13 degrees. Jupiter supporting me on the deep dives within Scorpio. My focus on Uranus-Sun and the insight of the Sun-Uranus new cycle that began just a few months prior to my birth also are helping me see more via the planetary relationships (phases) and these connections with my father and his family heritage.
Here's a snapshot of Uranus out of bounds peaking in the 1940's and 1950's and the second image the nadir of the declination of Uranus in its pulse with the sun in the mid-late 1980s and the early 1990s. Thank you to my astrologer friend Alphee Lavoie for the report images.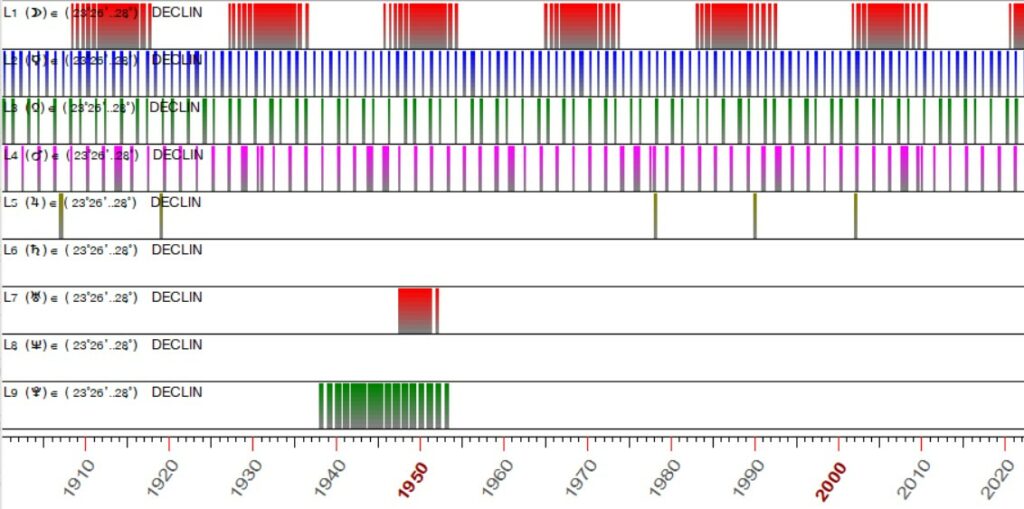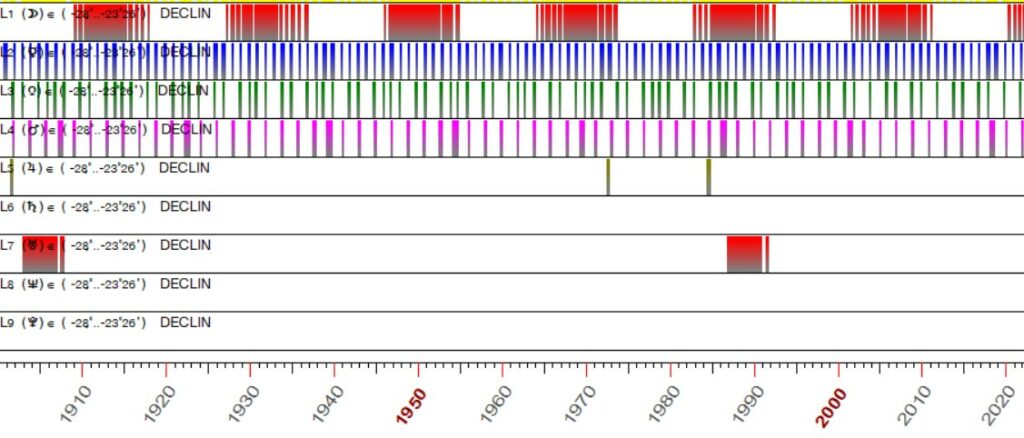 Here is a graphical view of the declination of Uranus with the Sun over time. The North declination around the time of my father's birth, and the southern declination around the time of my parents separation and divorce and the brief period of time I met and fell in love with someone who was an exchange student from Norway during my sophomore year of high school. The love story that sent me searching for answers to my life, the suffering I experienced, and wanting to have greater clarity to live more peacefully. As I write this part, it is the anniversary of his death in 2012. These points in the cycle help illuminate the path of my healing to liberate myself towards my self-actualization! With new wisdom of what others have helped me see in my relationship with them.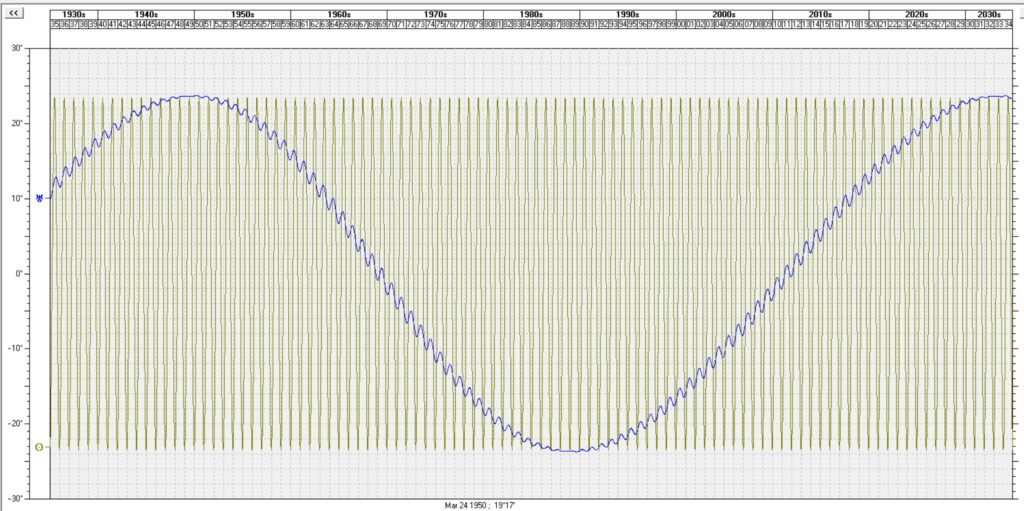 Uranus in Libra in my natal chart is in the closing square with my Sun. The closing square is defined and framed in crisis, but the frame is around learning what matured at the fruit of the opposition of the two planets, in this case – Sun-Uranus and what can be learned for the next cycle that has not yet begun. The seed in my chart!  The new cycle Sun-Uranus a year after my birth. Squares in our charts propel us toward action, and it is not always a bad thing it builds muscle of experience (muscle memory!)  – I consider the square the alarm within us that calls for us to use our will (Mars) in some manner, and with Uranus that f"will" is not really ours, but within the design of something transpersonal and you are participating with it.  The conjunction after my birth of these two planets was October 2, 1970, the synchronicity is stunning – on the actual solar return for my father's birthday that year. In October 1970, my father would have turned 23. From the lens of traditional astrology, the annual profection for age 23 is the focus on the 12th house themes and it's ruler.  For him, that's the moon (Cancer is the 12 sign from his Ascendant). His moon is angular and powerful in Taurus in his 10th house (in traditional that is exalted moon) and his public life persona and career (his soul memory and emotional body memories heightened in his experiences around wounds of the body, which for many are not visible).  I have good memories of my dad as a carpenter building houses and garages.  My dad was also really strong, a bit stout, from my child's memory a bit scary, but in the right context a blessing if he were to be a protector. One summer I was helping my dad on the roof of some project, and I have a clear memory of him talking with me about the gigantic bull in the back pasture of his client. I do not recall the conversation fully, but I remember being in awe and a little afraid of that huge bull!
Through the spiral of time,  1970 for my father was just two years past his natal Uranus square transiting Uranus which happens for everyone at age 21. For my father that would be Gemini to Virgo!  Interesting, as one of my brothers was born in 1968, in April (Aries) when that square was more exact, and my oldest brother (Gemini) born in June of 1966 when Uranus-Pluto were in their new phase with their conjunction in Virgo. The tree of life and our connections, like a fractal, the flower of life illuminates so much.

I was the first born daughter for my parents, arriving in December 1969, just 3 days after my mother's  twenty-third birthday. The plot thickens on pulling the threads exploring these chart connections.  My life, the stage set once again – for me to live experiences to return to Self.  This exercise helps me see the roots of my early trauma, where it originated not only in my family line – but also that I brought forward from past lives for this life  to heal. Now there was new technology to help me make progress unlike any other time!
New insights help me see I entered life incarnate (3rd dimension) moving towards the energetic frequency I desired to know myself from a new perspective, to gain deeper insights, that required such density. An illuminating life of experiences and healing, and with a new understanding of the law of cause and effect I'd gain new awareness and understanding of myself.  This understanding is visible through time and space, which I was able to get to with astrology. The my wounds of the past (Mercury OOB ruler of my lunar south node and Pluto in Virgo within 12 degrees of my south node) from experiences across the span of my life and information that I could gather, and review while my progressed Mercury took me back! And then again forward, retracing degrees, experiences, to new awareness with my family and close relationships. I'll pull on the threads of my secondary progressed Mercury in a future post to show you this retracing of steps and experiences. Nothing wasted in any storyline of my life, all of it ready for me to see deeper into myself and my roots for my healing when I was ready. 
In reflection, the journey however painful a reminder of the abandonment of Self through emotional suffering, disassociation, or other times where I lived through abandonment wounds with a father or authority figure, occurring again with another experience in this life. In time I would wake up to focus my attention on healing myself where I had suffered and returning loving myself slowly remembering how to do that with hard boundaries, focusing on the quality of my relationships with authority and archetypal images of father in my experience.
When the Sun in an Air sign makes a conjunction with Uranus there are strong expressions related to perception, clarity, communications, even trickster given Mercury as ruler of Gemini. There is an emphasis on the duality and mutability in Gemini, the sign of the twins, also youth, and my third house of siblings (with an out of bounds Mercury no less on my Midheaven, Mercury the ruler of my south node in Virgo).  These signs highlight the cerebral, the conditions of my early environment (My OOB Mercury in Capricorn ruling my 3rd house of Perception/Communication/and Immediate Environment), as well as Libra's energetic framing of balance, relationship, social justice, and polarities that are figured within the context of it being a cardinal sign. 
Many wars started when Uranus was in Gemini. The United States chart of origin July 4, 1776, has Uranus in Gemini at 8°55, the United States Civil War began April 12, 1861, Uranus at 9°20'Gemini, and another historical war moment on  D-Day during WWII, on June 6, 1944, 9°20' Gemini.  With these degrees, I wonder of the past life connections and themes of wounded soldiers from the horrors of war, not only of death and losses, but of the mental, emotional, physical, and spiritual wounds that men and women experienced and carried forward into times of war in other periods that were never healed waiting for the opportunity for healing through time and space. 
The archetypal energy of Uranus is Promethean, the Liberator, an archetype where rebellion, the need for Liberation is fueled from some form of dogma or belief, while in Gemini. Fact finding as opposed to religious faith. Uranus' north node is in Gemini, while its south node is in Sagittarius, perhaps a helpful clue in the deep exploration of myself in these planetary connections I have between my natal chart and my father's.  I know my father embodied some of that within his life, though cultural expectations pushed hard on him too.  One story stands out in the way he expressed the Uranian archetype relative to groups that occurred in his late teens as he approached high school graduation.  And today was the first time I heard this story from my mother. 
Today I called my mom to get birth dates for my paternal Grandpa and Grandma as I was exploring the Sun-Uranus connections my natal chart had with my father's birth chart. She shared a few stories, some I knew and had recalled from them being shared when I was younger, but today another story was shared I had never heard before as a child. My mother and father were high school graduates of 1965.  I asked my mother about her current husband and their history, and then some of the stories that show how she connected with my father just a few weeks before their graduation and then getting pregnant later that year (my oldest brother was born in June 1966).
She remembered the feeling she had when she walked into graduation and saw nearly half her classmates wearing uniforms for the military duty they would be leaving for Vietnam
.  I could hear the emotional tension of that lived experience in my mother's voice as she told the story. She revealed so much about her own south node in Sagittarius in her 6th house (evolutionary astrology) and her and my father's choices they made together in 1965.  T
his story with my mother's resonant emotional remembering brought me more clarity on their souls' evolutionary path
.  A new compassion surfaced within me for their lives and choices they made as adolescents emerging into adulthood. My mom shared how they had such mixed feelings, that it was so shocking to see the reality of her classmates heading off to war.  She said she used to hate it so much that they watched the war on television, sometimes when they were having dinner and  how she absolutely hated it.  She also noted that she had mixed feelings for my father, her then chosen husband that had made the choice not to go, and then having feelings bouncing back and forth of disappointment that he didn't go too.  I see the polarity pull between the two ideas as she shared her story.  She had two other serious boyfriends in high school who both went into military duty.  One of them was her parents and she thought would be her future husband, but he graduated one year before them and had left for college in Tri-Cities (where I live now) then went into the service after that.  She had a relationship storyline that had faded, but had unfinished business.  And interestingly, my mother did marry him, only 51 years later in 2016. They met again in 2015 and it was a lightning bolt experience of rekindling.  Her husband's health is failing, and there are new struggles for my mother as she continues to help him through this period of his life.  She shared his childhood photos.  And she shared he served for intelligence and the work with electronics (back then) then where he had been assigned to other stations later.  It really highlighted something I often forget about my parents. The volatile period of their coming of age.  I'm a mother to a 15 year old daughter and I cannot imagine the horror of facing that kind of reality at the moment she would emerge into life at 18 years old to pursue her dreams. For my parents, and their parents, it was their reality. Souls living through moments in history and doing their best to live their lives, some reliving nightmares, and some re-creating them. 
I learned that my mother and father both disagreed with the Vietnam war in 1965, and decided to start a family (even if unplanned) showing they made a different choice (releasing judgment on either as good or bad), but they also at the same time supported their friends facing the reality of the war.  It is possible my father's soul had already been through so much in another life on the atrocities of war with his Scorpio south node conjunct Jupiter square Saturn and Pluto, and was determined not to repeat them in his life (no matter the judgment or criticism of others) that would bring that potential reality forward for him to make again – I think Uranus in Gemini out of bounds in Gemini actually was a significant liberator on the old paradigm of beliefs within his mind that in another point of reference and life may have called him into that duty otherwise.  So in a very real sense, my parents decision to start a family perhaps earlier than they would have otherwise was not just a life saver, but also saved one soul from the depths of another hell that may have been more challenging to re-emerge from in time and space. 
I heard in my mother's voice in sharing this story today the emotional tension of the reality that they faced at the otherwise celebrated time of life graduating from high school to move forward in their own lives towards their own dreams.  Their dreams were a bit more hijacked due to the looming war and it played out on national television every night and it deeply affected them both observing it and realizing friends lost and the grief of their idea of who they were as part of something bigger (as United States citizens in late adolescence approaching early adulthood of the late mid-1960's).  My parental axis of my natal chart is Cancer 4th house and Capricorn 10th house, and interestingly the rulers Moon and Saturn conjunct in my 1st house in Taurus. So no matter which way I flip it, I'm definitely in a karmic relationship with my parents and this is worth diving into with astrology and reflection to continue the healing and emerge to live my dharma with gratitude for what I have come to know on my path this life. In the process there is new compassion for my parents and a new level of forgiveness that I was not able to realize without this new insight and hearing my mother share her story of what my parents experienced.  I see it with new eyes and this time my heart feels it too.  I have always felt that forgiveness, while I knew it was important I did not see it as something I could just manifest with certainty by wishing for  it or speaking it into reality.  I think and feel that forgiveness is realized, at least in my experience in a more organic process.  That the truth rises, and in that light of truth forgiveness is possible and the entangled emotional memory fades even more and what blocked love as a potential is removed slowly or swiftly with new clarity. The grace of time and space.
I'm still learning and integrating from this deep dive into my personal astrology and how what I experienced, even the most traumatic, had roots in my parents' experiences and what they had lived with at such a young age.  Yet I also recognize that their unhealed wounds energized their lives as they matured, and from what they experienced with their parents who had survived the horrors of World War II.  And in my own journey, I was doing the same thing, bringing forward past life emotional wounds for healing, an invitation from the universe to myself from a  new place, a place where I see my healing and I am empowered in my increased awareness of Self!  The gift of time and space!  Human evolution may be slow, but I think we have new tools to accelerate our healing with new understanding. Themes of mental illness, depth psychology, and therapy, as well as my favorite, astrology. I'm a survivor, but I feel like I have moved beyond just survivor mode.  I have healed to a new level of my conscious awareness of the process and who I am empowered.  A few times in my life I wanted to leave this earthly existence simply to stop the pain. The pain of shame and grief of an ugly history of sexual abuse, physical, mental and emotional abuses took me roughly forty-eight years to acknowledge and shed from my consciousness to the level I am living from today (I am human and still have moments I express my grief and if I am not taking care of myself I can spiral into depression if I do not listen to what I need.  Paying attention to myself from within is my responsibility.) I manage and live from a new perspective of my Self. I am eternally grateful for asking myself and the universe the hard questions when I was seeking answers to heal the pain I felt so deeply. I am living proof that healing is possible. 
Life may be challenging at times, but with diving into your inner world, you can realize more about yourself, your history, your wounds that need your loving attention. And with help and guidance, you can heal and live from a place of renewed joy and expression.  
Here is a wonderful photo of me as a toddler that shows a little slice of heaven from chocolate cake.  Hey, I have a Taurus Moon too!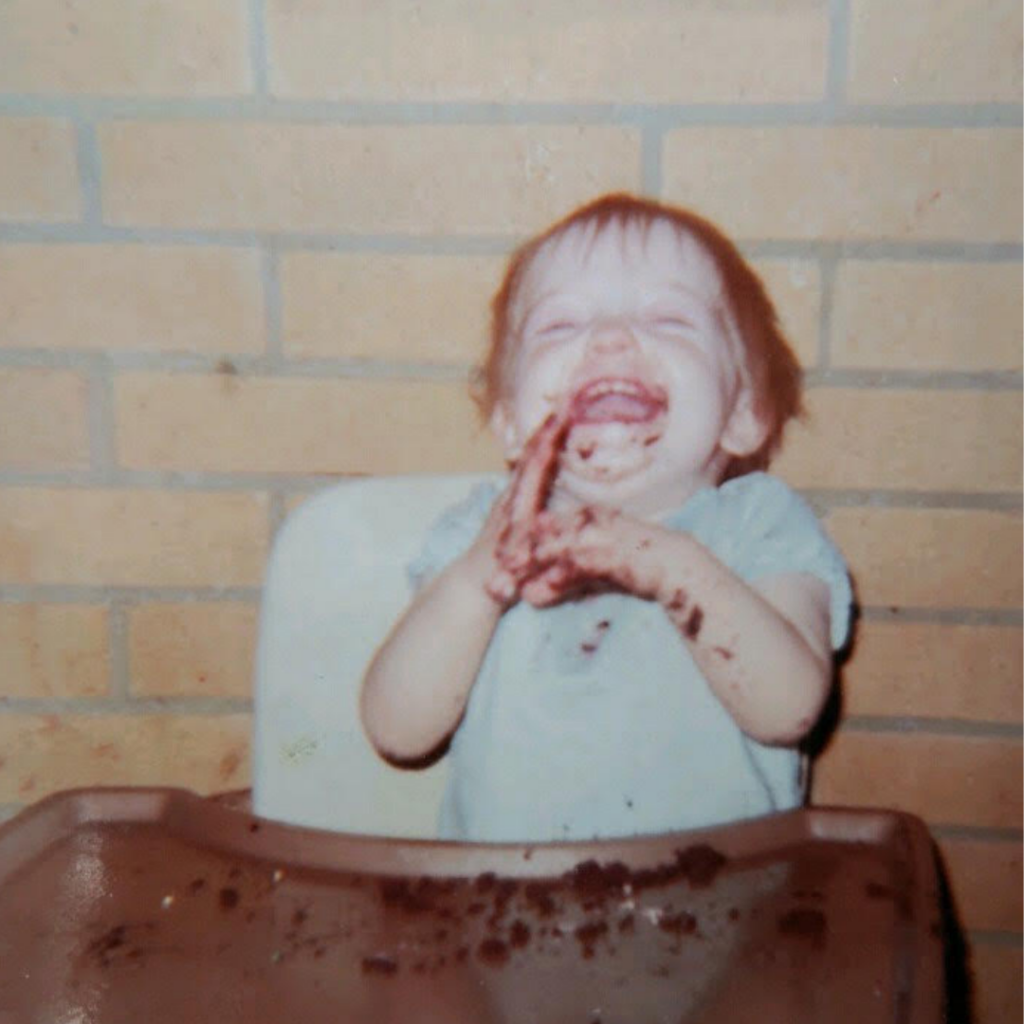 Namaste. Bless this moment!