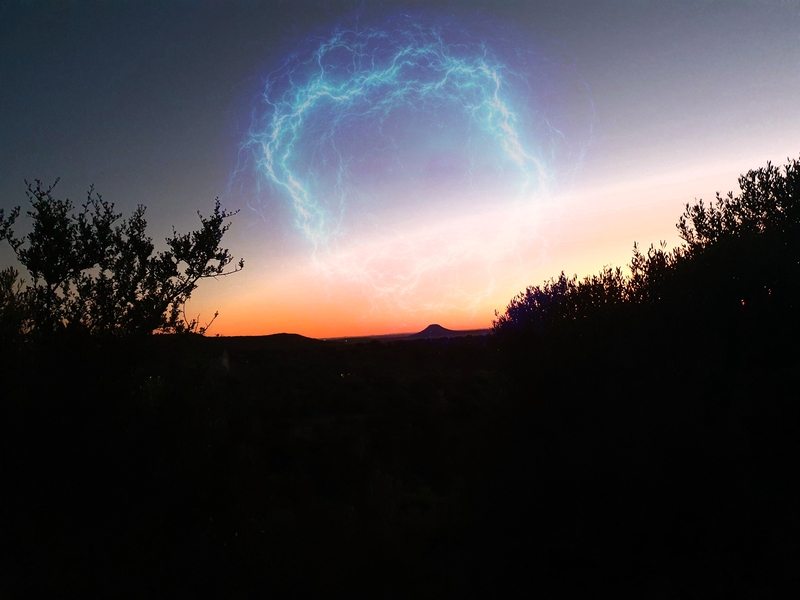 Monday, November 13, 2023, is the new moon in Scorpio, and more importantly this one is a bit of a firecracker. The moon, sun, Mars are all opposite the planet Uranus in Taurus, which is the key to this new moon that we will have some unexpected energy emerging within the day and even this week.  The entire month of this new moon is colored by this unstable energy combination and it can be incredibly difficult to process whatever is emerging for change. Some may have wanted a quieting period of time after the eclipses we just moved through, but the energy will not be settling down this month, quite the opposite.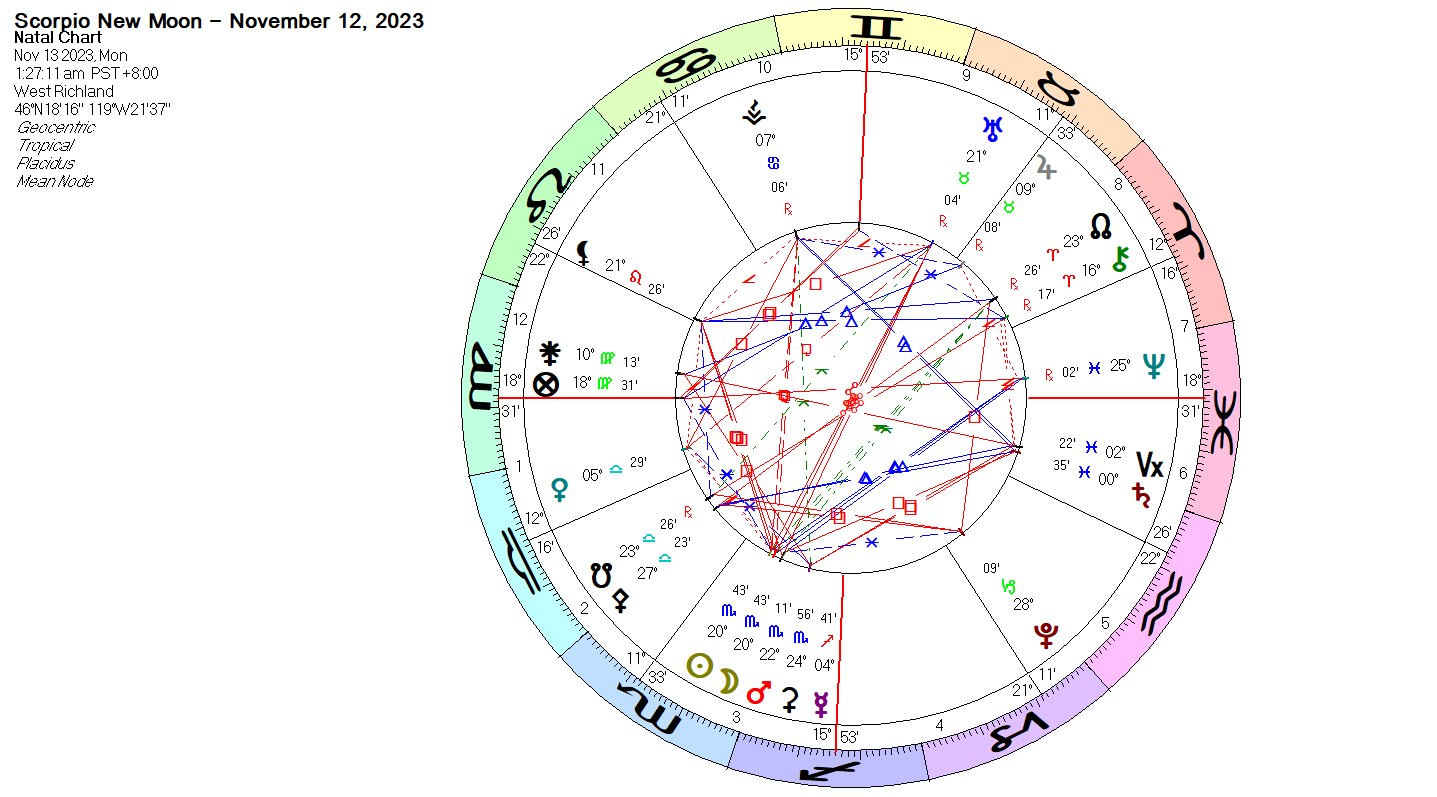 Mars in Scorpio has a penetrating intensity, with the sun it is amplified and Uranus and the moon are the triggering planets that activate the rather volatile planetary oppositions, within fixed signs it can be felt as earth shattering and extreme.  Violence has potential to break out, but even accidents with substances involved or overdoses.  Mistakes in surgery could be costly in this kind of planetary combination.  However, we may see positively the breakthrough on something that was a block psychologically through new laws or social activism that changes the landscape of what has been. More commonly this can be eruptions in our closest relationships that have had something being endured for some time that finally reaches the bubbling over point.
Jupiter is also in Taurus (retrograde) and adds dimension to stellium in Scorpio planets opposing Uranus.  Jupiter will transit this area of the zodiac next year in late April, so there will be something that can heal whatever is exposed at this time. It could soften the edges of what occurs with this opposition, but not necessarily. Next year can be another shockwave, delayed but it can be a breakthrough moment. The Jupiter-Uranus conjunction in Taurus is April 21, 2024. 
Saturn in Pisces moving direct is revealing to us the karma of cause and effect of restraints that fail when someone in a relationship may not have the freedom of expression to be authentic in their voice and actions. The south node in Libra is a reminder that some relationships are in a season of time of serious adjustments for a new experience and ways of expression.  Some relationships will erode and some will fade into the background as new life is on the cusp of emerging.  
Mercury in Sagittarius is sextile with Venus in Libra, helping us see some beliefs that we have been holding that seem ripe for a refresh.  Venus in Libra seeks balance, but also may fear the deep subject matters that must be navigated to have relationships that will work for individual needs too.  Libra is a balancing act towards peace with Venus in Libra.  Mars is powerful and emotionally intense. It may be passionate, but for peace there has to be space to let something breathe, that it has a right to exist. 
Neptune in Pisces can be helpful if we move towards silencing our minds.  If we are still, are we able to find the center that is always there?  Like our heartbeat.  Questions may bubble up for us to consider returning to our heart center.  A moment of perspective can help us pull out to  have a higher view, which gives some distance to the emotional turmoil we may seek shelter from in the noise of life.  If dreams come, it is a good time to journal them and take time to reflect on what is your inner world through images speaking to you.  Is there a message to yield? Or consider a new action?  Do you take time to write down your dreams? I created a dream journal you may like for your own diary of dreams. (The hardcover is the best version with high quality paper.) Dreams have always been one gateway to increasing our conscious awareness and integrating something from intense growth in our life. 
Pluto in Capricorn is at the end of a long cycle in Capricorn that has been unfolding since 2008.  If we can grasp that Pluto is about deep life changing transformation we can acknowledge that while we are in transition we may not feel like we can see something of benefit on the horizon, it all can feel too overwhelming right now.  There is a huge collective final energy push with Pluto in Capricorn themes until next year in 2024 before Pluto finally stays in Aquarius and brings many different shifting themes ready for collective transformation.  Authority figures all around us are pushing harder than ever before to hold something in place that is about to crumble, because the season of rebirth is just around the bend (November 2024).  Authority will have to acknowledge what it has done and not done and will be scrutinized for it, the time is up, but not before there is some type of potential power grab as has happened in years past.  This time though, you have astrology and awareness of seasons for everything. There is always change, but what we focus on is individual to what is our responsibility and our desire to live creatively and with passion.  How you respond is always the bottomline, at any moment.  The lunar nodes remind us where the ball is on the court of life, north node in Aries (innovation, competitive, instinctual, warrior energy).  Libra south node where the ball has been, but has to consider surrendering something, and not that it is or was ever meaningless, rather that there is something that wants to emerge now that can only become with the spirit of raw Aries energy of self interest and it will add a quality to life we cannot quite fathom as we step further along this path with the nodes in cardinal signs of Aries and Libra for eighteen months. So much will change for us all in this time that comes from a collective instinct to be free to be self directed and inspired. Namaste. Bless this moment.