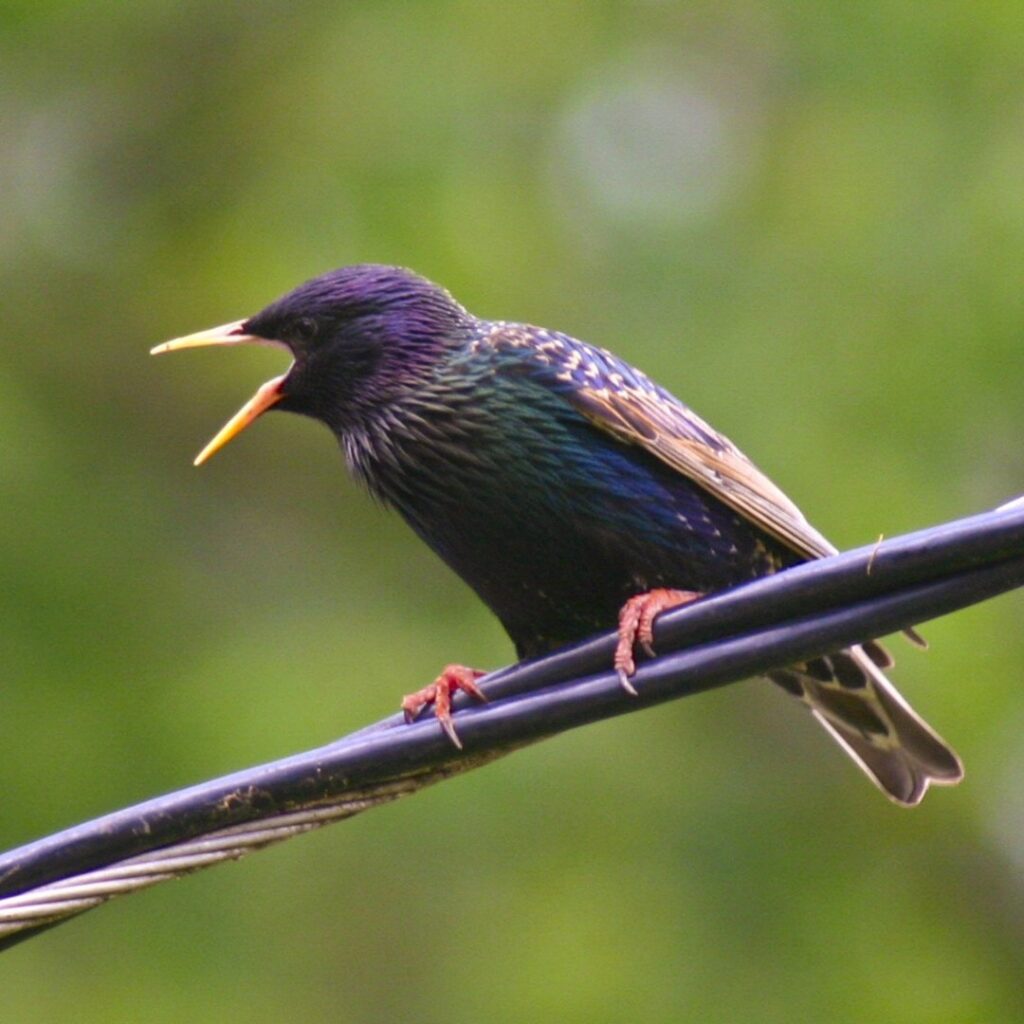 The new moon in Gemini on Monday, May 30, 2022, at 4:31:04 AM PDT is at 9 degrees 3 minutes of arc.  Mercury, the ruler of Gemini is retrograde at 26 degrees 37 minutes of Taurus this lunation.  The month ahead has a magnet toward our inner world, the labyrinth of our inner terrain which is constantly receiving information from the world around us that moves us and moves matter.  How we hear something, what lens of our inner world is in focus and active is how we may dial into the energy we perceive, our lens of perception has been through shifts through time through the conditioning of our parents, the values of our culture, and individual influences that have held our focus. This month we come to realizations of experiences or perceptions of ideas that have perhaps been fixed and possibly inaccurate in what we initially received. The quality of time at this new moon in Gemini is reflective.  Reflect on what you have heard in recent weeks, what you value in life, and themes of peace and simplicity.  Mercury stations direct at Taurus at 26 degrees 5 minutes on June 3rd, there is an opportunity for us all to speak from a new perspective on something that has been a fixed pattern in our reality. 
Jupiter and Mars in Aries sextiles this new moon in Gemini, bringing us all a kick of fire energy to DO something, to move our bodies, and take bold or courageous action.  We play the role of the Fool, as in the Tarot, and walk off the edge, taking a new risk.  We are vulnerable, yet we are in alignment with the energy when we take action. We will not be right sometimes, and that is okay because we gain awareness of what is right through the actions we take. It is only in our inaction that we fail ourselves. 
This Mercury retrograde cycle began on May 10th in Gemini at 4 degrees 52 minutes.  Mercury stations direct on June 3rd at 26 Taurus and will re-enter Gemini on June 13th around 8:27 am PDT.  Mercury will be picking up speed in its domicile so keep that in mind next Monday.  I think a good metaphor for this energy is when you shift down a speed in a manual car to speed up.  What may have seemed delayed or slow to move will have a new lift. 
Venus made the ingress into Taurus yesterday May 28th.  Venus in her domicile feels good.  Food tastes good, music moves you, and art captures you in awe.  It is just beautiful.  Enjoy it.  Smelling the roses is divine, hang out in your garden or your local city garden. They are in bloom and stunning. 
Saturn is slowing in speed and will be stationing retrograde on June 4th at 25 degrees Aquarius 15 minutes.  Saturn retraces from 25 degrees to 18 degrees 35 minutes of Aquarius.  It will station direct on October 23rd. Saturn while stationing will intensify our expressions or experiences of our collective vision for our future about our rights as individuals and activism themes. Many of us will be concerned and perhaps shocked that we have to revisit ideas of our collective that seemed airtight but are under review by some authority that carries significance for millions of people in our collective humanity. Saturn in Aquarius, while Mercury is retrograde can be missed information or the disregard for something that can send a ripple effect through an idea that has long been acknowledged (and long thought as rather solid).  This period of time will remind us that there exist vulnerabilities as new ideas of the late 20th century and of the 21st century come under attack from radicals that desire a rebirth of archaic ideas that were formed within the context of patriarchal views and values. It will seem a slippery slope as we traverse this period of time with Saturn retrograde.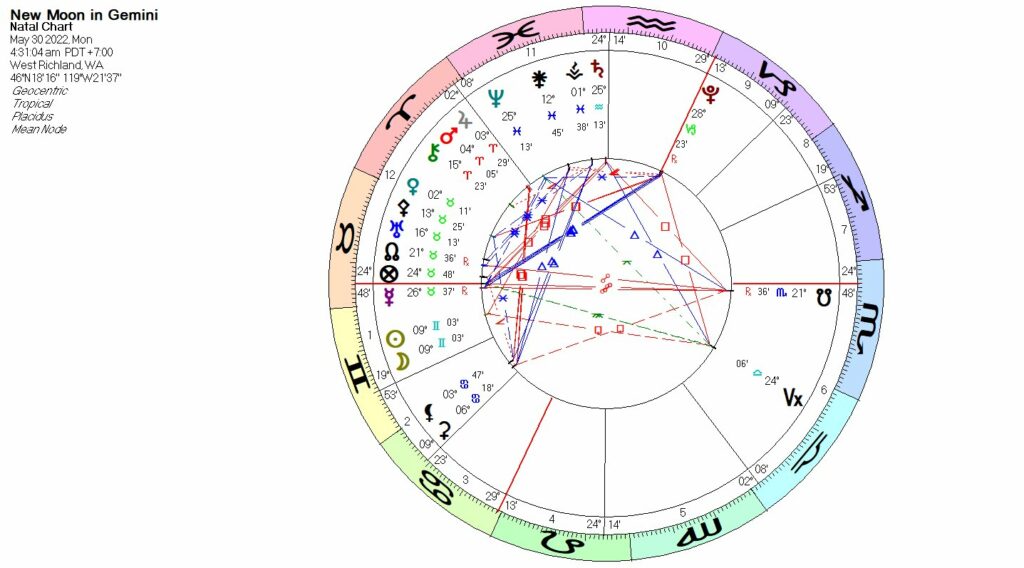 Uranus is transiting Taurus, at this lunation, it is 16 degrees 13 minutes. Uranus will station retrograde on August 24th later this summer at 18 degrees, and with Saturn's retrograde these two planets will apply to each other by square.  The lunar north node will be within 2 degrees of Uranus at the time it will station retrograde. Saturn will be close just over 2 degrees, so not an exact square but one of great tension that builds over this summer.  Something that seemed solid, air-tight, will have tension from Uranus that could be like pulling a thread that kept something together and then that is weakened.  Uranus will not exact the square, but it will be within a degree of orb when Saturn stations retrograde around October 23rd.  October will have an intensity of energy between Saturn and Uranus that will be very potent into November.
Neptune in Pisces will receive another conjunction with Jupiter later in the year, but at this lunation is at 25 degrees 13 minutes.  Neptune and Jupiter in November this year will be in orb, but Jupiter does not retrograde back to exact conjunction with Neptune later this year, however, the quality of time than with both planets in Pisces close in aspect will be good for artistic endeavors, but less than ideal for themes around laws and even higher education. I liken it to the potential for the breach of information, a break in legal that is profound that may set precedence.
Pluto at 27 degrees 23 minutes Capricorn is retrograde at this new moon.  Inner reflection with Mercury in Taurus can be supportive with its earthy trine with Pluto in Capricorn. What insights can be extracted with this trine aspect between the two may bring more ideas and understanding to the surface after a deep dive into areas perhaps where energy has been stuck and is only now ready to move as Mercury activates during this retrograde cycle in Gemini and Taurus. Pluto is transformational and we can bring forward deep-rooted energy that is ready to be transformed as we consciously integrate it.  We are after all evolving human beings, but it requires doing the work and taking courageous action when the timing shows us a path.
May this new lunar month ahead bring new insights for your healing so you may inch deeper into your own skin and love yourself more fully.  As your self-love deepens, it will be reflected back in your closest relationships and even strangers.  Our world may feel like chaos sometimes, but we have astrology available as a tool, along with other esoteric arts, to help us see where we are in relation to the whole in any present moment.  Our truth is perhaps for many more easily seen and understood with astrology and the symbols of meaning. Our closest relationships are containers to help us see ourselves, for love and friendship, these connections created reveal we are the feedback for others as well.  Listening to what you hear from others, and what and how you share with others in response are ways we are learning about ourselves from the seventh house of others in relation to our first house of self.  As Ram Das said, "We are all just walking each other home." Bless this moment. Namaste.