Today, May 16, 2023, Jupiter leaves the sign of Aries for another 12 years and enters the sign of Taurus at 10:21 am PDT. At the moment Jupiter enters Taurus it will be in the square with Pluto now by sign as well, along with it applying to the North Node in Taurus and opposite the South Node in Scorpio. The applying aspects intensify the energy in fixed signs, especially the polarity of Taurus-Scorpio.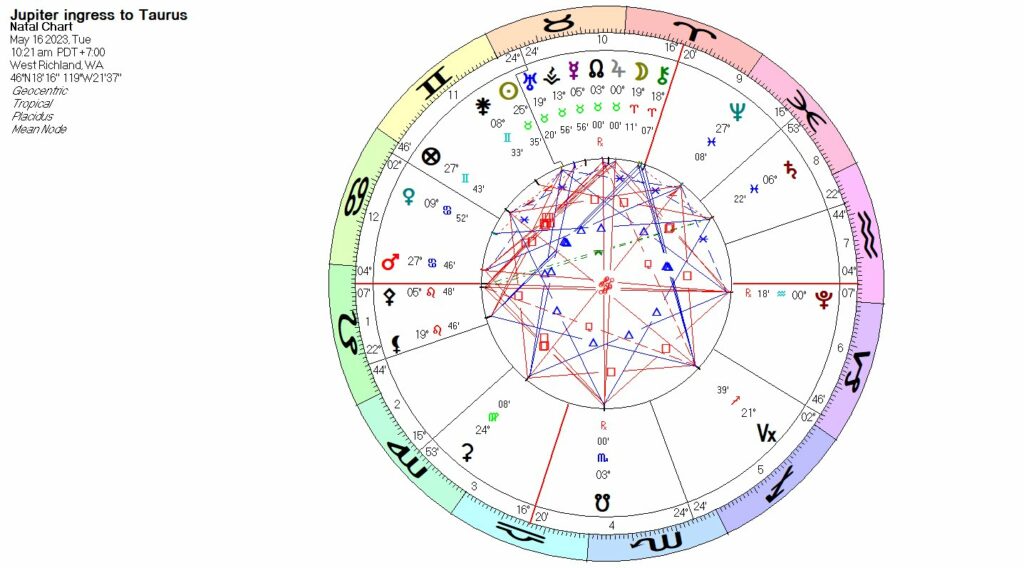 Jupiter in Taurus will be there through May 25, 2024. For this year with Jupiter in Taurus, the sensory sides of our desires may become more amplified, and seek fulfillment in touch, taste, smell, and beauty in what we see.  Life is to have a balance, it is up to us to give ourselves the gift of beauty, sensual expressions, and delight in the honey of our lives. That time has come, so give yourself 53 weeks of beauty.  This year with Jupiter in Taurus may have moments of disruptive energy with Uranus in Taurus as well.  Jupiter meets up with Uranus next April 21-22, 2024.  What might be opening up over this year that has been a pattern in your life for a long time?  When fixed signs have Jupiter-Uranus connections there can be huge shifts within our lives.  An old out worn paradigm comes to a crescendo and then crashes out like a wave. Uranus is the liberator, just as much as the rebel.  However, sometimes what we are liberated from was not on our list that we would have been willing placed on the changeable parts of our experience.
Jupiter will have its retrograde cycle starting September 4, 2023, at 15 degrees 34 minutes and retraces its movement from our point of view to December 31, 2023, at 5 Taurus 34 minutes. With this retrograde we may have new insights on what we really need to feel secure, to feel safe, and at peace. We may find the energy to let go of things we have held far too long too, Jupiter simply amplifies this, especially with the square to Pluto in Aquarius.  We may realize that how we value something is going through a shift that will change our idea of things of what we own or desire to own anything.  What do you think this may be for you?  
What we value in LIFE is at the center of this Jupiter in Taurus.  How do we give ourselves the serenity that our souls desire?  Take a moment, smell the flowers, plant your garden, transplant some trees, and give Gaia the beauty you have from within. You may learn more about the Jupiter in Taurus themes through the podcast I recently produced with my friend astrologer Marie O'Neill, to listen find it HERE.
Place your serenity in your priorities, and when we do this is where new roots may grow deeper.  Namaste. Bless this moment.