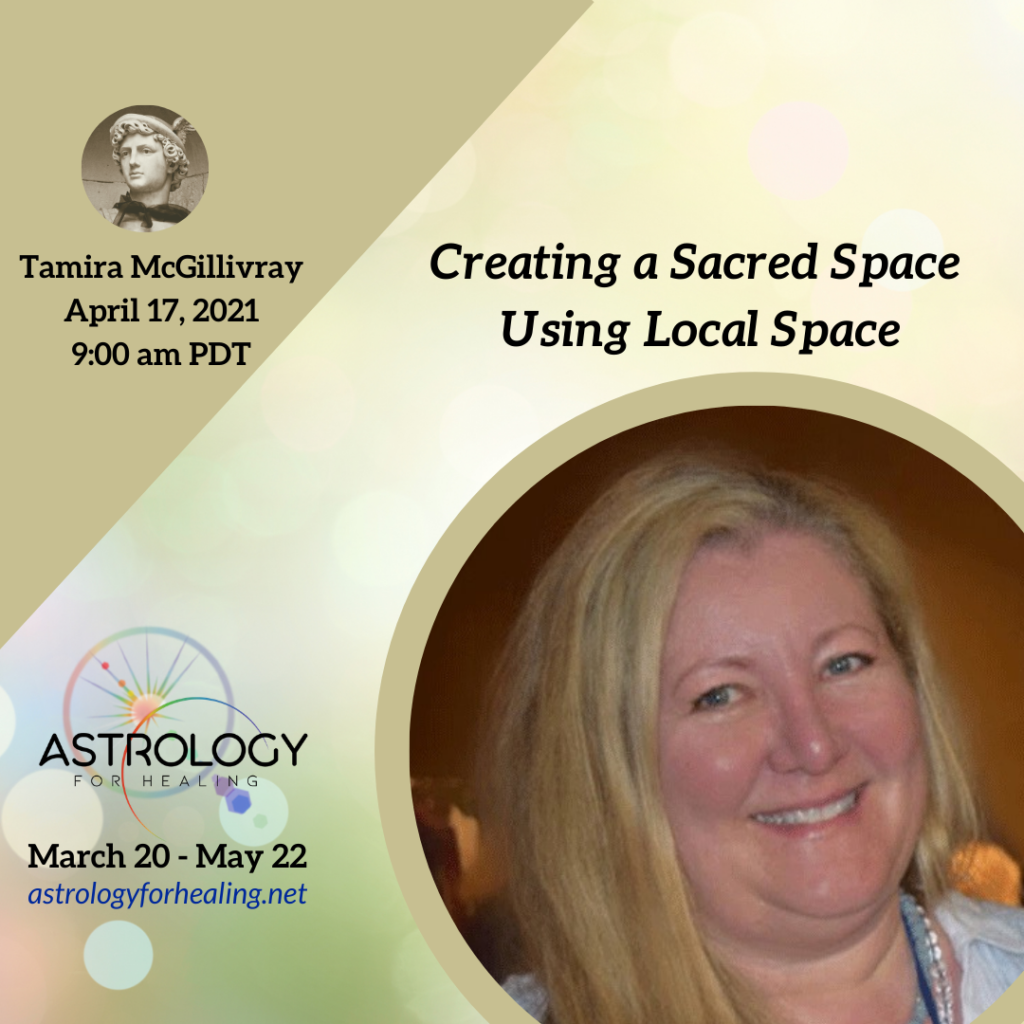 This Saturday, April 17th at 9:00 am PDT we are excited to have Tamira McGillivray presenting her knowledge on local space.  Her talk is "Creating a Sacred Space Using Local Space" and if you have been considering how to use astrology to support your healing this specific sharing will bring it right into your living space, your immediate environment, and your places of meditation and what to consider in where you place your altar.
Focusing on how your environment supports you in the position you face in the directions and considering your own natal chart and how your living spaces promote you in all facets of your life are an integral part of healing.  Bring your curiosity and your charts (contact me if you need a map with your chart) and learn about this application of astrology that is down to earth and practical.  Bringing the heavens to earth in such a literal way is exciting, with new awareness and elevating our consciousness in all we do we blaze new paths for our whole self in our healing as individuals, but also adding to the collective healing.
Tamira McGillivray BA, NCGR III, AstroCarto*graphy Certified Tamira is a Professional Astrologer, Teacher, and Mentor. Currently living in Dartmouth NS (Halifax), she holds a BA in East-West Traditions in Astrological Studies (Kepler College) 2003 – 2007 and pursuing a Master's Degree in Cosmology, University of Wales UK.
Tamira is dedicated to connecting ancient wisdom and the modern world through classes, workshops & speaking engagements throughout Canada and the USA on Sound, Mediation, the Spiritual Arts, Astrology, and a (sporadic) blog. As a life-long learner, she opens up new perspectives for herself and others through her work.
Tamira currently teaches classes for CAAE & Kepler College (Vice-Chair Board of Directors & Admin Council). She works in the fields of Astrology, Meditation utilizing Sound and is a Teacher and Be-ing. Tamira is trained in Usui Reiki (Master 1996) Karuna Reiki (Master 2009), RYT (2010) & Holy Fire Reiki (Master 2019).
Add to your own knowledge and wisdom this Saturday, take action for your healing and mindfulness and join us.  Register today at https://astrologyforhealing.net/register 
As the creator and host of Astrology for Healing it is my passion to help others in their healing journey in all areas of their lives through the beautiful archetypal symbolism, knowledge, and wisdom of applying astrology to life that supports others wholeheartedly.