Up the Mountain Saturn Return in Capricorn – Part One Felice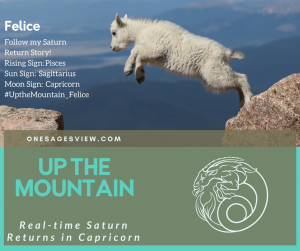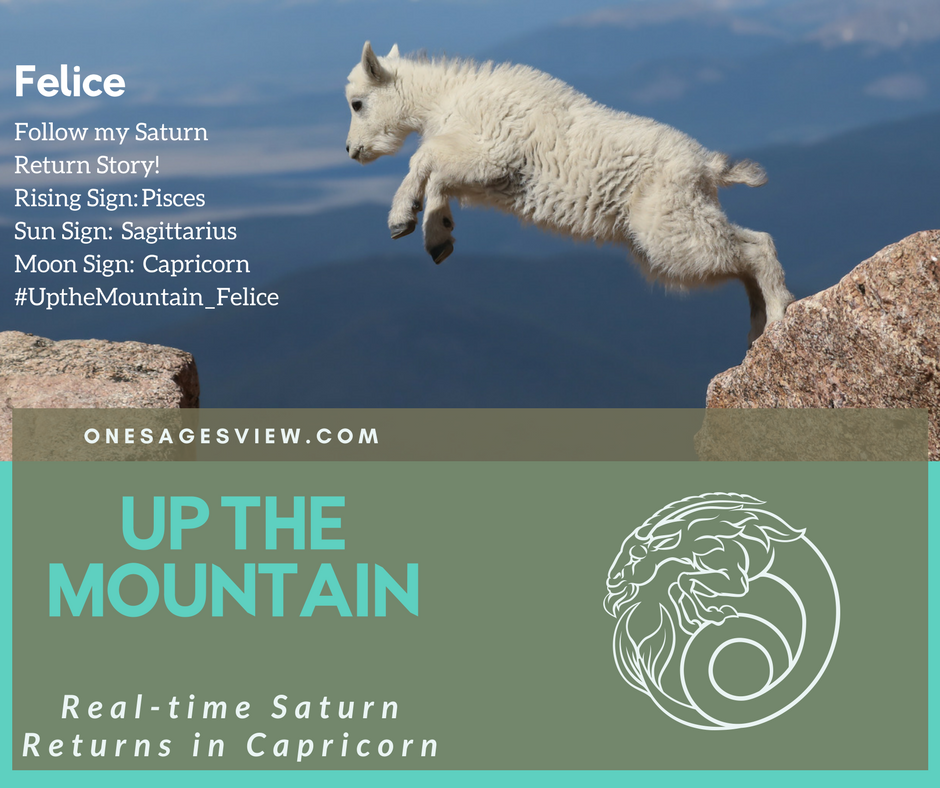 Felice's soul found what it needed to continue her evolution in her chosen family in Philadelphia, Pennsylvania. Her epic life journey began December 19, 1990.  Her first inhale and exhale launched her into the maze of life, climbing the metaphorical mountain to where her soul calls her.  Life for Felice began at 11:55 in the morning with Pisces rising on the eastern horizon at 24 degrees 12 minutes. Felice was born eight years after the last of her four siblings, setting the stage of her experience as the last child for her parents.  The gap in years from her siblings would shape her perceptions and experiences and frame her ultimate transformation as her own personal authority and independent life. Her family and the parental axis are at the core of her destiny line, and they hold the tension of her task in working the muscle for her growth.
Felice's south node in Cancer at 28 degrees 10 minutes in her natal fifth house is where we begin to learn and understand her soul'sintended growth curve.  Highlighting this destiny line is her South Node ruler, the Moon, located in Capricorn opposite her South Node.  Her tenth house is quite robust for the long-haul with seven planets in Capricorn, including Saturn.  The North Node of the Moon in Capricorn is just inside her eleventh house.  Saturn at 24 degrees 16 minutes, the ruler of all that Capricorn, is stoically set between the Moon at 24 degrees 57 minutes and Neptune at 13 degrees 39 minutes. In this life she meant business in claiming her North Node in Capricorn and with it a serious intention for solid growth, doing it her way and striving towards great achievement.  Saturn and the many planets in Capricorn give us a clue that the full scope of her achievement will take many years, if not a few decades, to understand.  The rulers of both North Node and South Node are conjunct in the 10th house of career and public reputation.
Felice's South Node in Cancer in the 5th house lets us know there are some issues related to her self- expression, creativity and the connection to her emotional self.  We look to how it may be reflected in this life for her awareness and even perhaps see it reflected in her relationship with her mother in her early childhood and adolescence. Her challenge with self-security in her expression may come from a prior life where clinging to her family or even her mother was problematic and her insecurity created severe obstacles emotionally for her growth into her own independence into adulthood.  There is a distance to the nurturing of her mother or a tone of seriousness about the reality of life and hard work symbolized in her Capricorn Moon.  There is also the tension on the parental axis (10th and 4th houses) toward great responsibility for the mother; symbolically it may point to a mother whose career and professional life was difficult to balance with home and family expectations.
Our soul's free will recreates the environment for where we intend to grow, so we see in this life that Felice, while close to her parents, felt that her parents were weary of parenting by the time she arrived, being the baby of the family.  She also experienced the difficult emotional connection with her mother to some degree as she matured in her late teens.  Synchronicity would have it that Mars in Felice's natal chart is retrograde in Taurus at 28 degrees 51 minutes, and around age fourteen it stationed direct near the same time as Saturn in its first opposition by transit. Mars going direct by secondary progression and transiting Saturn in Cancer opposing natal Saturn in Capricorn occurred near the same time period when Felice had transferred from a public middle school to a private Catholic school for one year as a freshman. Since her Mars is located in her third house, we recognize themes of school, being a student, and gathering information and knowledge.  She said going to this school with uniforms was a bit of culture shock and that she found the strict traditional rules stifling.
For a Sagittarius Sun, freedom and more wiggle room are a premium value, so it is not surprising she disliked the private Catholic school. Also, Felice's natal Mercury at seven degrees Capricorn 48 minutes was retrograde  had moved by secondary progression and stationed direct around age fifteen bringing her new awareness of not specifically fitting into any one group.  Mercury symbolizes our perception and our thinking.  Mercury rules both Felice's natal fourth house of family and her seventh house of relationships.  Her North Node in the eleventh house may yet be an enduring journey to her personal authority with others in groups or associations.  It may also speak to her being an authority to an Aquarian idea or dream that she lives through over a lengthy duration of time.  The fact that Felice's father is a Capricorn Sun and her mother a Cancer Sun provide an emphasis to how her parents and family create the foundation of understanding herself from which she will push against towards her own definition over time in experiences of her 5th and 11th houses.
As Felice was navigating her way into her early twenties, her South Node ruler Moon in Capricorn became increasingly noticeable.  The emotional tug of her mom and her family for the connection was palpable, whereas Felice was looking for new ground to create her own life. Felice says she felt more of an emotional connection with her father in her early years.  The most significant progress for Felice towards her North Node in Capricorn was made last year when she moved to the west coast from Philadelphia. Moving such a great distance is her soul pronouncing its independence and desire to create meaningful work that is made with determination. But the move didn't come without some hard realities.  Making such a leap is fraught with insecurities wondering about the ability to make it on one's own.   Felice recognized her innate need to be independent.  Even though she feels the tug from home, she is absolutely certain she is where she needs to be.  She has noticed more about herself in this experience moving across the continent.  One behavior she noticed is she suppresses her emotions and feels depressed about how hard life is some days.  Felice's sharing this personal detail of her behavior highlights her Capricorn Moon, which would reflect an attitude of "buck up" and a need to just keep going. Felice acknowledges that she doesn't seek any external help when she is depressed, but she goes it alone to push through it.  She's experiencing some frustration around what her career is or will be.  While she has a background in psychology and addiction research, it is not a primary focus for her.  She thinks she is meandering through jobs and does not yet have a serious and specific goal.
Presently, Felice works in an herbal apothecary.  She enjoys the healing arts and doing her astrology studies, pondering the specifics of her professional career and what it ultimately will be.  Career is truly an area of contention for Felice, which I would concur, given so much Capricorn in her tenth house.  But, I also think she's close to this clarity on this issue but she doesn't realize that understanding her entire career path will take time too.  Intuitively, I know this will show up in her Saturn return, so I'm excited to see what inspires her during this period.
Felice's Sun in Sagittarius is right on her midheaven within a degree at 27 degrees 31 minutes. Her Sun is a promise of prominence and her Jupiter in Leo is within view of her Sun from her fifth house, so her creativity needs visibility.  Felice's Sagittarius Sun craves freedom, while her Capricorn powerhouse 10th demands endurance for hard work.  Can she merge these two together?  What might energize a Sun Sagittarius woman that would require hard work but would not bind her freedom?   Working independently with great autonomy is one way; working in a subject matter that was purposeful and allowed her to use her creativity boldly with great visibility is another.
Felice thinks there's absolutely a personal struggle related to what's acceptable in traditional society for career.  She feels the pressure of society or parental expectation for what would be a "legitimate" career choice.  Herbal apothecary, the healing arts, and astrology are areas she enjoys.  These areas are more Aquarian ideals and she may or may not give herself permission to believe that these paths are completely legitimate choices for her professional life. Other options may come to her during this Saturn in Capricorn transit.   Through sharing this observation hopefully it illuminates where she is stuck and that really her career is a personal decision.  Liberating her perception with new ideas of what is considered a credible profession can help her, but it may take serious soul searching to achieve peace of mind in her choice. It will take thinking outside the box of society's expectation.  There is genuine growth to creating her own career in whatever she is truly passionate about that will lead to an authentic professional persona based on what she enjoys and her status will reflect her being true to herself.  Felice's Mercury, Uranus and Venus are at 7, 8 and 9 degrees of Capricorn and are also a great influence in her thinking, perception, and her awareness of her values and other people's values.  Mars and Pluto are opposite by sign, though Mars is in late degrees of Taurus at 28 degrees 51 minutes retrograde and Pluto at 19 degrees 12 minutes of Scorpio in the eighth house.  Powerful experiences around death and rebirth and how they relate to Felice's perception and thinking are connected to her Mars and Pluto.  Mars natal position in her third house even speaks to her struggle as a student trying to get some of the concepts being taught.  By Felice applying the techniques and methods she learned and with hard work success will come, and the more tactile the lesson, the more she will comprehend.
Relationships for Felice have been another area of life she's hopeful to evolve in her maturity.  She described herself as "serially monogamous" from her perception of her relationships.  She was even in a challenging relationship with a heroin addict, from which she managed to free herself.  She's learning about how to care for herself in relationships and how to balance her partner's needs with her own.  With maturity and experience comes the insight of knowing what qualities in a partner would create a quality relationship and knowing how to balance personal desires and needs with work and professional goals. Her experiences with co-dependency and addiction-themed relationships are beneficial for knowledge and understanding her potential professional work as well.
The cross country relocation for Felice last year changes how she experiences her natal chart.  Her relocated chart on the other side of the country in Northern California moves her Capricorn stellium from the 10th house to a split between her 12th and 1st house placing Saturn, Moon and North Node in Capricorn in her first house and setting her identity more firmly into a Capricorn framework.  This new setting will feel significantly different for her natal Pisces Ascendant and will highlight her tendency for depression and even her indecision about her identity.  When Capricorn is on the Ascendant, her experience will take that shape and archetypal inspiration, so Felice's uncertainty and perhaps awkwardness about what she wants to do is actually in alignment with her relocated chart reflecting the Capricorn now on her relocated Ascendant, Saturn in Capricorn rising will pronounce it even greater. Sun does move to the 12th house in the relocated chart, note also the potential for working with institutions or agencies related to mental health or hospitals (healing centers). Jupiter, the ruler of her Sun, is relocated into the seventh house, describing those people she partners with in her work or personal life and who also may be her clients. The Midheaven in her relocated chart moves to 11 degrees Scorpio 47 minutes, with Pluto firmly in the 10th house, emphasizing a rebirth and powerful career, but from the lens of research, astrology, the occult, careers related to healing, death, sexual healing, pharmaceuticals or similar and even psychology and addictions.
With this new awareness about her relocated natal chart reflections, what will inspire Felice now?  Her seventh house is now ruled by Cancer and the Moon in Capricorn in the first house.  If she worked autonomously her clients would be reflected in her seventh house and she has her natal Chiron and South Node in the relocated chart 7th house, along with Jupiter in Leo being in service for healing others from her own authority on the subject matter.  She would attract clients with self security, self-identity, mother-complex issues, or self-care wounds that her experience, knowledge and mastery from her education could help, especially within the frame of psychology or managing programs for groups (Jupiter rules the relocated 11th).   We can see new potentials and clarity from what she's already done in her higher education that make sense in a new light from her new location.  Astrology and herbal healing arts also fit the chart if her interests and inspirations draw her in that direction as well and combine with the psychology work she may do with those struggling with addictions.  All these potentials are reflected in her relocated and natal chart, for autonomy working as an entrepreneur and solo practitioner mostly, but even on occasion with partners who are healers of different disciplines.
Felice is building a bigger vision and life for herself from the ground up.  Once she puts her creative mind to work she has the capacity to create an enduring professional persona that she will build with each piece she adds to the work.  Her body of work in 20 or 30 years will be the proof, and she will see how much she really did accomplish in her work.  As Felice continues her astrology and healing arts studies and work, she may have moments of synchronicity that reveal people and opportunities that give her the next crumb along her path in her professional life journey.  She's already experienced this when making a new friend who leads a meditation group.  Though not always motivated, Felice completely feels the benefit of meditation for herself.  Her relocated chart fourth house of home has Taurus, which is a stabling energy and resonating with her Capricorn earth of relocated first house.   Felice's Venus in Capricorn, ruler of Taurus, is located inside the 12th house, symbolic of a controlled behind-the-scenes feminine at work, agencies or places of healing would experience her Venus in the relocated 12th house.  With North Node in Capricorn and Saturn its ruler conjunct there are leaders and authority figures that will be there for her to learn from as she is evolving her own knowledge and mastery.
I asked Felice the same question I have asked the others in the group regarding her perception of the word "millennial." She says, "We're a different generation with technology, and when I was born, with more tech than any other time, we had access into it. Her parents view technology as a burden versus it used in a positive way – or detracting from it – a Millennial can work with it in a positive way."  We agreed that her generation is plugged in and seems quite comfortable with technology.  They will have to learn how to integrate its use and balance it within their relationships.  She also agreed that their generation has very different views on marriage, relationships and careers than Gen-X, Baby Boomers and those of the Greatest Generation (WWII).  She said, "I don't see this time as a great time to have a family."  She then apologized for being cynical, as a true blue Capricorn would absolutely believe wholeheartedly.  She really sees her generation as a group that will put their energy more towards causes that impact everyone.  This is spoken like someone with a voice and passion around accountability and responsibility.   We'll learn more about Felice in her Part Two on her transits and progressions coming later this spring, around late April or early May.  Her story expands our understanding of Saturn in Capricorn and all things Capricorn as observer to her life experience.
#UPtheMountain_Felice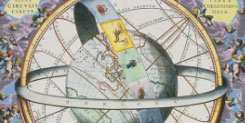 Ordering a Chart Consultation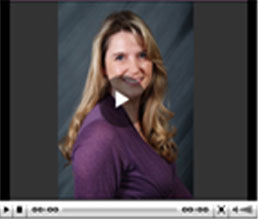 CURRENT MOON PHASE
Waxing Gibbous Moon
The moon is currently in Aquarius
The moon is 10 days old
Distance: 61 earth radii
Ecliptic latitude: -3 degrees
Ecliptic longitude: 315 degrees