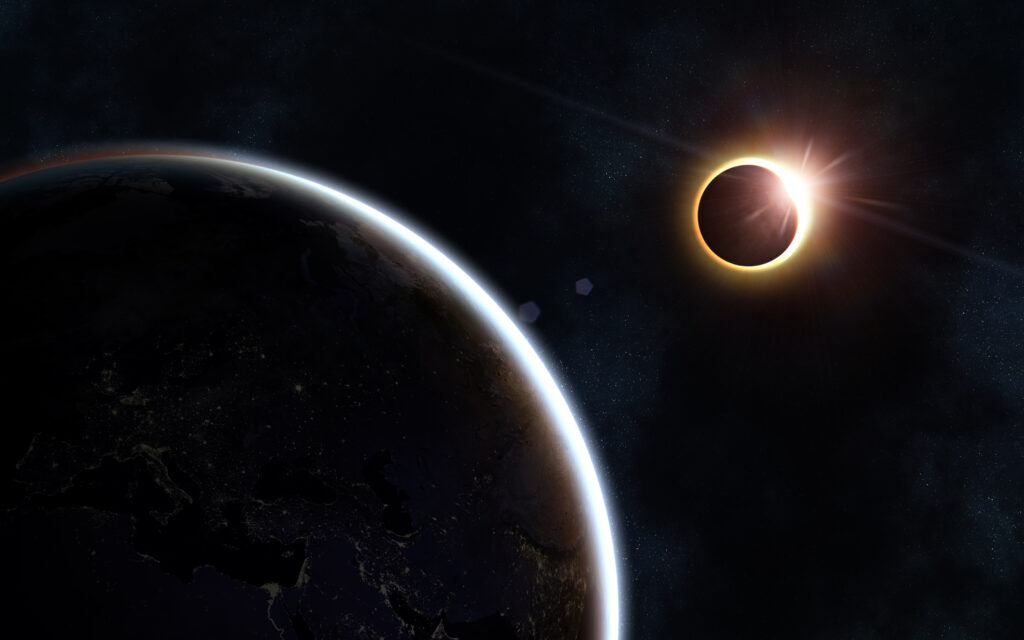 New Moon Solar Eclipse in Sagittarius –
Endings and Beginnings and Two Wanderers Glow as One
Monday morning, December 14, 2020, at 8:17 am PST we have a Solar Eclipse with the new moon in Sagittarius. Eclipses are always divine markers for endings and beginnings in the celestial dance of our sun and moon. I reckon everyone at heart has been longing for this beginning for many months, and here we are at the door of this eclipse of our Sun while in the sign of the teacher, religion, the philosopher, long-distance travel, and higher learning. For fire signed ruled people (Sagittarius, Aries, Leo), especially at 23 degrees or plus or minus 5 degrees either side it may feel like someone is pushing the reset button on some really significant life chapters. Leo ruled individuals have the coming conjunction that opposes their own sign as their big adjustment too.
Everyone has Sagittarius in their chart and the ruler Jupiter somewhere in their chart that plays out in some area of life. Will it be your identity to the world or perhaps health (1st house / those who have Sagittarius rising) matters that a switch is flipped on and off? Something long endured finally releases.  Or perhaps it is your 5th house of children that something dynamic in their lives is ending and something new is arising? Fifth house Sagittarius may also be experiences of lovers that have waned and letting them go is the right step toward creating space for something that is about to enter your life that has new wings of life. Anyone with 7th house Sagittarius may have noticed experiences with their spouse that changes dramatically for them creating the beginning of a new life chapter. Even without any planets in Sagittarius, you will still have a connection to this new moon eclipse as your own chart has a relationship to it from a bigger perspective. It just may be that you play the observer to someone else's dynamic change and by the relationship you participate in the endings and beginnings.
This new moon solar eclipse brings blessings too because sometimes an ending has been longed for over a great period of time, especially when the time has been intensely difficult and perhaps immense suffering experienced. The year 2020 for millions of people has been challenging to balance responsibilities while in quarantine, or dealing with unbelievable fires this summer and fall, or stressful polarities in our government while figuring out how to do what needs to be done within restrictive rules for any public errand. Life has been contained for an extended period of time with unknowns and hard choices.
Life goes on, even after a great loss. Perhaps it has been the loss of a job, income, or worse a dear grandparent, parent, spouse, or friend to this terrible virus or other causes. The usual grief rituals being cut-off and disallowed due to the virus too. It has been painful and unrelenting, to wake up each day to find the energy to focus on work, or seeking work, or children and online schooling, and more. Nearly everyone I know has had something knocked them down a bit, really had them question their beliefs in certain things. The hardest-hit folks have lost faith in the good of life and other humans, which is hard to recover. All life during the coronavirus has been touched, made to pause as the death of others or even ways of life loomed largely.
The endings of this solar eclipse may be met with a sense of exhaustion with a glimmer of hope that blue skies are ready to emerge. Perhaps science will get a renewed jolt of appreciation as vaccines are delivered in the coming weeks and the real test of that accomplishment is put to the test. There is an uphill battle for collective approval of that feat though, as public trust has been betrayed so many times it will take immense hard work of physicians, public service employees, government agencies to build bridges that community health is valued.  The most important work is to bring about the reality of success against the virus spread. Indeed, something new is bubbling to emerge, but how quickly will it fill the cups of hope that are outstretched from prayers of weary believers?
I am writing this solar eclipse newsletter as the moon is in Sagittarius but still in the balsamic phase prior to the new moon and eclipse that happens tomorrow morning in the Pacific time zone. Balsamic phase moon is in itself a time of reflection and shedding old things that have been used and worn, or acknowledging where we have been stuck and letting it go with gratitude for what we have come to know. But it is not just the moon, it is Jupiter and Saturn at 29 degrees finishing the long transit of Capricorn too.  Collectively this is felt right now and will be until Wednesday, December 16th when Saturn enters Aquarius and December 19th when Jupiter enters Aquarius. We gain knowledge through experience and with that over time we earn wisdom. Time is a powerful teacher too. We can take a brief moment to sit with all that we have experienced. If we have emotions that need to be let out, it is a good time for that, create the space to allow them. Musicians jam it out, writers write it out, singers sing it out, dancers dance it out, athletes play it out, letting their sweat cleanse them. That is beautiful about humans in my eyes.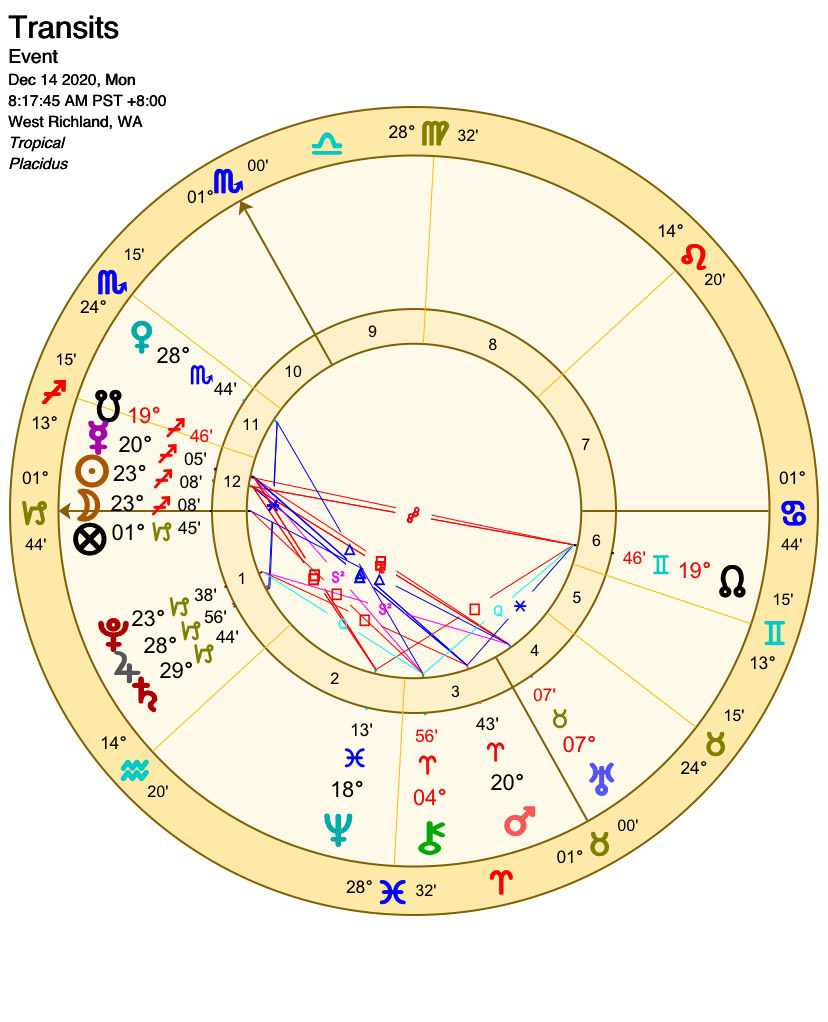 The chart of the solar eclipse is included here, one for our nation's capital (below) and one for my local city (above). In the news today we hear that vaccines are being shipped out for healthcare workers, those who have been fighting this virus and enduring long hours and multiple deaths daily for what must seem like an endless year. Will it be well received? We will see. Whatever the healthcare workers do as a collective will be incredibly important to how the rest of the immunizations will go at least in the first six months. Millions of people will make their decision based on that observation alone. The astrology of the first human to get the vaccine in the United Kingdom was met with caution and mixed reviews in the astrology community. Keep in mind the astrology community reflects the general population (there are just as diverse opinions on the matter), no surprise there, but observing the reactions to that chart was interesting to take into consideration the symbolism and how it is perceived.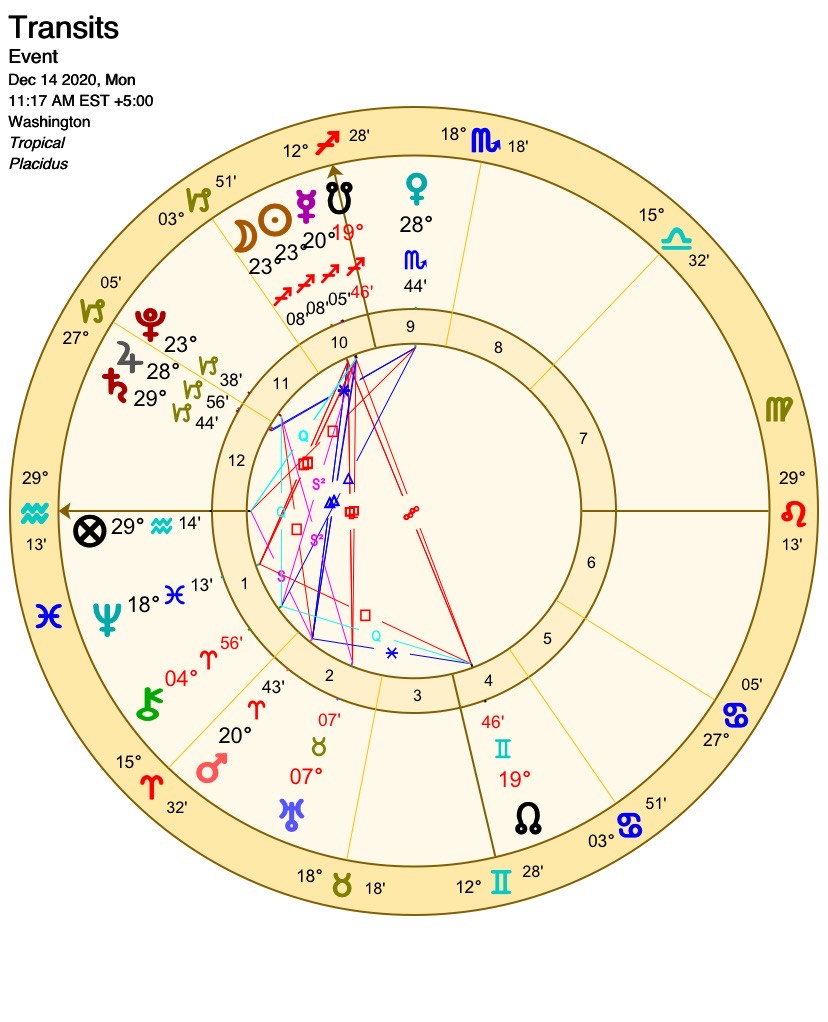 My experience is personal, just as it is for you, so what you do must align with your experience and beliefs, which do impact your health. What I think is important is to do your homework and learn as much as you can about the vaccines as you decide. What I do think is important as an astrologer is your relationship to the moon with the decision to integrate something new into your life. I am not a physician, so I would never counsel you about vaccines. I do consider the quality of the moon important for my life and perhaps you do too. Knowing this in relationship to your first house (vitality and health) and your first house ruler is valuable. It may be a good time to gather more insight into electional astrology. If you want to learn more about this contact me directly. Everyone will be weighing the value of these in their lives in 2021, but I do not think for many people it will be an easy decision. How many of you plant your gardens by the quality of the moon? Same idea, just a different perspective for life decisions.
This moon cycle will be endings and beginnings. I am sure most of you have been hearing about Jupiter and Saturn's coming conjunction in Aquarius that happens on December 21, 2020, at 10:21 am PST (1:21 pm EST). It has been on the mind of astrologers for years, and here we are — it is happening this week. If you have a telescope or a decent pair of binoculars you can see it in the heavens above your heads this week. Hopefully, clear skies will allow a view for you this week. I think it will be incredible to see them shining as one being so close together. And true, these two made a conjunction in Libra an air sign (cardinal) back in the summer of 1981. Many consider the 1981 conjunction of these two planets the prelude to the longer cycle, and it is worth exploring what events were significant in the collective that year and especially that summer. Perhaps the last 39 years were for unfinished business in earth signs for us (with Jupiter and Saturn), getting some hard lessons about our human conditioning so we could understand exactly how much we need to evolve, grow, and heal.
But coming this December 21st, Jupiter and Saturn will be meeting in air signs for about 200 years until it shifts again. We are at an important marker in astrological change and as you have heard again and again, as above so below, so below as above. We are aligned with the celestial movements; they are not causal. We move together simultaneously and it is a reminder we are not separate at all; we are united through these heavenly bodies. The planets, the word means wanderers, named for what was visible from our ancient ancestors as they moved across the fixed stars and constellations that rise and fall as our little blue planet spins around our sun (a star!) in orbit. The myths passed down help us understand ourselves across time through a variety of experiences, the stories help us, they connect us and enchant us about life. What are your stories? Are you interested to know more about the astrology of your birth? You may gift that to yourself at any time as a guide to deeper self-discovery, life planning, or just as a tool for your spiritual connection to the heavens.
This new moon cycle culminates in a full moon in Cancer. The winter solstice is December 21st at 2:02 am PST (5:02 am EST), with Jupiter and Saturn conjoining over 8 ¼ hours later. It will be palpable when Jupiter enters Aquarius on December 19th at 5:07 am PST, leaving Capricorn the sign of its fall (traditional astrology). Jupiter in Aquarius (fixed air) will be lighter, but still have certain challenges with Saturn in the same sign. Jupiter is inside the orbit of Saturn, so abides by Saturn's boundaries. So, hope begins to lift, but there are still rules of engagement (Saturn). Science and technology will reveal new findings likely in numerous areas that have been worked on diligently while these planets were in Capricorn while Jupiter is in Aquarius and even others for the duration of three years Saturn is in Aquarius. Uranus in Taurus will bring awareness of unexpected volatility of markets again and changes, as in Taurus it squares Aquarius.  The year 2021 will have marked events that seem fixed but will change dramatically.  How will food distribution, money or currencies, food enterprise companies, land, and property (laws or rights) (Taurus), and technology (Aquarius) change in the new year? One potential of many.
Another brief relief point will be that Mars will not be squaring Jupiter or Saturn once they enter Aquarius, although that changes when Mars reaches Taurus in January for a few weeks.  Collectively we have endured Mars in Aries since September of this year. Mars enters Taurus on January 6, 2021, and eventually enters Gemini on March 4, 2021.  I think it is incredibly valuable for individuals who are passionate about self-awareness, spirituality, mindfulness to take a few days to write about their lives, their feelings about this year, to put it in ink on the page to have it for memory and reflection. In a few years, it may be an eye-opener to re-read in your own words what this year has been and felt like to slog through this time in our collective experience. Sometimes the final release of grief happens when we are in the safe zone on the other side and can truly feel grounded in the new.  Capture the essence of this year in your own words, feelings, and observations for your reflection.  Healing goes deeper for those who make the effort to register their emotional being and relationship with life within these moments.  Grief needs your oxygen just as much as joy. As the scripture Ecclesiastes 3:1 – 3:8,
To every thing there is a season, and a time to every purpose under the heaven. A time to be born, and a time to die; a time to plant, and a time to pluck up that which is planted; A time to kill, and a time to heal; a time to break down, and a time to build up; A time to weep, and a time to laugh; a time to mourn, and a time to dance; A time to cast away stones, and a time to gather stones together; a time to embrace, and a time to refrain from embracing; A time to get, and a time to lose; a time to keep, and a time to cast away; A time to rend, and a time to sew; a time to keep silence, and a time to speak; A time to love, and time to hate; a time of war, and a time of peace.
Perhaps the light at this end of this tunnel is Ecclesiastes 3:11, He hath made every thing beautiful in his time: also he hath set the world in their heart, so that no man can find out the work that God maketh from the beginning to the end.
Religious or simply spiritual, these scriptures speak wisdom about the quality of life and cycles of time.  Astrology is the language to understand that quality through its symbolism.
The full moon will be December 29, 2020, in the sign of Cancer at 8 degrees 53 minutes. How we think about our homes, our security, and feeling safe will be in focus. The emotional swelling may be felt like waves because so many of us have been in survival mode and not in thrive mode. The mother archetype in fullness, surrounding us, but mindful that there is still danger while Mars in Aries squares Pluto in Capricorn, however, there is maternal wisdom that knows more than ever how to create a safe place to dwell.
Luke 22:10
And he said unto them, Behold, when ye are entered into the city, there shall a man meet you, bearing a pitcher of water; follow him into the house where he entereth in.
I leave you with this thought to ponder, why did Jesus bother to tell his disciples about the man with the pitcher?  And is it not interesting to read in numerous places that Jupiter and Saturn conjoined are similar (if not the same type of heavenly conjunction) to the  Christmas star seen in the heavens at his birth? The parables of the Bible hold many secrets to unveil. Where does the thread lead you?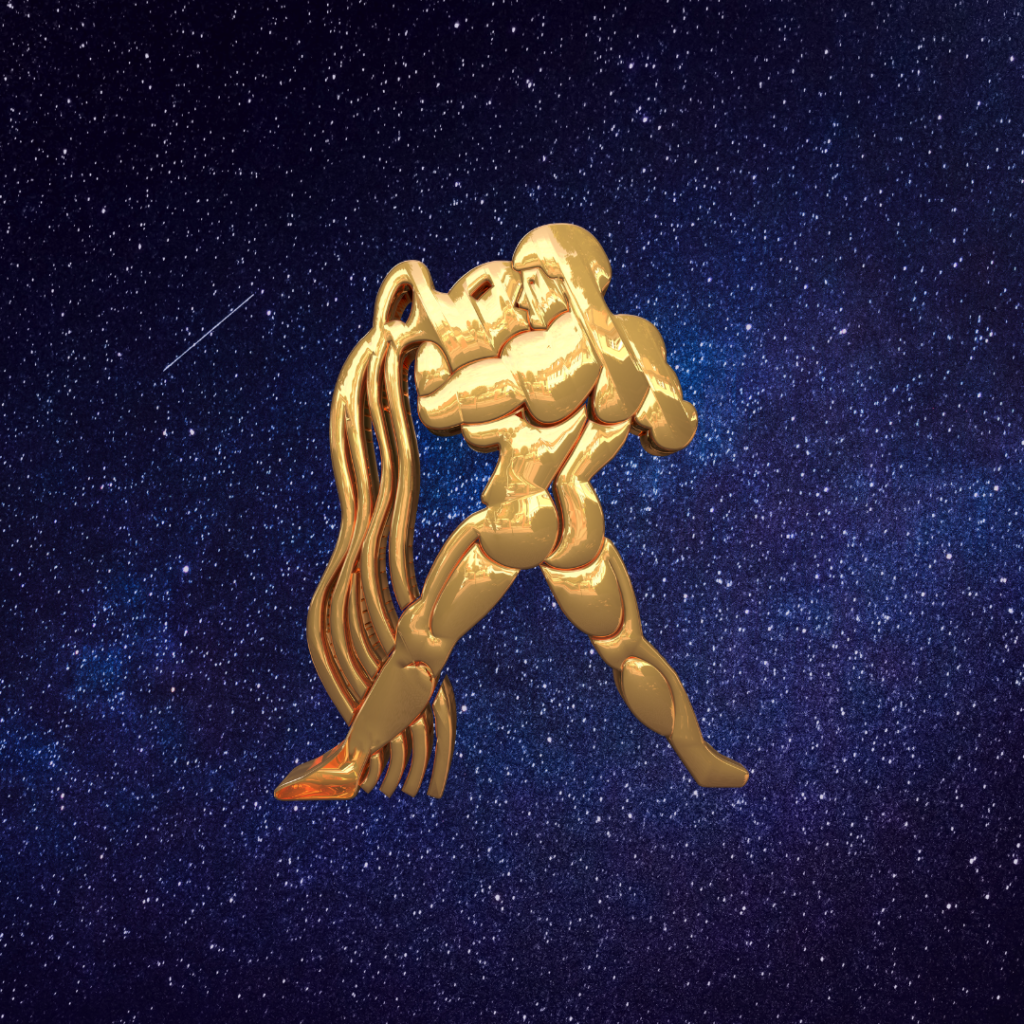 At this new moon solar eclipse in Sagittarius, I send you love, compassion and I raise my glass with hope for life emerging.
Namaste. Bless this moment.