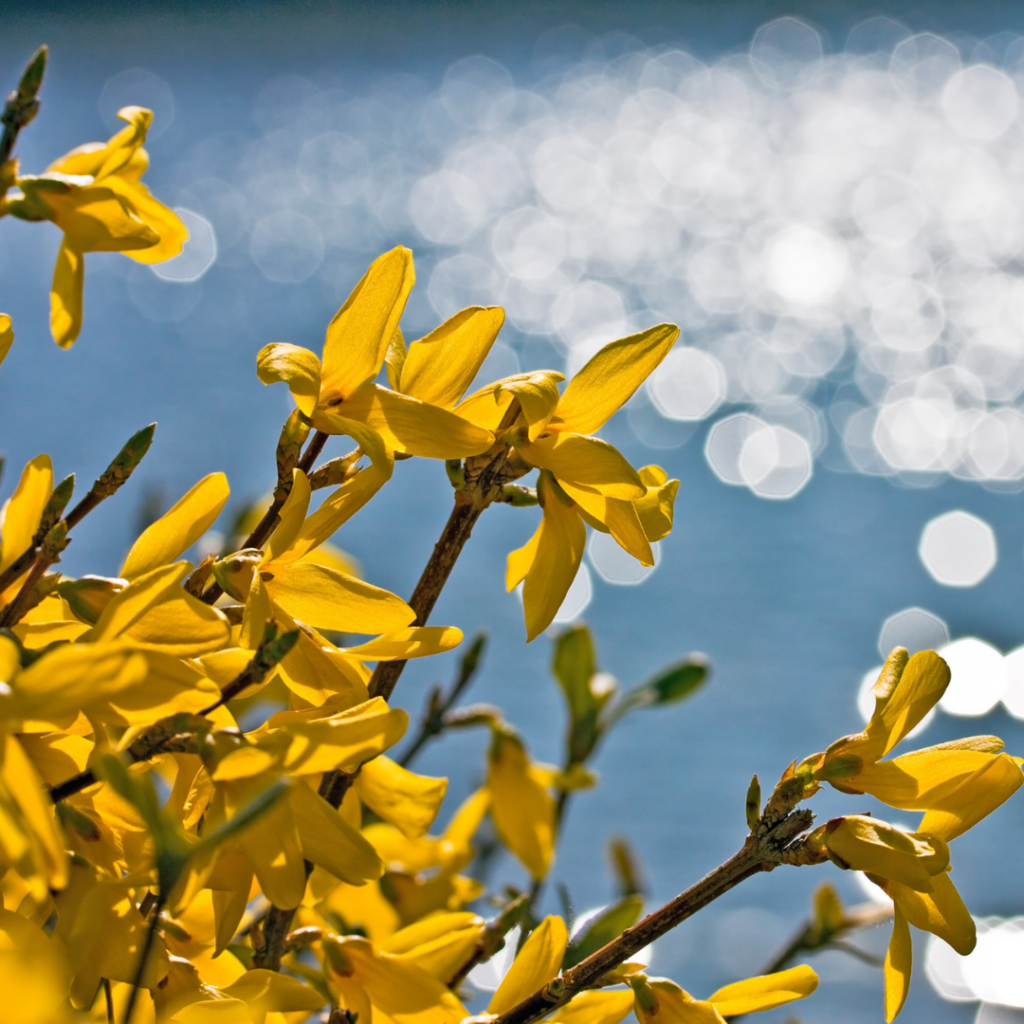 New Moon in Pisces March 13, 2021, at 2:21 am PST brings us to the year of quarantine from the pandemic that spread across the world this time last year, and now slowly we emerge as if from the longest winter we have collectively endured. Just today in my county in Washington state we moved to phase three. We are beginning with this mutable new moon to emerge from our cocoons. At 23 degrees 3 minutes of Pisces, the new moon is conjunct Neptune at 20 degrees 43 minutes and Venus at 19 degrees and 49 minutes, all square the lunar nodes at 15 degrees 4 minutes of Gemini and Sagittarius.
Anyone with the lunar nodes within 5 degrees of this new moon has to be careful about where they are drawn by emotional responses. We may feel inspired to be creative with this stellium in Pisces, to create something that sets our imaginations into a whirl. If any of the four angles of your chart are within five degrees or so of this mutable new moon and any of the mutable signs there is a lot of transitions happening for you this month. It can be frustrating for some who usually operate in the mode of controlling their ship. This moon is one where you let go of the need to control the arrow, you may let something lose toward a goal, but if you struggle with trying to control it you will lose energy.
The best action with the high mutable energy is the mantra "go with the flow". Get creative. Daydream. Meditate. Walk. Float a boat. Watch a movie. Paint without hard edges or lines. Find that inner inspiration from the view through your camera lens in the flow for a magical shot. Life is more than the hard edges and structures and our invitation is to open the windows to the spring that is ready to bloom.
Mars in Gemini applying to the lunar north node which once they meet at 14 degrees 17 minutes there is a higher probability for something that shows up as a disruption that must be handled with urgency. Are you preparing for it now? In my household, we just invested in a new wifi system that will be delivered next week and installed as it is rather urgent to bring in a solution that can really help our connectivity with the higher volume of people online at home and the instability that has been experienced here for us these past two weeks. We are doing the improvements, but it could also mean that I must find a physical location that absolutely will hold my connection for my event that I am having next Saturday. Planning for a co-host I can make as host in the event my Internet connectivity is too unstable. This may be an issue and the path others are taking to a more stable solution too, but as I have shared in the past the archetypes will manifest in different ways depending on where the signs are in your chart. The houses equal the places by life themes that things are experienced.  Mars and the lunar nodes this month are the yield signs. If you are interested to learn more about your own astrology of this new moon, contact me directly.
Mars when it is in a square by aspect as it is and it is applying to the exact degree operates as a significant disruption, need to detour, or the accident because of too much indulgence in substances (Pisces when expressed in unhealthy ways). If people have mental health struggles in your close circles, be mindful of them this entire month as the moon goes from new to full and then in the waning close of this lunar cycle. The transition from where we have been in social distancing and hibernating for long periods of time, many may be susceptible to over indulgence, or not realizing that we are not fully out of the woods and in the safety zone yet. Patience if you are still waiting for a vaccine. Celebrate mindfully in ways that keep you healthy.
Saturn at 9 degrees 44 minutes of Aquarius is square to Uranus at 8 degrees Taurus 6 minutes, so the background energy of the two planets is still closing square and that often is experience with challenges that we have experienced from the fullness of their cycle and realizing what has occurred we cannot change what has happened, but we can learn from what has happened. With astrology you can understand these larger cycles with your sincere study and understanding Saturn in your chart, as well as how the outer planets are collectively experienced and how we do not control how we experience them. Knowledge is gained and truly integrated when one learns what is within the larger cycle, what is within the power of free will to influence, act upon and change and that which we are part of the larger stream of life experienced — the larger themes, are the collective experience of the outer planets.
Uranus falls within the space of rebellion, liberation and breaking down conditioned perceptions and outdated views for something new to emerge. Neptune takes us through the process of releasing, connecting into something beyond the physical, and to material dissolution. And Pluto, takes us into the underworld of transformation in powerful ways that require a true death of something old. They operate in powerful ways, the more you study astrology or have this understanding shared with you the less you may struggle against something that is in process as these giants of the transpersonal planets transit through the zodiac.
Anytime the outer planets are transiting the planets and angles of your nativity your life is under great transformation. And how often are humans excited about change?
Jupiter in Aquarius at 19 degrees 22 and Mercury at 26 degrees 45 minutes is near exiting the shadow of its recent retrograde cycle. Jupiter is trine the North Node and can offer support for fact finding efforts or understanding the data of your technology and how it has been working. From that new information you may decide that you have to move in a new direction or take action swifty with Mars moving to that the trine with Jupiter as well. Mercury's entry into Pisces is a bit of a yellow flag about executing fully if you miss the window. There might be another issue present itself in this next two weeks that will again move the dial and will need to reconfigured once Mercury gets into Aries, so plan for that as another deep dive because when Mercury reaches Aries it will truly be working with Mars in mutual reception and you can make real improvements to processes that gather information, make transactions happen that may have stalled and even travel plans will emerge that might be quick but will be good for getting back out into the world of local life and connections.
Key dates in this lunar cycle from new moon before the next new moon:
Venus conjuncts Neptune – March 13th (8:08 pm)
Mercury enters Pisces – March 15th (3:26 pm)
Sun (Pisces) sextile Pluto (Capricorn) – (March16th 11:26 am)
Venus sextile Pluto – March 18th (10:20 am)
Mars sextile Chiron – March 17th (8:35 pm)
Sun ingress Aries — Spring/Vernal Equinox – March 20th (2:37 am PDT)
Venus enters Aries – March 21st (7:16 am)
Mercury sextile Uranus – March 21st (4:35 pm)
Mars trine Saturn – March 21st (7:35 pm)
Venus conjunct the Sun – March 25th (11:58 pm)
Mars trine Saturn – March 21st (7:35 pm)
Mercury square Mars – March 23rd (9:26 pm)
Mercury conjunct Neptune – March 29th (8:24 pm)
Mars conjunct the North Node / opposite the South Node – March 28th (1:15 am)
Full Moon in Libra – March 28th (10:48 am)
Mercury enters Aries – April 3rd
Saturn trine North Node (true) (sextile south node) – April 9th
Mars square Neptune – April 9th (12:15 pm)
Mars trine Jupiter – April 16th (10:15 pm)
Pluto stations retrograde April 27th
Later this month we begin a fresh start as the Sun enters Aries which is important for mundane astrology where the Sun Aries ingress is the chart used through the year, depending on the rising sign modality determines if other charts are used.  This year we have an Aries ingress with Jupiter on the Ascendant trine Mars in Gemini with the North Node. Communications, education, and travel will have a lot of movement, but not without a continuation of rules with Pluto and Saturn rising before Jupiter. I am not a mundane astrologer but you may enjoy exploring what is shared this month from astrologers such as Roy Gillett.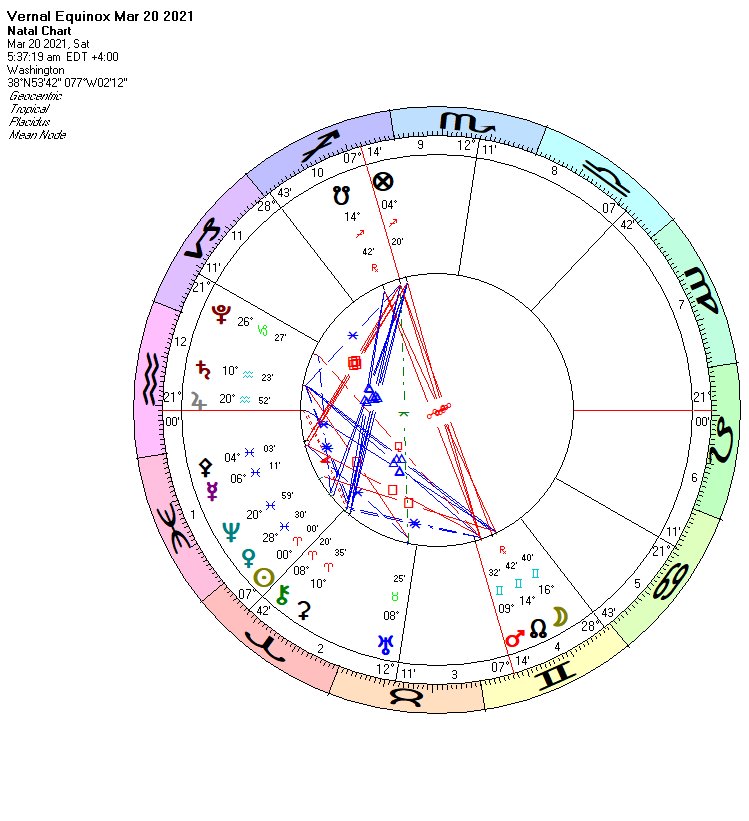 However, the chart for our nation's capital in Washington, DC, has a mutable sign on the Ascendant, so charts will be included throughout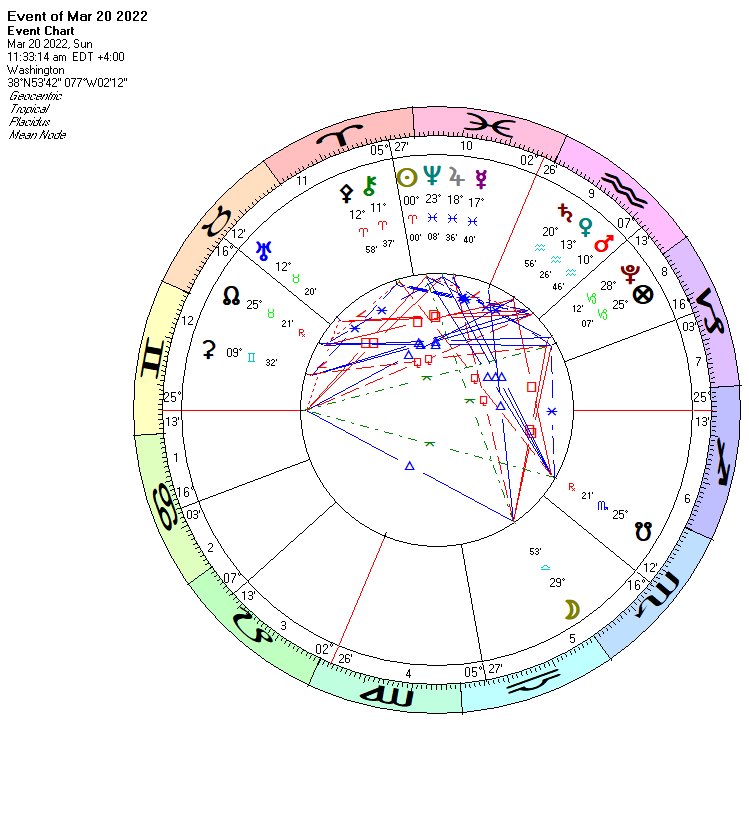 the year for additional insights on the astrological transits throughout seasons at the solstices and also the autumnal equinox as well.
May this month inspire you to take unexpected detours, but delight your imagination. Lose your grip on the paddle as you row through this Pisces lunar month, it will be a lot more enjoyable if you float along.  Without a direction allowing a temporary pause, take the lane without absolutes and to-do lists.  Let the universe bring you the message that you did not know was there to observe, just for you.  Humans need time to relax, float, and be awed at the magnificence the glorious spring colors on the backdrop of a blue sky give us. The feeling of the warming sun on your back as you clear away the winter debris from the garden beds. The smell of the earth waking up from winter. Tiny wet blades of grass emerging beneath your feet. It's the small things so often that give us joy and this spring I think it will be more appreciated than maybe any other in nearly a hundred years.