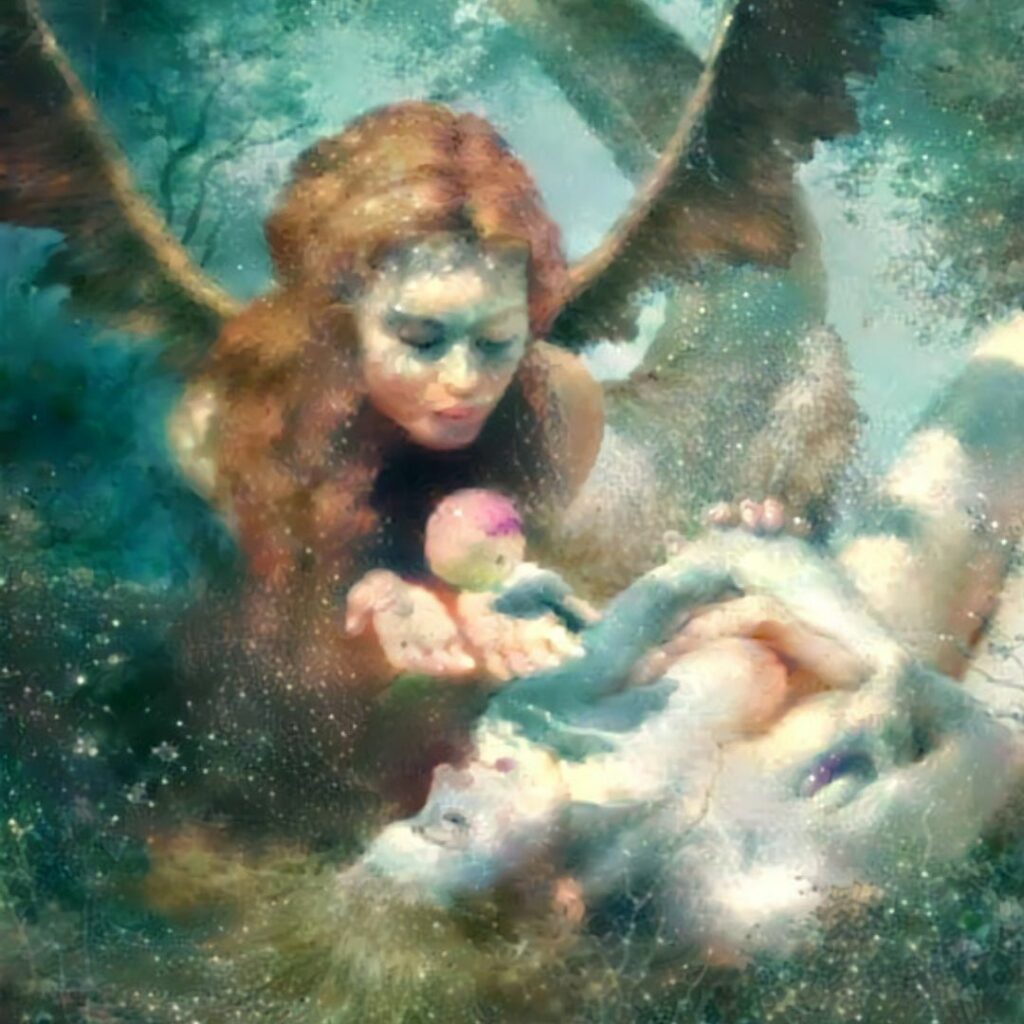 New Moon Cancer – June 28, 2022, at 7:52:31 pm PDT.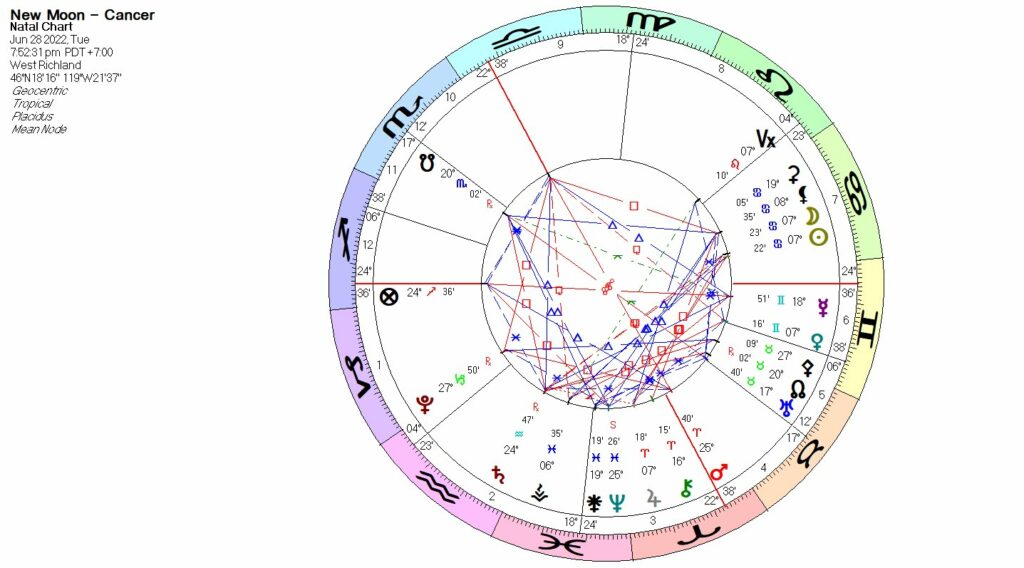 This evening we have a new moon in Cancer at 7 degrees 22 minutes.  With the new moon, we have Black Moon Lilith tightly conjunct this lunation, in the month ahead we have an increase of energy focus on the wounds of the feminine that Black Moon Lilith reveals about our experience as collective humanity right now.  Is it any surprise that there may be expressions of rage, anger, and frustration from the feminine in the struggle to have an equal voice in a period of time in our history where it seems we are slipping back into dying paradigms about women and women's rights in our patriarchal society? A few years ago I did a deep dive exploration video on the astrology of Black Moon Lilith and how the archetype of this point in our heavens may be experienced and subtle it can be or perhaps more prominent depending on the individual chart→  here.
Jupiter in Aries at 7 degrees 18 minutes is in a near-exact square that will highlight the instinctual energies that will be cross-purpose with this Moon and Black Moon Lilith.  You may reflect on the YANG energy that Jupiter is expanding for us, ruled by a Mars in Aries at 25 degrees 40 minutes, and the contrast of YIN energy with this new moon and the added intensity of Black Moon Lilith with themes of motherhood, empowered women, empowered feminine energy and what emerges when the feminine is dis-empowered and controlled.  The woundedness may manifest in subtle or extraordinarily emphasized ways in our material world.  It may also be the uprising with Jupiter involved that we see that shows Black Moon Lilith as well, as the rage and is voiced to be heard too. The mysterious power of Black Moon Lilith can be perceived as dark, because it threatens those that which to control.  M. Kelly Hunter's book Living Lilith: Four Dimensions of the Cosmic Feminine is one of the resources I dove into a few years ago and still reference on these themes.
Mars at 25 degrees 40 minutes of Aries is square to Pluto in Capricorn at 27 degrees 50 minutes (retrograde), and this combination is a power struggle with the potential for violence or shows of power, courage to be independent, and behaviors that are more dynamic. We may see strong claims of action or the use of free will. Mars wants to boldly present and it really focuses the energy, especially sexual energies, to be liberated. Chiron in Aries is exactly the midpoint of Jupiter and Mars in Aries at 16 degrees, this is an emphasis on the woundedness of existence, being visible.  The feeling of invisibility may be more prominent with Chiron's position in Aries.  Mars makes a trine (~120 degrees) to the Ascendant of this new moon chart in Sagittarius at 24 degrees 24 minutes, with Lot of Fortune at the Ascendant within a minute of arc, truly a month that has "fated" impressions marked by this Lot of Fortune on the angle.  However, sharply square to the Ascendant/Descendant axis is Neptune at 25 degrees 26 minutes Pisces stationing retrograde, which is diffusing everything, dissolving the energies from the sign of Pisces, where it is the interruption of the polarized dynamic between perhaps religion and beliefs (Sagittarius) and perceptions and facts (Mercury).  
Neptune is emphasized by sign, by the diffusion of the 3rd house of communications in this new moon chart.  It can be that the best message does not reach its fullest audience right now because there is something that is unclear, or simply that it is dissolving something that was perceived (Mercury/Gemini) to be more concrete and stable in laws (Sagittarius) that it is showing to be. However, even though this is the case we are seeing with the US and the Supreme Court ruling on Roe vs. Wade, is it possible that something more clear and more robust will take its place?  Yes, but that requires all the voices to be amplified and that new structure (Saturn-Aquarius) be implemented.  Perhaps something is ready to be created that will emerge with new insights, new data, and new voices in the masses that make their voices heard.  We are after all, still very much in the Pluto return of the USA, so it does not surprise me that so many ideas (laws) may be under the deep transformation.  We will likely see the elections later this year reflect the paradigm and what way this may shift long-term or short-term. 
You may reflect on themes of fate versus free will this month.  Where does that reflection take you?  When I was just beginning my journey in astrology I pondered these two points of view for three years, hardcore, it was a process of exploring my beliefs and the astrology principles that made sense to me in my journey.  I ended up in the middle and that reflects the astrology I do.  Your journey may point to something similar or very different, but you have to be the one wrestling the idea through your consciousness and considering all the angles of what you think, what you have learned, and what you also believe too.  This one theme is a hot topic in astrology, but I think it comes down to each individual,  a good understanding of your beliefs, and the philosophy of how you approach the themes.  It is subjective, but worth the deepest contemplation. 
Venus in Gemini at 7 degrees 51 minutes is sextile with Jupiter in Aries and beginning to separate.  Mercury in Gemini in its domain is strong and we are inclined to consider what the perception is, how we communicate, what needs to be questioned, and what is ready to be made clear.  I think with Venus in Gemini there is the potential for two ideas to be discussed, if even two times two (four…more on that later), though Jupiter may amplify why there is so much passion behind the subject. 
Planets in their own domains are quite strong in this new moon in Cancer.  Moon in Cancer, Mercury in Gemini, Mars in Aries, Saturn in Aquarius, and Neptune in Pisces. From that perspective, there is such a powerful combination of planets, but I think that Jupiter is interesting as well as the chart ruler of the new moon and how it is square the actual Moon and Sun.  Cardinal signs of Aries and Cancer, with also the lunar nodes in Taurus and Scorpio.  The North Node in Taurus is within the 5th house of children, inner child or ego, and the South Node in Scorpio in the 11th house of group consciousness.  In a collective chapter of purging, and a time where the shadows of our collective powerfully present within our lived experience, our wounds around the feminine and the feminine in a balance of power are quite visible.  And when we are more aware, we can move to purposeful healing as individuals first, and then that will naturally be a ripple into the collective humanity.  We are on this journey both as individuals and as a collective.  Healing the deep wounds of our human expression will be both as well. Sometimes the step forward requires us to examine things we have held as a foundation or structure in order to move forward, it will require us to deeply explore the matter, but that is what we are here to do together. 
Uranus in Taurus may reveal the rebels that carry these body themes and rights into new unchartered waters. There is a close aspect with the North Node less than 3 degrees. Uranus at 17 degrees 40 minutes and the North Node at 20 degrees 2 minutes.  But just as important is Uranus opposite the South Node, which can be shocking in what it reveals. I cannot help but notice that Pallas Athena in Taurus at 27 degrees is trine (flow) with Pluto in Capricorn.  Pallas Athena's symbolism here around the body sign of Taurus (Yin) seems like the potential for an emerging strength with women and women's issues, even though it may not look like that in the news stories of the past few weeks.  She shows us the way to justice or when we act (Mars) enables that path. Talents of intuition (Yin) and wisdom, bring us perhaps the best defense that opens a new potential that was stronger than what was. If we look closer at the astrology of Roe vs. Wade Decision, we will notice that it was decided (chart of origin) on January 22, 1973.  Not that old really, 49 years ago, but definitely important in the evolution of the collective and women for their human rights. 
The DECISION for Roe vs. Wade is having a Chiron return.  Notice Chiron at 13 degrees Aries in the decision chart and in this new moon lunation it is 16 degrees, within 3 degrees of exact.  What astrology shows us within the cycles, is the woundedness of invisibility being revisited in the dynamics of what is unfolding in recent weeks, of right to existence for the women (without others decisions or beliefs deciding their fates and life situation) – and some may argue for others as well.  
We only have a noon chart, so I would not speak necessarily to the house positions of the planets of this chart, more where the planets of that moment are in relation to the present moment chart.  Also, it is important to consider Uranus in this chart as it would have been considered a Liberating law for women, and in the Decision chart in 1973, Uranus was at 23 degrees Libra (the sign of the scales, often tied to social justice), but more so is that this new moon Mars is opposite that Uranus of that chart of the decision.  Also Sagittarius (Law) stellium of the Decision chart reflecting into the 12th house of this New Moon – there is a lot going on behind the scenes not yet visible to us all that will come of the actions of the collective in response.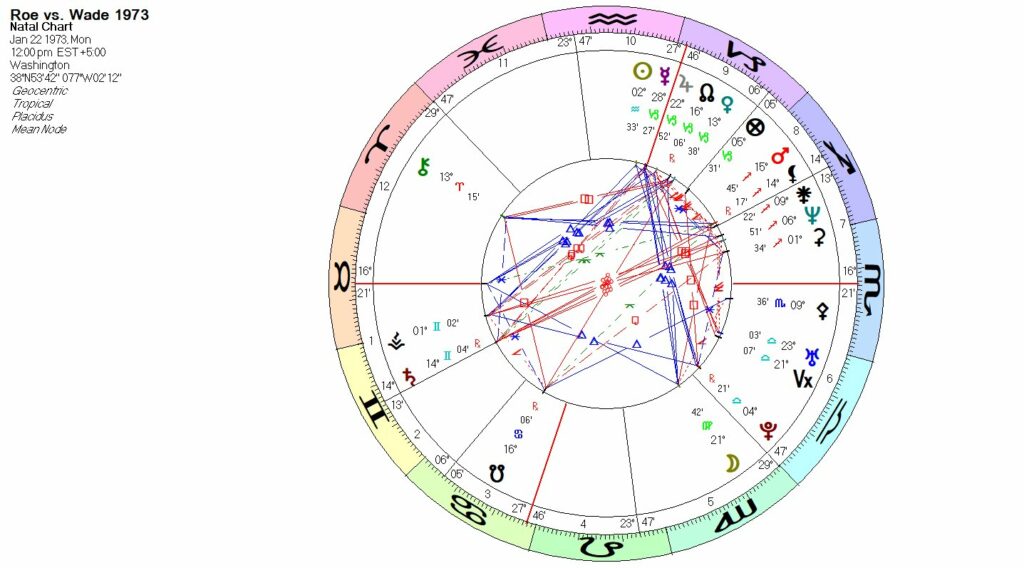 Notice also that the current new moon chart Uranus at 17 degrees is conjunct the Ascendant of the Decision chart, so collectively there is something much, much bigger going on here – Uranus is a planet that is not something we control, but rather we participate in what is emerging – we have decisions to make to enact our will (Mars) for the laws we do want in place (Sagittarius).  How would we make it more sound (the law) given what we know now?
Uranus in transit is Liberating the old Decision!  But that does not mean we cannot reshape something that is similar or from what I know of that case and how it used in law (from conversations with my husband Peter who graduated from law school), I find this a unique moment with great potential.  
Consider the fixed ideas that are in review now, while Saturn is retrograde in Aquarius.  What is distilled in reflection on these themes?  Will the United States emerge with a better solution that will be more supportive?  The United States is an interesting melting pot of so many cultures, I think what we do collectively has the potential to support growth or permission to dare to evolve – not that we get it right often – just that we have that ingredient for social change within the fabric of our culture.  This is truly an interesting time, while Saturn is retrograde this is truly a subject up for deep review and many conversations (Gemini trine Aquarius Mercury-Venus and Saturn).  It is a time to take courageous action and for pioneering spokeswomen to take the stage to collectively guide the paradigm shift.  Do you see who these women (and men) may be that support women for their human rights?  I think it would be an interesting time to explore Justice Sonia Sotomayor.  Truly a critical moment in our national history. 
This moment activates us to be courageous and speak up for women in our lives, but also women we do not know, and future women, or anyone that biologically can become pregnant and deserves the right to make decisions for their bodies.  If this subject is close to your heart as it is mine as a woman, here are a few additional astrology articles you may appreciate.  The Astrology of Roe vs. Wade by Lisa Stardust.  This video by Wade Caves The Astrology of SCOTUS & Roe vs. Wade.  And The Astrology of Roe vs. Wade the Pluto Connection by Lynn Hayes Namaste. I am certain I will be writing more about this issue in the coming months and considering the Chiron in Aries and other charts of the Roe vs. Wade case.  Until then.  Namaste. Bless this moment.