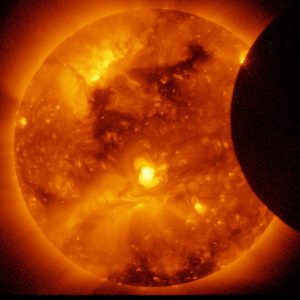 Thursday, September 1st at 2:03 AM PDT we have a New Moon and a Solar Eclipse in the sign of Virgo at 9 degrees 21 minutes. This event will highlight the recent conjunction of Saturn and Mars at 9 degrees Sagittarius 53 minutes from last week as it will square the solar ecllipse. This will be very strong energy for anyone with planets and angles around 9,10 and 11 degrees of a mutable sign (Gemini, Virgo, Sagittarius and Pisces). Saturn has been squaring Neptune in Pisces and this will also be highlighted. Add the recent Mercury retrograde which started yesterday and you have a real fluid mix for potentials. As Adam Alanbaas noted in his blog on the eclipse, he says "Even though solar eclipses happen at the new Moon and typically coincide with new beginnings, the eclipsing of the Sun by the Moon points to the symbolic interaction between the contingent world of changing circumstances or events beyond our control and our conscious intentions or desires." I couldn't have said it anymore succinctly than Adam had in his article.
I think there's a lot to digest and integrate into our lives and eclipse season seems to bring dynamic changes quickly and can feel quite unsettling for those who prefer a slower rate of processing! In September we have this New Moon eclipse that highlights these sensitive degrees of the Zodiac, being in Virgo it makes me acutely aware of my need to clean and organize my office which seems to float on my to do list through this summer months. I also have kicked up a notch my health focus for fitness to 4x a week with new goals for myself. Do you feel this same "push" for getting into the details of your daily life to improve them? Recently after driving home from a weekend event in Spokane I got pretty sick from food I ate which ended in a bad gallstone attack episode that I thought would put me in the emergency room. I have been managing through diet choices for the past ten years, but the most recent one was a challenge. I went to see my doctor and had an ultrasound, and now there's something of interest to view from my results related to my liver that they cannot tell from the ultrasound and now want to view via MRI. All the action of Jupiter in Virgo and Mercury in Virgo squarinig my Sun in Sagittarius makes me wonder. I'm challenged to simply deal with the details and focus so I don't put energy into worry mode. I share this as I think it may be helpful to others. The night I got sick and I knew what it was, I was experiencing a second transit hit of Uranus to my Ascendant (my ASC at 24 degrees 24 minutes Aries) the morning of the 15th of August. The first transit hit back in July was when I was traveling in Europe in Scotland and our flight was cancelled so we made unexpected new plans and travelled to our destination by train overnight, we were tired but we got there. My natal Uranus is in Libra at 8 degress 39 minutes squaring MC/IC axis professional/career/public life and my home life. Interesting enough, the morning of August 15th I put out the alert to my work that I might be going to the ER and my love and partner also had to make quickc arrangements considering that I might be out for more than a day, in the event they wanted to do surgery. Oddly, within an hour or so of putting out the alerts my pain subsided and I was able to focus and sit up for work. My love stayed home just in case to watch me and redirect our kids. In reflecting on that day, it did seem that my professional life and home life were quickly influenced by my illness and my partner having to respond quickly to attend to the schedule issues at hand. It was indeed quite unexpected. It's an ongoing balancing act for sure related to daily routines the relationships of home life and professional life that require attention, however in the 6th house (Placidus) it forces me to consider the condition of my health.  Mercury and the transiting North Node and Venus were conjunct my South Node in Virgo on that day, likely acting as the trigger.  Though, I must also mention transiting Jupiter at 24 degrees 46 minutes Virgo that day was opposite transiting Chiron (the wounded healer) in Pisces which oppositions can be felt much stronger, and these two would create a T-square to my natal sun in Sagittarius.   First house is our vitality, sixth house related to illness as it is inconjunct which is not visible by the first house and thus may reflect imbalance. I'm not looking forward to another test, but it seems it would be prudent to get it done and have new information that I may use to support my health. Uranus is a slow mover and can bring insights to us or "wake up calls" in a forceful way. I pray that it's a redirect for choices and not something biggere and more complicated.
It's actually a tad easier now that school has started again and kids are in school with new projects, lessons and my day is more open
from them being focused in school. I'm sure I'm not the only parent during the summer who juggles work, meals, music lessons, vacation travels, and what projects for the kids to keep them busy and even doing something good for their little souls such as swimming, painting, piano practice and paper projects and reading. The digital age makes it too easy to doodle the day away watching Netflix or Amazon kid shows on their Kindle, or hours of Minecraft (though that does have some elements of creativity)…I digress. Moms and Dads here are back into a routine, and I'm grateful for it! September has several important events coming, first I travel to Minneapolis with my love for a long weekend for fun, second my mother at 69 years young is getting married to old high school sweetheart and third I travel to Calistoga September 30th for five days with some of my favorite people, my tribe, to studying and learn with Steven Forrest at the Calistoga AP retreat for astrology, very excited as this fall I will recieve my Level 1 certification from my attendance and hours so far in study with him! A milestone reached! Yay!!
With Mercury retrograde there's an inner dialog on improving my physical well being as well as my home, making improvements with lawn care,
finding new shelves and soon a trim repair project. Good time to repair perhaps is now. What are you inspired to fix or redo? I am
traveling this weekend so there might be some delays, but we'll see, it doesn't always happen, but there is an increased chance that there
may be something that doesn't go as planned. Venus moved into Libra on August 29th one of her signs she rules bringing us an opening for relationships and love. Jupiter follows Venus into Libra and will be there for a year (until October 10, 2017), add to the expanding focus on relationships, harmony with the other and social justice. September 10th is the last Saturn square Neptune transit of three we've had and may once again light up the news with the ongoing themes related to religious freedom, foreigners, higher education authorities crossing boundaries, foreign boundaries issues and similar. As we approach the full moon on September 16th I'll dive into a new article on the Lunar eclipse (penumbral) at 24 degrees Pisces and 20 minutes. I hope you have a wonderful week and Labor Day Holiday weekend. It will be a dynamic month indeed! Blessings!