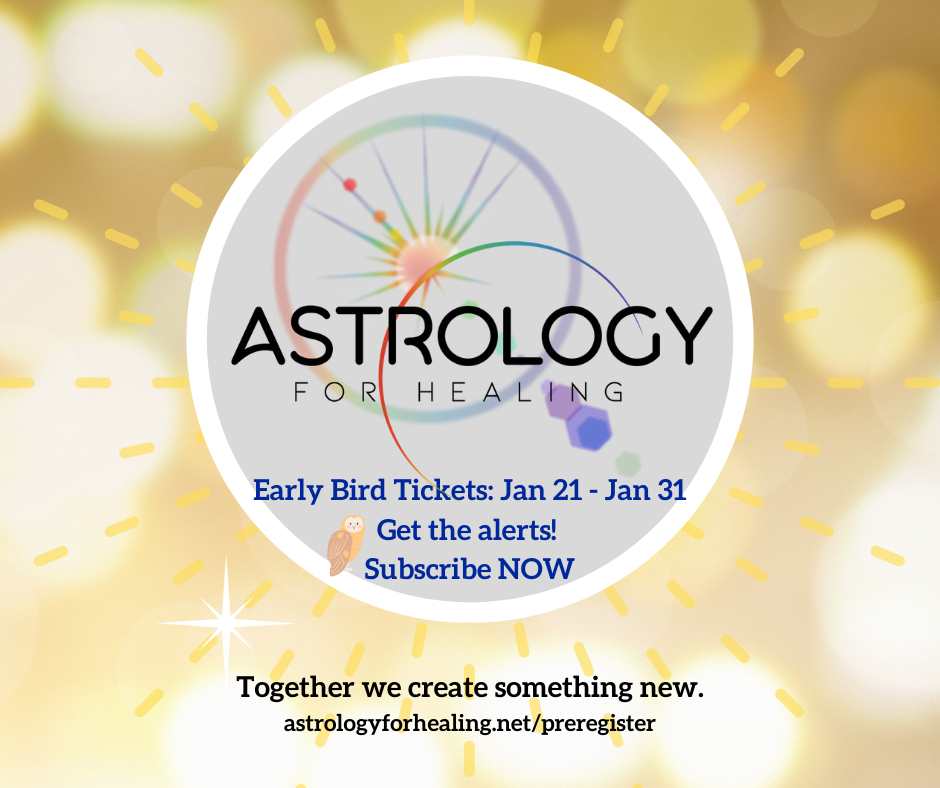 Hello! Fellow cosmic seekers and healers –
Astrology for Healing 2021 Event is soon to open for early registration.  Early bird seats go on sale on January 21st, and only available for 11 days.  Once the clock hits February 1st, it goes to full price (which is still really awesome how much you will get and find meaningfully rich!).
It is a new era for higher thinking and engagement with our community.  If you found 2020 and even now emotionally, physically, mentally, and spiritually exhausting I invite you to an event design for healing, for community engagement with souls that are focused on their healing.
Are you seeking community, opportunities to be present safely with like-minded souls?
Astrology for Healing 2021 Event was created with group consciousness as part of the key element for the healing with astrology. Forty percent of every dollar (net) this event brings assists seven other organizations and healing businesses that have had a rough year meeting the growing needs of people, souls seeking support for their mental, physical, emotional, and spiritual wellness. I welcome the opportunity to share this with the community. I look forward to seeing and being present with you through this uniquely created event.
✧ Commit to healing and use astrology to do it
✧ Aquarian group-conscious focused experiences heighten your individual healing
✧ Focus on healing with specific applications as shared by leading astrologers
✧Bring meaningful change in 2021 for yourself and others in one event
✧Share your love of astrology with others, network, share time with like-minded souls
✧Help us create a collective event that is a supportive and healing event
It is easy to engage with simple action, simply subscribe to stay informed for further announcements, and when registration is open.
Learn more about the astrologers invited to speak and share their knowledge, wisdom, and supportive energy.
Early bird registration is January 21-31 for $80.
February 1 registration is $99.
Early birds are wise.